10 Awesome New Species Discovered in 2013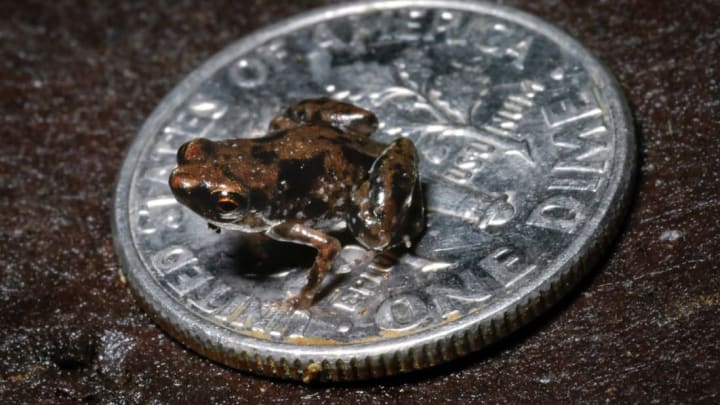 Christopher C. Austin / Christopher C. Austin
Geckos and shrubs and sharks, oh my! 2013 was a big year for new species. Scientists found hundreds of them this year. Here are some of our favorites.
1. Cape Melville Leaf-Tailed Gecko
Wikimedia Commons
The Cape Melville Leaf-Tailed Gecko was discovered on an expedition to the northern tip of Queensland, Australia led by James Cook University's Conrad Hoskin and Harvard University's Tim Laman, who is also a National Geographic photographer. The gecko grows to almost eight inches long and hunts mainly at night, sitting motionless on a rock or in a tree and waiting for an unsuspecting insect or spider to pass by. The gecko's camouflaged skin allows it to blend in with its surroundings.
2. Lyre Sponge
Photo by 2013 MBARI
Discovered in the northeast Pacific Ocean off the coast of California, this carnivorous sponge lives mostly in deep water (around 3399 meters deep) and looks like a harp. The lyre sponge—also known as Chondrocladia lyra—has two to six horizontal branches. Each branch holds more than 20 parallel vertical branches that are each capped with a small ball. When a plankton comes in contact with these branches, the lyre sponge is able to catch it as prey.
3. Paedophryne amanuensis
Photo by Christopher C. Austin
Just in case "Paedophryne amanuensis" is kind of a mouthful, you can also call this tiny frog the world's smallest vertebrate. The frog was discovered near the Amau village in Papua, New Guinea. The average adult frog in this species only measures 7.7 millimeters; that's small enough to fit easily on the surface of a dime.
4. Cape Melville Shade Skink
The Cape Melville Shade Skink was found on the same expedition as the Leaf-Tailed Gecko. However, unlike the gecko, the skink hunts mainly in the day. The skink's scientific name is Saproscincus saltus; "saltus" means leaping. While hunting, the skink hops from boulder to boulder in search of insects.
5. Eugenia
Photo by David Rahebevitra
Not all new species are animals. This new species, Eugenia petrikensis, is a beautiful shrub that grows to two meters and has bright clusters of small magenta flowers. Eugenia was discovered this past year in Madagascar.
6. Semachrysa jade
Photo by Guek Hock Ping
Unlike most new species, scientists did not discover the Semachrysa jade butterfly. Instead, an avid photographer took its picture in a Malaysian park. He had no idea that the butterfly had never been documented before. It was only when Shaun Winterton, an entomologist at the California Department of Food and Agriculture, discovered the photo on Flickr that he recognized the butterfly as a new species.
7. Juracimbrophlebia ginkgofolia
Artwork by Chen Wang
This new species of hangingflies was found fossilized in a Middle Jurassic deposit in China's Inner Mongolia. These insects hung beneath foliage and captured other insects to eat.
8. Carolina Hammerhead
Photo by Save Our Seas Foundation / Peter Verhoog
The Carolina Hammerhead (Sphyrna gilbert) was discovered this year off the South Carolina coast. This new species of hammerhead shark looks almost identical to the scalloped hammerhead. However, the new species contains 10 fewer vertebrae and is genetically distinct.
9. Olinguito
Imagine a cross between a teddy bear and a housecat, and you've just pictured an olinguito. The animal, which is a little over a foot long and weighs around two pounds, is indigenous to the forests of Ecuador and Colombia. While it was first designated as a new species in 2013, the olinguito has been hiding in plain sight for a long time—at the Smithsonian-run National Zoo in Washington. For the past several years, scientists believed that the critter housed in the zoo was an olingo. The zoo first became curious when their supposed "olingo" wouldn't mate with any other olingos. Turns out the olingo wasn't picky; it was actually an olinguito. It was only during an expedition to South America that the olinguito was discovered as a separate species.
10. Blotched Boulder Frog
The Blotched Boulder Frog was also discovered on the Cape Melville expedition, but it has a unique quirk: the Blotched Boulder Frog only mates in the rain. During the dry season in Australia, the frog lives deep within a boulder field that's cool and moist. The Blotched Boulder Frog only comes to the surface when it rains.