Why Do Dogs Crouch Forward When They're Playing?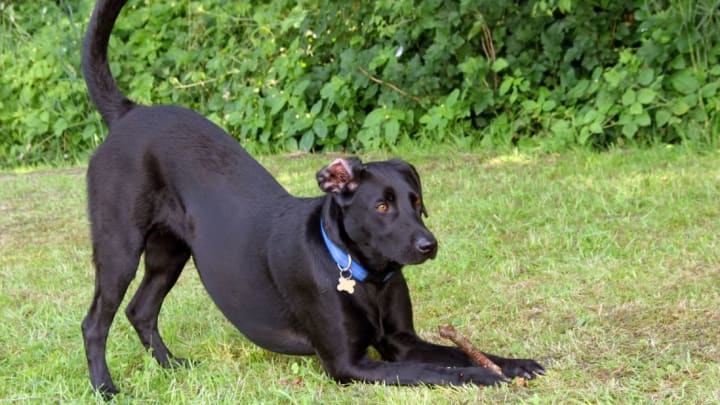 iStock / iStock
Whether they're tilting their heads or exposing their bellies for rubs, dogs are experts at looking adorable. But these behaviors do more than elicit squeals from delighted humans; in many cases, they serve important evolutionary functions. A prime example is the "play bow": If you've ever seen a dog crouch forward with its elbows on the ground and its rear end in the air, wagging tail and all, then you know what it is. The position is the ultimate sign of playfulness, which is important for a species that often uses playtime as practice for attacking prey.
The play bow first evolved in canids as a form of communication. When a dog sees another dog it wants to play with, it extends its front paws forward and lifts up its behind as a visual invitation to engage in a friendly play session. Dogs will "bow" in the middle of playtime to show that they're having fun and wish to continue, or when a session has paused to signal they want to pick it back up. Play bows can also be a sort of apology: When the roughhousing gets too rough, a bow says, "I'm sorry I hurt you. Can we keep playing?"
Play between canines often mimics aggression, and starting off in a submissive position is a way for all participating parties to make sure they're on the same page. It's easy to see why such a cue would be useful; the more puzzling matter for researchers is why the ancestors of modern dogs evolved to play in the first place. One theory is that play is crucial to the social, cognitive, and physical development of puppies [PDF]. It's an opportunity for them to interact with their own kind and learn important behaviors, like how to moderate the strength of their bites. Play also requires the animals to react quickly to new circumstances and assess complex actions from other dogs.
Another evolutionary explanation is that playtime prepares puppies for the hunting they do later as adults. Watch two puppies play and you'll see them stalking, biting, and pouncing on one another—all behaviors canines exhibit in the wild when taking down prey.
Of course, it's also possible that dogs simply play because it's fun. This is a strong case for why pet dogs continue to play into adulthood. "Devoting a lot of time to play may be less advantageous for a wild species who spends much of its time hunting or foraging for food, searching for mates, or avoiding predators," Dr. Emma Grigg, an animal behaviorist and co-author of The Science Behind a Happy Dog, tells Mental Floss. "Many domestic dogs are provisioned by humans, and so have more time and energy to devote to play as adults."
Because play is a lifelong activity for domestic dogs, owners of dogs of all ages have likely seen the play bow in person. Wild canids, like wolves, foxes, and coyotes, tend to reserve this behavior for members of their own species, but pet dogs often break out the bow for their humans—or anyone else who looks like they might be up for a play session. Grigg says, "One of my dogs regularly play bows to her favorite of our cats."