These Are the Most Popular Baby Names of 2017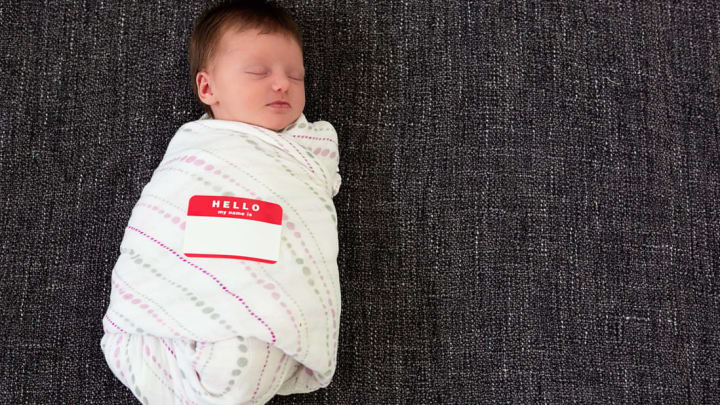 iStock / iStock
Millions of babies were born in the U.S. last year, and the most popular names chosen by American parents were Emma and Liam. Exactly 19,738 Emmas and 18,728 Liams were born in 2017, accounting for 1.053 percent of female births and .954 percent of male births, according to data recently released by the Social Security Administration.
Liam's ascension to the top of the boys' list marks the end of Noah's three-year streak as No.1. This year Noah was bumped to the No.2 slot, followed by William in third place for the second consecutive year. James, Logan, Benjamin, Mason, Elijah, Oliver, and Jacob round out the top 10.
On the female side, Emma continues to dominate. It was listed as the most popular name for baby girls for the fourth year in a row. Also for the fourth year running, Emma was followed by Olivia in second place. Ava, Isabella, Sophia, Mia, Charlotte, Amelia, Evelyn, and Abigail make up the rest of the list.
For an idea of what baby naming trends will look like a few years down the road, you have to look at the names that saw popularity spikes between 2016 and 2017. On the boy's list, Wells enjoyed the biggest boost, jumping 504 spots from 1419th to 915th place. Kairo, Caspian, and Nova all climbed high up the list as well.
The girls saw even more dramatic increases. After ranking No.2426 in 2016, Ensley now occupies the 965th spot. Oaklynn, Dream, and Oaklyn also made impressive gains. Melania made the fifth biggest jump last year from No.1650 to No.930 (the popularity of the name Donald, meanwhile, remains unchanged from 2016 to 2017 at No.488).