10 Things You Might Not Know About Beetle Bailey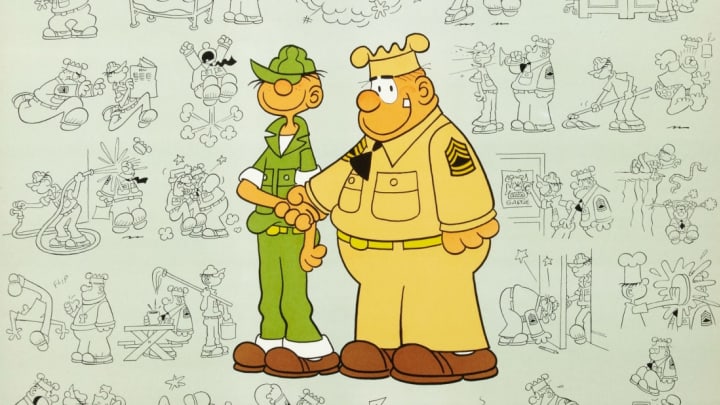 King Features Syndicate / King Features Syndicate
It's exceptionally rare for a cartoonist to have one breakout strip, but the late Mort Walker (1923-2018) managed to have two. In addition to the suburban family comedy Hi and Lois, Walker spearheaded the military farce Beetle Bailey, about a beleaguered recruit trying the patience of his commanding officer, the rather abusive Sergeant Snorkel. Check out some facts about Beetle's origins, his brush with seriousness, and why Walker got in trouble for drawing navels.
1. IT STARTED AS A COLLEGE CAMPUS COMEDY.
Walker's initial idea for a strip didn't feature any fatigues or military equipment. While drawing cartoons for The Saturday Evening Post, he decided to try creating a story around a university student named Spider who kept his hat pulled over his eyes and tried to navigate college life by doing as little as possible. Changing his name to Beetle Bailey—the surname was a nod to a supportive editor at the Post—Walker had him wander into an Army recruiting station. Inspired, he retrofitted the strip so that barracks would take the place of a dorm. (Walker himself had been drafted, serving four years during World War II.) Debuting in 1950, Beetle Bailey set a record for the longest continuous work by a comic strip artist: Walker worked on it for 68 years.
2. IT WAS BANNED BY THE U.S. MILITARY.
In the 1950s, Beetle Bailey took its place as a steady but otherwise unremarkable addition to the comics pages. Then Walker got an unexpected promotional boost. The U.S. military's Stars and Stripes newspaper, which had been running the strip, banned it from its Tokyo editions over fears it might incite disrespect toward commanding officers. (Beetle was lazy and typically disinterested in following orders.) The prohibition lasted for a decade and was subjected to so much ridicule that Beetle became a recurring presence in newspaper headlines. The strip was eventually syndicated to more than 1800 papers. 
3. IT WAS CRITICIZED FOR INTRODUCING A BLACK CHARACTER.
In 1970, Walker "integrated" Beetle's Camp Swampy by introducing Lt. Jack Flap, a black enlistee. Again, Stars and Stripes decided to ban the strip for fear it would incite racial tension among servicemen; some newspapers in the South also dropped the strip. The ensuing attention led to even more success for the cartoon, adding 100 newspapers to its roster.
4. EDITORS BANNED WALKER FROM DRAWING BELLY BUTTONS.
For decades, comic strips were perceived as being an all-ages form of entertainment and were often subjected to extreme forms of censorship. In 2005, Walker recalled having an extended disagreement decades prior with an editor who banned him from showing anyone's bare belly button in Beetle Bailey.
"Every time I showed a girl in a bathing suit, I put in a navel," he said. "They'd take it out. I'd put in another one. They'd take it out. I heard that the editor had started collecting my navels. He'd cut them out with a razor blade and put them in a small container labeled 'Beetle Bailey's Belly Button Box.'" To get even, Walker once drew Camp Swampy receiving a shipment of navel oranges, all of which had a mascot on the box with a bare midriff. The oranges each had a navel, as well. Overwhelmed, the editor left it alone.
5. WALKER DREW LITTLE-SEEN DIRTY VERSIONS OF THE STRIP.
It's not unusual for artists working on juvenile material to doodle more explicit versions for their own amusement. Even Dr. Seuss was known to dash off adult material. Walker was no exception, though he did take the additional step of seeing his more mature Beetle Bailey sketches published in Sweden. Titled Knasen: Varning for Snusk (Warning for Smut), the collection depicts Beetle and his cast in a series of ribald, leering panels featuring jokes about sex and engaged in salacious, very not-safe-for-work activity. "We'll sometimes get ideas for strips that are dirty," Walker said in 2000. "And sometimes we'll draw them up, for private use. Well, an editor in Sweden once asked me about them, and I said, 'Oh, you can't run them in newspapers.' And he said, 'We can over here.'"
6. THE GENERAL WAS ACCUSED OF BEING SEXIST.
In 1997, General Amos Halftrack, the commanding officer of Camp Swampy, was singled out for being sexist, having made decades' worth of comments directed at voluptuous secretary Miss Buxley. Walker decided to have Halftrack undergo sensitivity training after a series of headlines about real Army commanders behaving inappropriately. Years earlier, Walker had altered Buxley's wardrobe to be more conservative after complaints from readers that she was coming to work in attire that was too revealing.
7. BEETLE BATTLED PTSD.
In a rare detour into seriousness, Walker decided to explore the real-world issues of post-traumatic stress disorder (PTSD) and brain trauma suffered by soldiers in the panels of his strip. In one 2013 installment, Beetle is shown having nightmares and trouble sleeping. Walker said he did it to help raise awareness for the lingering effects of war on returning military personnel.
8. LINCOLN HELPED INSPIRE HIS SCULPTURE.
A bronze sculpture of Beetle sits on the campus of the University of Missouri, the school which Walker graduated from in 1948. After being approached by faculty about a sculpture, Walker decided to model it after a statue he had seen of Abraham Lincoln sitting, which had been created by Mount Rushmore sculptor Gutzon Borglum. Tourists could sit beside him for photos. The Beetle sculpture is similar, with the character relaxing at a table. The statue was unveiled in 1992.
9. HE ANGERED SUPPORTERS OF BILL CLINTON.
In 1997, Walker made a contemporary reference in a strip that was otherwise frozen in time. A character remarked that the draft should be made retroactive so then-president Bill Clinton would be sent to Vietnam. (In 1992, Clinton was criticized for enrolling in the Reserve Officer Training Corps to allegedly avoid being drafted.) Walker said he got hundreds of angry letters for the joke.
10. THE STRIP WAS RECOGNIZED BY THE PENTAGON.
After 50 years of "service," Beetle Bailey finally got a little acknowledgment from his higher-ups. The (real) Pentagon invited Walker and three of his costumed characters to a ceremony in May 2000 that honored the cartoonist for his work in supporting the military. Walker was presented with the Secretary of the Army's Decoration for Distinguished Civilian Service, the Army's highest civilian honor. "I think finally the brass has learned how to laugh at themselves a little bit," Walker said. "They're not kicking me out of Stars and Stripes anymore like they did a couple of times."