Futuristic New Street Toilets Are Coming to San Francisco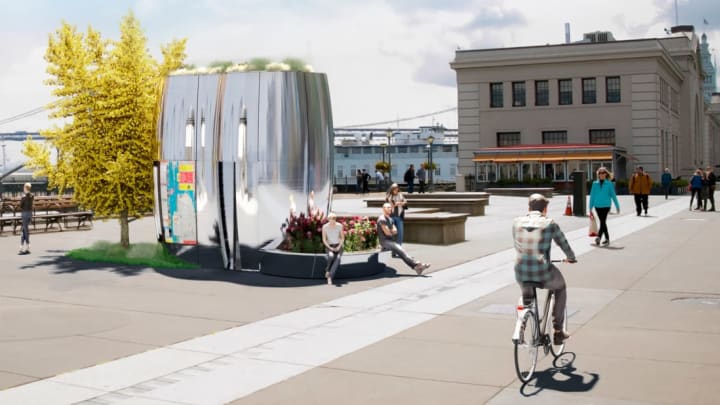 SmithGroupJJR / SmithGroupJJR
San Francisco's streets are getting shiny new additions: futuristic-looking public toilets. Co.Design reports that San Francisco's Department of Public Works has chosen a new design for self-cleaning street toilets by the architectural firm SmithGroupJJR that will eventually replace the city's current public toilets.
The design is a stark contrast to the current San Francisco toilet aesthetic, a green knockoff of Paris's Sanisettes. (They're made by the same company that pioneered the Parisian version, JCDecaux.) The tall, curvy silver pods, called AmeniTREES, are topped with green roof gardens designed to collect rainwater that can then be used to flush the toilets and clean the kiosks themselves. They come in several different variations, including a single or double bathroom unit, one with benches, a street kiosk that can be used for retail or information services, and a design that can be topped by a tree. The pavilions also have room for exterior advertising.
SmithGroupJJR
"The design blends sculpture with technology in a way that conceptually, and literally, reflects San Francisco's unique neighborhoods," the firm's design principal, Bill Katz, explained in a press statement. "Together, the varied kiosks and public toilets design will also tell a sustainability story through water re-use and native landscapes."
San Francisco has a major street-poop problem, in part due to its large homeless population. The city has the second biggest homeless population in the country, behind New York City, and data collected in 2017 shows that the city has around 7500 people living on its streets. Though the city started rolling out sidewalk commodes in 1996, it doesn't have nearly enough public toilets to match demand. There are only 28 public toilets across the city right now, according to the San Francisco Chronicle.
These designs aren't ready to go straight into construction first—the designers have to work with JCDeaux, which installs the city's toilets, to adapt them "to the realities of construction and maintenance," as the Chronicle puts it. Then, those plans will have to be submitted to the city's arts commission and historic preservation commission before they can be installed.
[h/t Co.Design]