17 Things to Know About René Descartes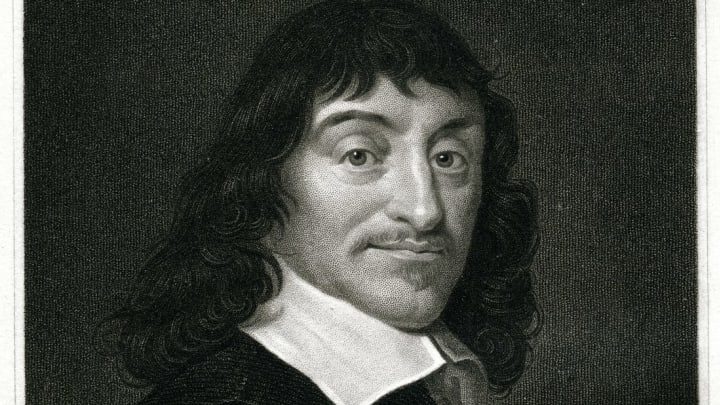 iStock / iStock
The French polymath René Descartes (1596-1650) lived after the Renaissance, but he personified that age's interest in mathematics, philosophy, art, and the nature of humanity. He made numerous discoveries and argued for ideas that people continue to grapple with. (His dualist distinction between mind and the brain, for example, continues to be debated by psychologists.) Get to know him better!
1. NOBODY CALLED HIM RENÉ.
Descartes went by a nickname and often introduced himself as "Poitevin" and signed letters as "du Perron." Sometimes, he went so far to call himself the "Lord of Perron." That's because he had inherited a farm from his mother's family in Poitou, in western France.
2. SCHOOL MADE HIM FEEL DUMBER.
From the age of 11 to 18, Descartes attended one of the best schools in Europe, the Jesuit College of Henry IV in La Flèche, France. In his later work Discourse on the Method, Descartes wrote that, upon leaving school, "I found myself involved in so many doubts and errors, that I was convinced I had advanced no farther in all my attempts at learning, than the discovery at every turn of my own ignorance."
3. HIS DAD WANTED HIM TO BE A LAWYER.
Descartes's family was chock-full of lawyers, and the budding intellectual was expected to join them. He studied law at the University of Poitiers and even came home with a law degree in 1616. But he never entered the practice. In 1618, a 22-year-old Descartes enlisted as a mercenary in the Dutch States Army instead. There, he would study military engineering and become fascinated with math and physics.
4. HE CHANGED CAREER PATHS THANKS TO A SERIES OF DREAMS.
In 1618, the Emperor of the Holy Roman Empire, Ferdinand II, attempted to impose Catholicism on anybody living within his domain. The result of this policy would be the Thirty Years' War. It would also prompt Descartes, a Catholic, to switch allegiances to a Bavarian army fighting for the Catholic side. But on his travels, he stopped in the town of Ulm. There, on the night of November 10, he had three dreams that convinced him to change his life's path. "Descartes took from them the message that he should set out to reform all knowledge," philosopher Gary Hatfield writes in the Stanford Encyclopedia of Philosophy.
5. HE COULD BE EASILY DISTRACTED BY BRIGHT AND SHINY OBJECTS.
In 1628, Descartes moved to the Netherlands and spent nine months doggedly working on a theory of metaphysics. Then he got distracted. In 1629, a number of false suns—called parhelia, or "sun dogs"—were seen near Rome. Descartes put his beloved metaphysics treatise on the back burner and devoted his time to explaining the phenomenon. It was a lucky distraction: It led to his work The World, or Treatise on Light.
6. HE LAID THE GROUNDWORK FOR ANALYTIC GEOMETRY ...
In 1637, Descartes published his groundbreaking Discourse on the Method, where he took the revolutionary step of describing lines through mathematical equations. According to Hatfield, "[Descartes] considered his algebraic techniques to provide a powerful alternative to actual compass-and-ruler constructions when the latter became too intricate." You might have encountered his system in high school algebra: They're called Cartesian coordinates.
7. ... AND THE REST OF WESTERN PHILOSOPHY.
Everybody knows Descartes for his phrase Cogito, ergo sum (which originally appeared in French as "Je pense, donc je suis"), or "I think, therefore I am." The concept appeared in many of his texts. To understand what it means, some context is helpful: At the time, many philosophers claimed that truth was acquired through sense impressions. Descartes disagreed. He argued that our senses are unreliable. An ill person can hallucinate. An amputee can feel phantom limb pain. People are regularly deceived by their own eyes, dreams, and imaginations. Descartes, however, realized that his argument opened a door for "radical doubt": That is, what was stopping people from doubting the existence of, well, everything? The cogito argument is his remedy: Even if you doubt the existence of everything, you cannot doubt the existence of your own mind—because doubting indicates thinking, and thinking indicates existing. Descartes argued that self-evident truths like this—and not the senses—must be the foundation of philosophical investigations.
8. HE'S THE REASON YOUR MATH TEACHER MAKES YOU CHECK YOUR WORK.
Descartes was obsessed with certainty. In his book Rules for the Direction of the Mind, "he sought to generalize the methods of mathematics so as to provide a route to clear knowledge of everything that human beings can know," Hatfield writes. His advice included this classic chestnut: To solve a big problem, break it up into small, easy-to-understand parts—and check each step often.
9. HE LIKED TO HIDE.
Descartes had a motto, which he took from Ovid: "Who lives well hidden, lives well." When he moved to the Netherlands, he regularly changed apartments and deliberately kept his address a secret. Some say it's because he simply desired privacy for his philosophical work, or that he was avoiding his disapproving family. In his book titled Descartes, philosopher A. C. Grayling makes another suggestion: "Descartes was a spy."
10. HE WASN'T AFRAID OF CRITICS. IN FACT, HE RE-PUBLISHED THEM.
When Descartes was revising his Meditations on First Philosophy [PDF], he planned to send the manuscript to "the 20 or 30 most learned theologians" for criticism—a sort of proto-peer review. He collected seven objections and published them in the work. (Descartes, of course, had the last word: He responded to each criticism.)
11. HE COULD THROW SHADE WITH THE BEST OF THEM.
In the 1640s, Descartes's pupil and friend Henricus Regius published a broadsheet that distorted Descartes's theory of the mind. (Which, put briefly, posits that the material body and immaterial mind are separate and distinct.) The two men had a falling out, and Descartes wrote a rebuttal with a barbed title that refused to even acknowledge Regius's manifesto by name: It was simply called "Comments on a Certain Broadsheet."
12. HE NEVER BELIEVED MONKEYS COULD TALK.
There's a "fun fact" parading around that suggests Descartes believed monkeys and apes could talk. He believed no such thing. According to the Stanford Encyclopedia of Philosophy, Descartes denied that animals were even conscious, let alone capable of speech. The factoid comes from a misreading of a letter Descartes had written in 1646, in which he attributed the belief to "savages."
13. HE TOTALLY HAD THE HOTS FOR CROSS-EYED WOMEN.
In a letter to Queen Christina of Sweden, Descartes explained that he had a cross-eyed playmate as a child. "I loved a girl of my own age ... who was slightly cross-eyed; by which means, the impression made in my brain when I looked at her wandering eyes was joined so much to that which also occurred when the passion of love moved me, that for a long time afterward, in seeing cross-eyed women, I felt more inclined to love them than others."
14. WHEN HE MET BLAISE PASCAL, THEY GOT INTO AN ARGUMENT ... ABOUT VACUUMS.
In 1647, a 51-year-old Descartes visited the 24-year-old prodigy and physicist Blaise Pascal. Their meeting quickly devolved into a heated argument over the concept of a vacuum—that is, the idea that air pressure could ever be reduced to zero. (Descartes said it was impossible; Pascal disagreed.) Later, Descartes wrote a letter that, depending on your translation, said that Pascal had "too much vacuum in his head."
15. HIS WORK WAS BANNED BY THE CATHOLIC CHURCH.
Back in the late 1630s, the theologian Gisbert Voetius had convinced the academic senate of the University of Utrecht to condemn the philosopher's work. (Descartes was Catholic, but his suggestion that the universe began as a "chaotic soup of particles in motion," in Hatfield's words, was contrary to orthodox theology.) In the 1660s, his works were placed on the church's Index of Prohibited Books.
16. HE REGULARLY SLEPT UNTIL NOON (AND TRYING TO BREAK THE HABIT MIGHT HAVE KILLED HIM).
Descartes was not a morning person. He often snoozed 12 hours a night, from midnight until lunchtime. In fact, he worked in bed. (Sleep, he wisely wrote, was a time of "nourishment for the brain.") But according to the Journal of Historical Neuroscience, he may have had a sleep disorder that helped end his life. A year before his death, Descartes had moved to Stockholm to take a job tutoring Queen Christina, a devoted early-riser who forced Descartes to change his sleep schedule. Some believe the resulting sleep deprivation weakened his immune system and eventually killed him.
17. HIS SKELETON HAS TRAVELED FAR AND WIDE.
Descartes died in Stockholm in 1650 and was buried outside the city. Sixteen years later, his corpse was exhumed and taken to Paris. During the French Revolution, his bones were moved to an Egyptian sarcophagus at the Museum of French Monuments. Decades later, when plans were made to rebury Descartes in an abbey, officials discovered that most of his bones—including his skull—were missing. Shortly after, a Swedish scientist discovered a newspaper advertisement attempting to sell the polymath's noggin [PDF]. Today, his head is in a collection at the Musée de l'Homme in Paris.