Matilda Illustrator Quentin Blake Is Auctioning Items From His Personal Collection of Drawings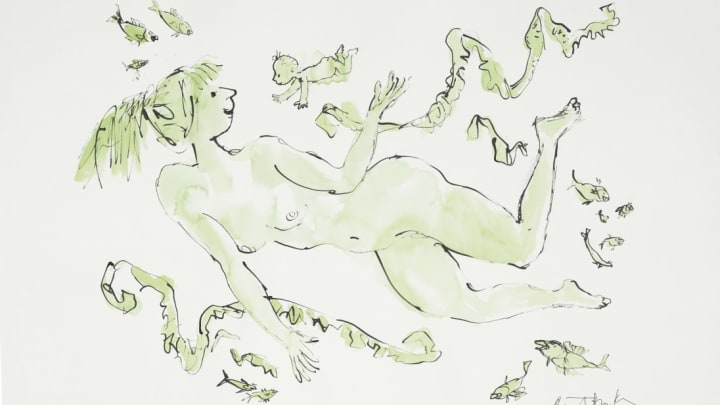 Quentin Blake, courtesy Christie's Images Ltd. 2018 / Quentin Blake, courtesy Christie's Images Ltd. 2018
When you think of Roald Dahl's classic books, chances are you're actually imagining Quentin Blake's work. Blake is the award-winning illustrator behind the signature imagery in beloved books like The BFG, Matilda, and The Twits. Now, Blake is auctioning off some of his drawings from his private collection through Christie's, giving the public a chance to own art intimately connected with these canonical children's books.
The illustrations on offer were completed by Blake over a period of some 40 years. They include preliminary studies, alternative versions of illustrations that made it into books like The Twits and The Enormous Crocodile (Blake's first collaboration with Dahl), and other related art. In addition to illustrations he drew for Dahl, there's artwork he created for his own books, for other authors, for hospitals (like the watercolor above, an alternative version of a drawing he made for the Rosie Birth Centre at Addenbrooke's Hospital, in Cambridge, UK), and for public exhibitions.
Below are just a few of the pieces available, currently ranging in starting bids from around $600 to more than $15,000.
"The Grand High Witch," 
an alternative illustration of the character from The Witches created for Blake's 2016 Roald Dahl Centenary Portraits project / Quentin Blake
"Danny and His Father," an alternative illustration of the characters from Danny the Champion of the World that Blake produced for his Roald Dahl Centenary Portraits / Quentin Blake
"The BFG showing how he flaps his ears," a preliminary drawing for the 1982 edition of The BFG / Quentin Blake
"Sophie and the BFG," an alternative illustration of the characters from The BFG created for the Roald Dahl Centenary Portraits / Quentin Blake
Take a look at the rest here before the auction ends on July 12. Proceeds from the auction will go to three nonprofits: The House of Illustration, Roald Dahl's Marvellous Children's Charity, and Survival International.
All images courtesy Christie's Images Ltd. 2018