Scientists Find a Possible Link Between Beef Jerky and Mania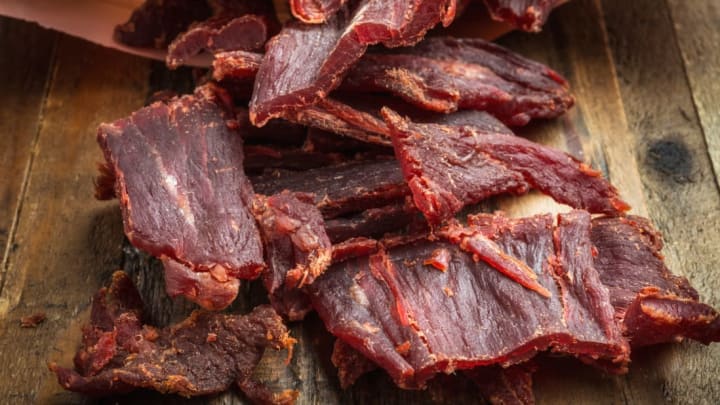 iStock / iStock
Scientist have discovered a surprising new factor that may contribute to mania: meat sticks. As NBC News reports, processed meats containing nitrates, like jerky and some cold cuts, may provoke symptoms of mental illness.
For a new study, published in the journal Molecular Psychiatry, scientists surveyed roughly 1100 people with psychiatric disorders who were admitted into the Sheppard Pratt Health System in Baltimore between 2007 and 2017. They had initially set out to find whether there was any connection between certain infectious diseases and mania, a common symptom of bipolar disorder that can include racing thoughts, intense euphoria, and irritability.
While questioning participants about their diet, the researchers discovered that a significant number of them had eaten cured meats before their manic episodes. Patients who had recently consumed products like salami, jerky, and dried meat sticks were more likely to be hospitalized for mania than subjects in the control group.
The link can be narrowed down to nitrates, which are preservatives added to many types of cured meats. In a later part of the study, rats that were fed nitrate-free jerky acted less hyperactive than those who were given meat with nitrates.
Numerous studies have been published on the risks of consuming foods pumped full of nitrates: The ingredient can lead to the formation of carcinogens, and it can react in the gut in a way that promotes inflammation. It's possible that inflammation from nitrates can trigger mania in people who are already susceptible to it, but scientists aren't sure how this process might work. More research still needs to be done on the relationship between gut health and mental health before people with psychiatric disorders are told to avoid beef jerky altogether.
[h/t NBC News]