Do Big Cats Get Hairballs?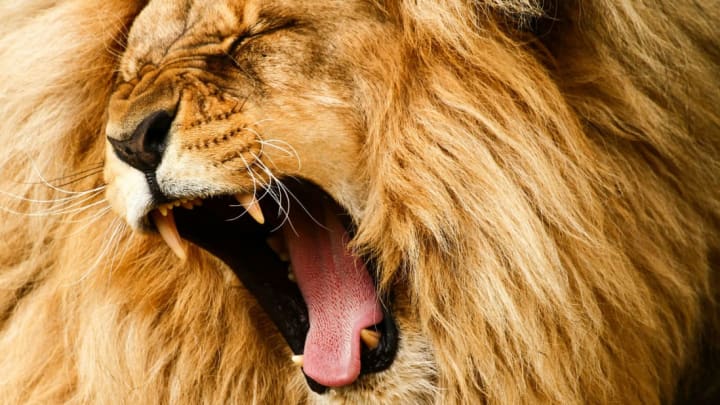 iStock / iStock
Chances are that the only time your cat will seem like they're in any real distress is when they're forced to deal with a trichobezoar, a soggy clump of undigested fur better known as a hairball. As domestic cats groom themselves, tiny papillae on their tongues act as bristles, catching loose hair and sweeping it away from their bodies. Some of this hair often winds up being swallowed before the cat coughs or retches it up in a somewhat unnerving display of kitty regurgitation.
At zoos or on YouTube, you may have seen cats of a different stripe—tigers, lions, and other wild animals—perform a similar huffing, heaving action. Do big cats get hairballs, too?
Not really. According to Natalia Borrego, a research associate at the University of Minnesota Lion Center, her subjects aren't prone to hacking up tumbleweed-sized hairballs even though they perform the same grooming rituals as smaller cats. Borrego told National Geographic that while there's nothing in their physiology that would prevent them from developing one in or out of captivity, it's simply not a common observation.
Smaller wildcats under care, like servals and ocelots, might be more prone to hairballs since their diet includes commercial foods. Jaguars, leopards, and other cats stick to meat. Some experts believe processed food diets might contribute to digestive conditions leading to hairballs, which might be one reason a large animal's farm-to-table preferences mean a lower risk of developing the clumps.
When big cats do develop them, they can be massive. In recent years, one lion and one tiger in captivity developed hairballs so large—four pounds in size—they had to be surgically removed. They were simply too big to be passed on their own.
So what's really happening when you see a lion chuffing with its mouth open? It's probably not dislodging a hairball. Lions and other big cats use their voice box to make contact calls or roars that might be mistaken for coughing.
Have you got a Big Question you'd like us to answer? If so, let us know by emailing us at bigquestions@mentalfloss.com.