12 Things to Know About Crazy Horse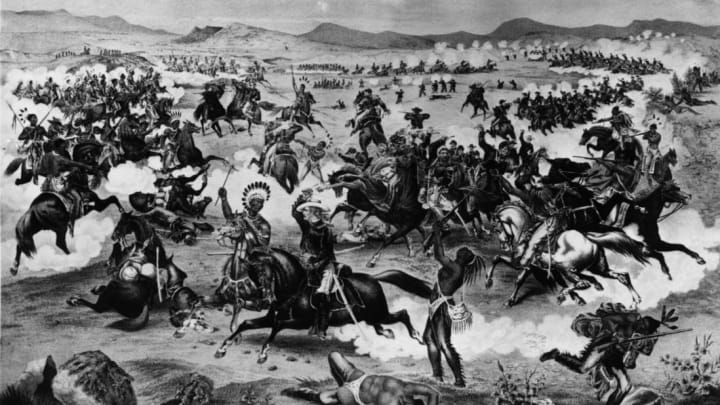 Hulton Archive/Getty Images / Hulton Archive/Getty Images
Crazy Horse, or Ta-Sunko-Witko, was a legendary warrior and Lakota Oglala leader who defended Oglala land and helped defeat General George Armstrong Custer at the Battle of the Little Bighorn. "We preferred our own way of living," Crazy Horse reportedly said. "We were no expense to the government. All we wanted was peace and to be left alone." Learn more about the Lakota war chief.
1. "CRAZY HORSE" WAS NOT HIS FIRST GIVEN NAME.
Born around 1840 to Lakota parents, Crazy Horse was originally named Cha-O-Ha, or Among the Trees. (His mother, however, insisted on calling him "Curly.") When Cha-O-Ha reached maturity, he was given the name held by his father and grandfather—Ta-Sunko-Witko, or Crazy Horse.
2. HE RAN AWAY WITH A MAN'S WIFE AND WAS SHOT IN THE FACE ...
In the 1860s, Crazy Horse fell in love with a married woman named Black Buffalo Woman and convinced her to run away with him. When her husband found out, he chased down the lovers and attempted to shoot Crazy Horse. Thankfully, just before the man pulled the trigger, Crazy Horse's close friend, Touch the Clouds, knocked the gun upward. Instead of hitting Crazy Horse in the chest, the errant bullet hit him in the jaw.
3. ... AND THEN PROMPTLY FELL IN LOVE WITH ANOTHER WOMAN.
After Crazy Horse was shot, a woman named Black Shawl was sent to help him heal. Once again, Crazy Horse fell in love. They married and had a daughter, who died when she was a toddler.
4. HE GOT HIS FIRST TASTE OF BATTLE THANKS TO A WANDERING COW.
In 1854, a loose cow wandered into a Lakota camp in present-day Wyoming. The cow did not last there long: Somebody killed it, butchered it, and shared the meat among the community. Shortly after, Lieutenant John Lawrence Grattan and 29 U.S. troops arrived at the camp with the intention of arresting whoever "stole" the cow. Eventually, they shot and killed the Lakota chief, Conquering Bear. In response, the Lakota killed all 30 soldiers. A young Crazy Horse saw it all, and the event stoked his distrust of white people.
5. AFTER THE MASSACRE, CRAZY HORSE WENT ON A VISION QUEST.
It was common for young men of the plains tribes to seek visions, which were something like instructions to fulfilling one's destiny. After refusing to eat or drink for four days, Crazy Horse began to see visions from another world: He learned that if he lived simply and refused war trophies, and adopted an ethos of simplicity, he would never be harmed in battle. With only one exception, it's said that Crazy Horse was never injured in ensuing wars.
6. CRAZY HORSE'S GREATEST BATTLES WERE PROMPTED BY AMERICA'S LUST FOR GOLD.
The U.S. government broke many of the treaties it signed with Native Americans because it was hungry for gold. In 1863, explorer John Bozeman blazed a trail to Montana's gold fields through Sioux, Cheyenne, and Arapahoe territory that an 1851 treaty made off-limits to whites. Tensions rose. In 1864, Colorado militiamen murdered more than 200 peaceful Cheyenne, the majority of whom were women and children. In the years following, Native American tribes began seeking revenge against white soldiers who failed to respect treaties.
On December 21, 1866, Captain William Fetterman led about 80 men from Wyoming's Fort Phil Kearny, a large garrison built to protect white emigrants and gold seekers. Crazy Horse planted decoys along their route. Fetterman's men followed—and rushed into the grips of 1000 hiding warriors. All of the U.S. soldiers were killed. (The Americans called it the Fetterman Massacre, but the Lakota called it the Battle of the Hundred-in-the-Hands.)
7. A BROKEN TREATY BROUGHT CRAZY HORSE AND CUSTER INTO CONFLICT.
The 1868 Treaty of Fort Laramie declared that the Black Hills of South Dakota belonged to the Sioux, but the agreement was broken just six years after it was signed—all because prospectors had discovered gold in the region. In 1874, the government sent General George Armstrong Custer to lead a surveying party there. When the Sioux wouldn't sell these lands, the government ordered them onto smaller reservations, which the Native Americans refused. These events would lead to Crazy Horse's greatest battles.
8. HIS LEADERSHIP AT THE BATTLE OF ROSEBUD SPELLED CUSTER'S DOOM.
In 1876, the U.S. Department of War ordered all Lakota onto reservations. Crazy Horse refused. Instead, he led 1500 Lakota and Cheyenne warriors in a battle against Brigadier General George Crook, whose men were attempting to approach Hunkpapa Lakota chief Sitting Bull's encampment at Little Bighorn. The battle was a strategic victory for Crazy Horse: It sent Crook's army packing and deprived George Custer's Seventh Cavalry of much-needed reinforcements. Had Crazy Horse failed, the Battle of the Little Bighorn, which followed shortly after, may have turned out differently.
9. HIS PERFORMANCE AT THE BATTLE OF THE LITTLE BIGHORN WAS LEGENDARY.
And we mean legendary—nobody is sure what, exactly, Crazy Horse did. But there are rumors. An Arapaho warrior named Water Man said Crazy Horse "was the bravest man I ever saw. He rode closest to the soldiers, yelling to his warriors. All the soldiers were shooting at him, but he was never hit." Another Native American soldier said, "The greatest fighter in the whole battle was Crazy Horse."
10. HE WAS STARVED INTO SURRENDERING.
After the Battle of the Little Bighorn, two of the battle's primary leaders—Sitting Bull and Gall—left for Canada. Crazy Horse remained in America. It was a life-changing decision. At the time, Colonel Nelson A. Miles was hellbent on forcing all Native Americans onto reservations, and through the winter of 1876 and 1877, Miles hit the Lakota where it hurt: Buffalo herds were decimated, and the winter became especially hard for Crazy Horse's people. After a long period of cold and hunger, Crazy Horse surrendered. He was sent to a reservation at Fort Robinson, Nebraska.
11. HE WAS STABBED TO DEATH.
In September 1877, Crazy Horse left the reservation without permission. (His wife had become ill and he had attempted to take her to her parents.) Fearing that the warrior might return to battle, General Crook ordered him arrested. During his arrest, Crazy Horse struggled, and a soldier thrust a bayonet into his body. It was a fatal blow. As Crazy Horse bled, he was offered a cot, but he turned it down. He died on the floor.
12. IF COMPLETED, THE CRAZY HORSE MEMORIAL COULD BE THE WORLD'S LARGEST SCULPTURE.
Under construction since 1948, the Crazy Horse Memorial was commissioned by Henry Standing Bear, the Oglala Lakota chief in the late 1930s, as a response to Mount Rushmore. Today, the memorial—built by a non-profit that refuses government funding—is still incomplete. When it is finished, the monument carved into the side of South Dakota's Thunderhead Mountain will stand 563 feet high.