A Hidden Section of the Berlin Wall Was Just Discovered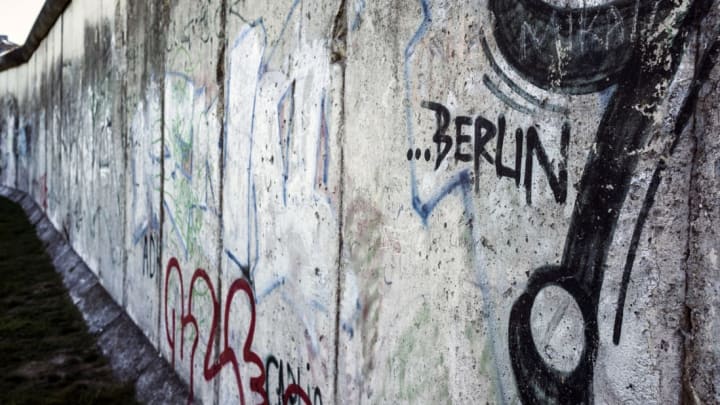 iStock / iStock
As Communist-managed barriers go, the Berlin Wall was fairly effective. Erected in 1961 to stop an exodus of citizens in Soviet-controlled East Berlin from defecting to West Berlin, for decades it loomed large over people on both sides as a symbol of the divided political landscape. Roughly 12 feet tall, the concrete slabs were topped with a circular tube that discouraged climbing and was edged on the East Berlin side by a gauntlet of guard dogs, armed patrolmen, and trip-activated machine guns. The Soviets and the West finally eased tensions in 1989, and citizens armed with tiny pickaxes assisted construction workers in tearing it down, allowing East and West Berliners to come and go as they pleased.
Although not every inch of the wall was razed, most people thought all sections had been accounted for: It's hard to miss a giant monolith of concrete blocking your path, after all. But this past June, a group of locals discovered an abandoned 65.6-foot section.
The slab is situated in a residential neighborhood of northwest Berlin and was determined to be part of the border that helped isolate the "death strip" of the wall from East Berlin. Defectors would scale one wall en route to the other and risked being shot on sight by armed guards. Now covered in graffiti, the chunk was partially obscured by overgrowth and lacked the familiar pipe on top. Over time, it simply began to blend into its surroundings.
This is the second time this year a surviving portion has been unveiled. In January, a 262-foot section was brought to the city's attention by historian Christian Bormann, who first noticed it in 1999. He kept his finding a secret out of fear it would be torn down.
Ephraim Gothe, a city councilman who was one of the locals out for a stroll when the latest excavated wall was stumbled upon, has filed paperwork in an effort to have it declared a historic monument. If that's successful, it will join other sections that have become tourist destinations, including one 4300-foot long stretch, a wall memorial, and one of the crossing points once open to diplomats. It's possible other portions survived the teardown and remain obscured somewhere in the city.
[h/t Condé Nast Traveler]