You Can Visit Any National Park For Free This Saturday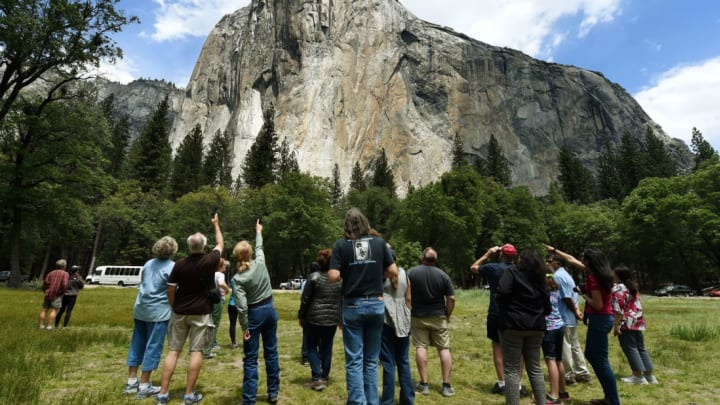 Mark Ralston, AFP/Getty Images / Mark Ralston, AFP/Getty Images
Looking for something to do this weekend? Within driving distance of one of the country's more than 400 national parks? The timing might work out. On Saturday, September 22, the National Park Service will be celebrating National Public Lands Day by offering free admission to any national park that normally charges an entrance fee.
Established in 1994 by the National Environmental Education Foundation, National Public Lands Day is held annually on the fourth Saturday in September. The day is set aside to recognize and encourage stewardship of green space in individual communities. If you see an opportunity to volunteer that day, you can get a voucher good for admission on a day of your choosing.
Admission to federally owned parks during peak season averages $30 at the 117 locations that require payment for access. Recently, the National Park Service had considered raising the fee to $70 at 17 of the busiest parks. The potential move would help address maintenance and other costs, but it's drawn criticism from conservation groups arguing the locations should remain affordable to visitors. In the end, the NPS decided to raise prices by $5 for one-time entry, or $5 to $10 for an annual pass, though some fees won't rise until 2020.
You can search for parks by state or by activity using the National Park Service Find a Park search engine here. Note that any additional charges for camping or other attractions aren't included in the promotion.
Can't make it this weekend? The parks are open for a fee-free day four times in 2018, down from 10 in 2017. The next date is November 11, in honor of Veterans Day.