How to Look Like a Victorian Gentleman in 11 Easy Steps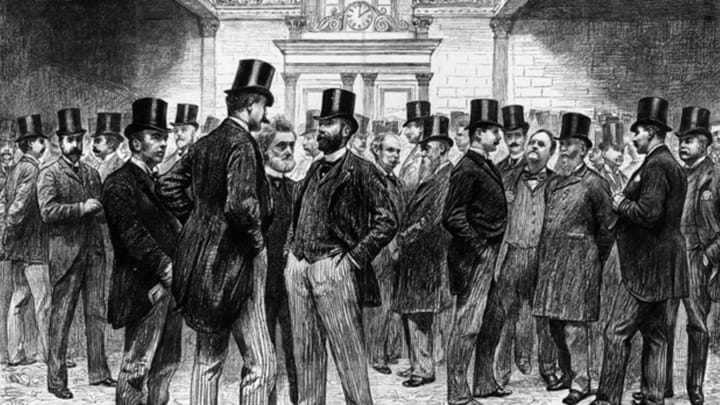 Getty Images / Getty Images
Trying to add a bit of class to your 21st-century fashion sense? Here are some dandy pointers from Britain's Victorian period (1837-1901).
1. Vests (AKA: "Waistcoats") Are A Must
Victorian gentlemen had a "vested" interest in these garments. Why? Unless he was an athlete, engaged in rigorous labor, or heading off to bed, a man wasn't considered fully dressed without one … even in his own home.
2. Learn How To Tie An Ascot
Back then, these elegant ties were a common sight, so this is one skill you'll definitely want to brush up on.
3. Start Cultivating Your Facial Hair
"Why Shave?" begged the title of a popular pro-beard manifesto written in 1853. Face fuzz—long denounced as "unseemly"—fell into the British mainstream in the mid 1800s. It was a rediscovered symbol of unbridled masculinity, and, thus, men began gleefully growing extravagant moustaches, beards, and side-burns. So which style's right for you? Here's a nifty run-down well worth looking over.
4. Going Around Hatless Is A Big No-No
"A well-brushed hat, and glossy boots must always be worn in the street," states the Gentleman's Book of Etiquette (1860). Being seen outdoors or in a public building without some form of headgear remained frowned-upon until well into the 1900s. But wait! What if you're plagued with obnoxious hat hair? If that's the case, you can always fight it the old-fashioned way: by applying a generous helping of Macassar oil to help keep that mop in shape.
5. Pinstripes Are Your Friend
Pinstripe trousers might not have been universally-used, but they were a distinctive staple throughout much of the Victorian period.
6. Understand The Four Basic Coats
According to Martine's Handbook of Etiquette (1866), "There are four basic coats which [a gentleman] must have: a business coat, a frock-coat, a dress-coat, and an over-coat. A well-dressed man may do well with four of the first, and one of each of the others per minimum. An economical man can get along with less."
7. Ditch the Belt
Larry King would've fit right in during the Victorian era. Thanks to the relatively high waistlines of contemporary trousers, suspenders were vastly more popular than belts.
8. Get A Pocket Watch: They're Timelessly Charming
A few hollowed-out models even contained built-in cameras. Don't believe it? Check this out.
9. No Glove, No Love
Be advised, prospective neo-Victorian: If you're planning on waltzing anytime soon, you'd better invest in some decent gloves first. Protocol dictated that, while dancing, the bare skin of young ladies and gentlemen couldn't come into contact, so a layer of protection was necessary.
10. When it Comes to Footwear, Stay Conservative
Shoes and boots were generally either black or brown before the 1890s, when white alternatives were introduced to complement summer outfits.
11. Above All Else, Avoid Eccentricity!
"The dress of a gentleman should be such as not to excite any special observation, unless it be for neatness and propriety," implores Arthur Martine's aforementioned book of etiquette. "The utmost care should be exercised to avoid even the appearance of desiring to attract attention by the peculiar formation of any article of attire … a positive evidence of vulgarity."
All photos courtesy of Getty Images.