7 Priceless Items People Sold on eBay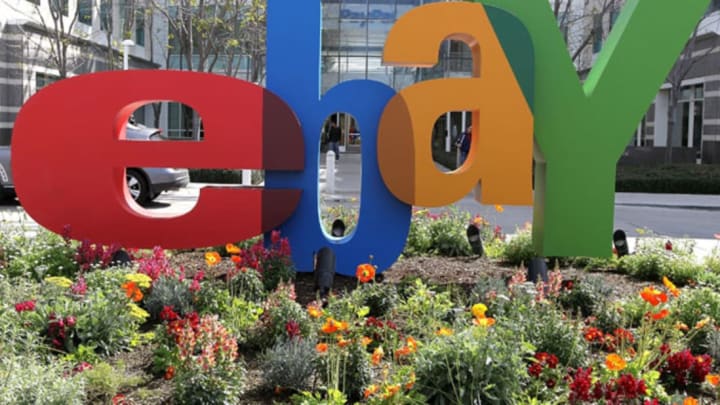 Getty Images / Getty Images
Since it was founded in 1995, more than 3 billion items have been sold through eBay. The online auction site represents capitalism at its weirdest; among the items sold are some of the oddest products man has ever conceived. But once in a blue moon, something truly invaluable will find itself being bid on at the world's largest garage sale. Here are some of the most jaw-dropping examples.
1. One of Albert Einstein's Handwritten Letters
Starting Price: $3 million
Sold For: $3,000,100
In 1954, the great physicist penned a candidly-worded letter to Jewish philosopher Erik Gutkind in which he defended his views on ethics, religion, and human nature. Nearly six decades later, it caused a minor media sensation by showing up on eBay.
2. The Original "HOLLYWOOD" Sign
Starting Price: $300,000
Sold For: $450,400
"I hope the winning bidder has exciting plans for it," said the sign's previous owner, Dan Bliss. Built in 1923 as a real-estate gimmick, the maiden set of oversized "Hollywood" letters overlooked Los Angeles until it was replaced by a newer group in 1978. The former landmark finally found a new home after being auctioned off in 2005.
3. A Chunk of Mars
Starting Price: $450,000
Sold For: $450,000
What's a Martian meteorite, you ask? It's a piece of rock that was formed on the Red Planet, knocked into space by an asteroid or comet impact, that somehow managed to crash-land on Earth. As one can imagine, the odds against this happening are, well, astronomical! In fact, of the over 60,000 meteorite specimens known to science, only 132 hail from Mars. A fragment from one of these was auctioned away in 2003.
4. A New Species of Sea Urchin
Starting Price: $9.50
Sold For: $138.00
Draped in warm hues of cream and purple, the Coelopleurus exquisitus urchin is a dazzling animal. But incredibly, marine biologists didn't discover it by exploring the open sea. Instead, they found it on eBay. Simon Coppard of the Natural History museum in London, along with a colleague, determined that a specimen being sold there by one collector did, in fact, hail from a species previously unknown to science.
5. The Tuscan Village of Pratariccia
Starting Price: $5 Million
Sold For: $3.1 Million
Located 22 miles east of Florence, Pratariccia boasts some 25 homes spread over twenty acres of land. The owners of Pratariccia's real estate had, according to the mayor of a neighboring town, "tried and failed to sell the village through agencies for years but … got a lot of attention by putting it on eBay." While this new tactic eventually paid off, they ultimately received $1.9 million less than their original asking price.
6. The Town of Bridgeville, CA
Starting Price: $750,000.00 (at first).
Status: Sold—twice!
"You get an entire working town," proclaimed a 2002 post, "with shops, woodworking, plumbing, gas, and electrical... With the proper development, Bridgeville can become an economic powerhouse with the potential for generating a large cash flow." The highest bidder would even acquire his/her very own zip code: 95526. An anonymous businessman emerged victorious by laying down an impressive $1.77 million, but backed out of the deal upon actually visiting some of Bridgeville's desolate shacks. Nevertheless, the town did find a new buyer that year, who proceeded to turn around and re-sell it on eBay in 2006—this time for $1.25 million. Since then, it has changed hands yet again (without eBay's help).
7. The Meaning of Life
Starting Price: $0.01
Sold For: $3.26
A mystical North Carolinian decided to give Monty Python a run for its money back in 2000. "I have discovered the reason for existence," he wrote, "and will be happy to share this information with the highest bidder." Since then, neither the buyer nor seller has gone public with the contents of his revelation.
BONUS: A Long-Lost Statue from Ancient Greece
Starting Price: $500,000.00
Status: NOT SOLD.
Imagine finding a half-ton, anatomically-correct sculpture sitting on your doorstep. While snorkeling near Gaza, Palestinian fisherman Jwdat Abu Ghrb spotted a strange object embedded in the ocean floor. It turned out to be a 2500-year-old statue depicting the Greek God Apollo. And—unsurprisingly—its lack of garments left nothing to the imagination, which didn't sit well with Ghrb's stunned mother when he brought his discovery home. Local authorities quickly seized the find. Shortly thereafter, it was offered up for sale on eBay (posed over a "Smurfs-themed beach towel") before being taken down at the request of some distraught archaeologists.
All images courtesy of Getty Images unless otherwise noted.