12 Amazing Animal X-Rays from the Oregon Zoo
As fascinating as it can be to walk through a zoo, the real intrigue often takes place behind the scenes. Zookeepers are responsible for looking after the health of thousands of creatures, an elaborate and demanding process that can result in everything from a bird called a Sarus crane getting cataract surgery to a rattlesnake getting a face implant to correct a deformity from an overgrown venom gland.
Much of this health care is preventative, involving annual check-ups and X-rays, which are typically performed on lightly anesthetized animals to help prevent complications from sedation. To that end, the Oregon Zoo in Portland recently conducted a round of digital radiology using equipment funded largely from a donation by the Banfield Pet Hospital in 2009, and decided to share the amazing results online.
"Digital radiology allows us to get X-ray results faster and fine-tune the images after taking them, so we're able to minimize anesthesia and examination time for animals," the zoo wrote in a press release accompanying the images. "This decreased anesthesia time means lower risk and improved safety for our patients. Plus we can digitally archive images for later comparison, and share X-rays with consultants and veterinary staff at other zoos."
Keep scrolling for a look at the internal physiology of some familiar creatures.
1. BALL PYTHON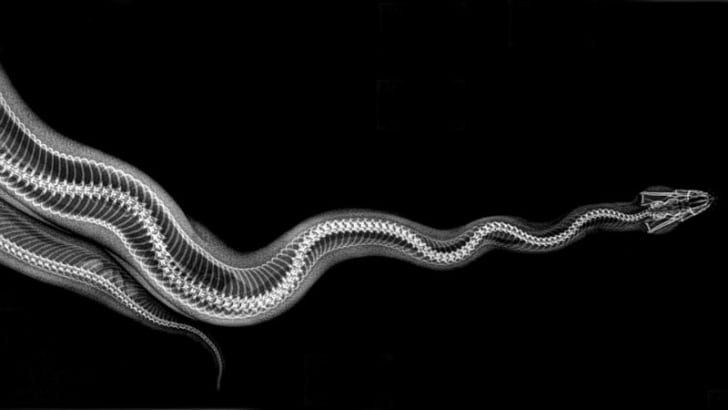 2. CAPE PORCUPINE
3. BAT
4. BEAVER TAIL
5. GOLDEN EAGLE
6. TIGER
7. TOCO TOUCAN
8. HEDGEHOG
9. FLAMINGO
10. SCREECH OWL
11. WESTERN POND TURTLE
12. WOLF EEL
[h/t BoredPanda]
All images are courtesy of the Oregon Zoo and used with permission.