11 Thoughtful Gifts For Word Lovers
It's easy to spot the logophiles in your life: They're the people who are addicted to word games, have full libraries at home, or who are always quick to provide you with the word that's on the tip of your tongue. This holiday season, indulge your loved one's passion for words with a gift they'll appreciate.
Mental Floss has affiliate relationships with certain retailers and may receive a small percentage of any sale. But we only get commission on items you buy and don't return, so we're only happy if you're happy. Thanks for helping us pay the bills!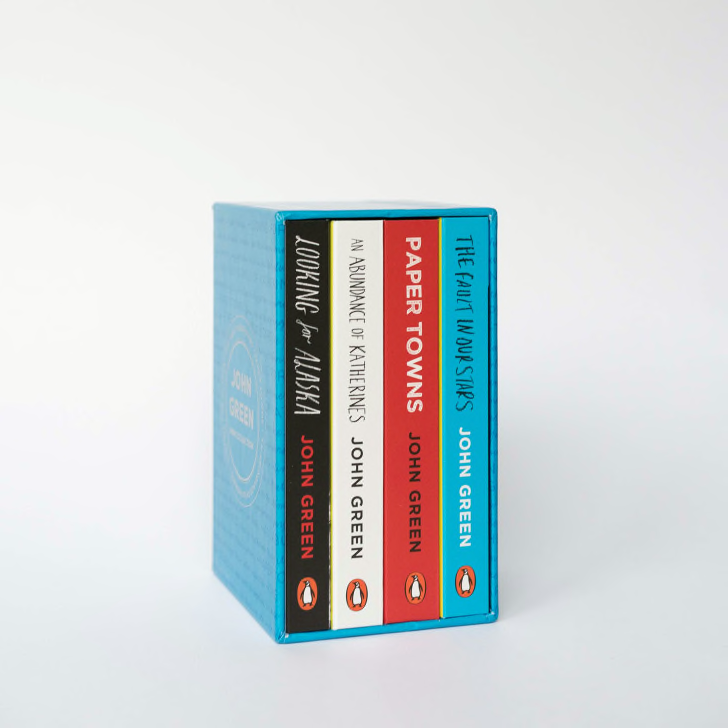 If you can't choose just one book to give to the avid reader in your life, this collection makes an excellent stocking stuffer. The miniature box set packs four titles from John Green into an ultra-portable package. Each book is the size of a cell phone, and with onion skin pages, they're slimmer than your thumb. The books are meant to be held horizontally, and when it's time to flip the page, just swipe up.
Find It at Amazon for $27.
The new year is a great opportunity to start a book journal. This one from Moleskine is specifically designed for documenting someone's reading history, with sections for recording general information about the title as well as jotting down impressions and memorable quotes. Like other Moleskine products, this notebook comes with useful features like ribbon bookmarks and an expandable inner pocket.
Find It at Moleskine for $30 and also at these other retailers:
Give this chart to someone you know and instantly add color to their insult arsenal. The poster not only list dozens of scathing jabs from the works of Shakespeare, but it also breaks them down into categories like "body qualities" and "personal attributes" and subcategories like "knaves" and "dunghills." The chart measures 24 by 18 inches and comes with a magnetic birch frame for an extra $30.
Find It at Uncommon Goods for $25.
Smartphones are convenient for taking notes on the go, but it's hard to beat the tactile sensation of jotting down a thought with a pen and paper. The KenzaPad combines the best elements from both mediums into one handy tool. The pad looks and acts like a wallet on the outside, with pockets for holding keys, cards, and pens. Flip open the magnetic seal and it transforms into a notepad you can hold with one hand and write in with the other. And no thicker than a smartphone, the KenzaPad neatly slips into a purse or pocket.
Find It at Kickstarter or $20 and up.
Book darts give book lovers ultimate control over their reading experience. Instead of putting down a book mid-paragraph, or rushing to the next page before adding a bookmark, these tools let readers save their place down to the line. With 50 metal tabs per package, they're also a great, reusable alternative to highlighters or sticky notes.
Find It at Amazon for $8.
Give this classic party game a personal touch by customizing the blocks. Before ordering the super-sized set, you can choose to have the names of you and a loved one engraved on one half of the blocks and a special date engraved on the other half. The result makes for a beautiful keepsake, but this set is also meant to be played with: It even comes with a durable carrying sack for lugging it to and from parties.
Find It: Uncommon Goods for $165.
This mini crossword set comes with everything word lovers need to complete The New York Times's famous puzzles on the go. Each book comes with 150 condensed crossword puzzles, and the pencil set and carrying case make it easy to fill them out on the train, in the office, or anywhere else the mood strikes.
Find It at:
Even in today's internet age, every household should have a few hard-copy reference books on the shelf. These books from Food52 double as elegant statement pieces. Each volume in the set—a dictionary, an atlas, and a thesaurus—is bound in the same tan vachetta leather used to make Italian handbags. The pages of the dictionary and thesaurus are edged in gold, and the atlas in oxblood red.
Find It at Food52 for $172 and up.
A stamped due date card immediately brings to mind long days curled up with a good library book. At the Etsy shop Jeannine's Jewels, the familiar item has been turned into a handmade charm pendant. The card is protected inside a filigree bezel and strung on a sterling silver-plated ball chain.
Find It at Etsy for $16.

Scrabble has been updated several times since its debut, but the original edition remains a classic. This Retro Series-edition of Scrabble is the same version of the game that appeared on shelves in 1949, complete with vintage wood tiles and racks. Whether or not the players stick to words that were dictionary-official 70 years ago is up to them.
Find It at Amazon for $14.
Even the most widely beloved books in literature have received plenty of hate. This pair of banned books socks highlights classic books that have all been pulled from shelves at some point in their histories. One sock features famous banned book titles like The Great Gatsby, Lord of the Flies, and To Kill a Mockingbird, while the other is covered in blacked-out text.
Find It at Uncommon Goods for $10.