13 Things to Know About The World's Oldest Santa School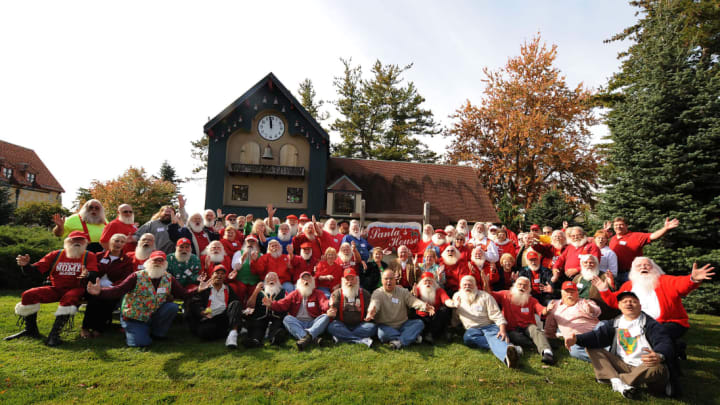 Al Bello/Getty Images / Al Bello/Getty Images
For those aspiring to portray the character of Santa Claus this season, there are dozens of places where they can study the craft. But one workshop tops each Santa's wishlist: The Charles W. Howard Santa School in Midland, Michigan. Here's a look inside one of the world's most selective—and oldest-operating—Santa schools.
1. It was founded by a true Santa pro.
Charles W. Howard first played Santa Claus in a school play when he was in fourth grade. It was a role he never shook: He would go on to appear as Saint Nicholas at the Macy's Thanksgiving Parade for nearly two decades, between 1948 and 1965, and worked as a "Santa consultant" for the 1947 film Miracle on 34th Street.
2. The school had humble origins.
Santas take notes inside the "Santa House" in Midland, Michigan. / Al Bello/Getty Images
Howard loved the spirit of Santa Claus and wanted other Santas working in the country's department stores to do Kris Kringle proud. "There was a need for better Santas," Tom Valent, the current Dean of the school, told National Geographic in 2016. "Some of the Santa characters were apparently pretty rough, smoking and drinking." The first Santa trainings reportedly took place in Howard's living room but later moved into retrofitted barns.
3. It's been in continuous operation for 81 years.
Today, the Charles W. Howard Santa Claus School is the longest continuously-operating Santa school in the world. (This year's class marked its 81st year.) Class takes place in Midland, Michigan and is headquartered in a jolly-green "Scandinavian-style" Santa house that, according to CNN, is "complete with the smell of peppermint and the sounds of elves hard at work." The building was designed and constructed by Valent (who, when he's not Santa, is a civil engineer and contractor) and architect Steve Barstow.
4. It's considered the Harvard of Santa schools.
Each year, about 200 Santas (including a handful of Mrs. Clauses) attend class in Midland—but not everybody who applies gets accepted. Co-Dean Holly Valent rejects Santas who don't seem interested in children or singing. (In other words, Santas who appear to be in it only for the money.) Additionally, she has to place around 40 prospective Santas on a waiting list each year. Thankfully, the workshop in Midland is not the only Santa school under the North Pole: There are training programs in Alberta, Denver, Atlanta, and other cities.
5. The course schedule is jam-packed.
Santas practice their Ho-Ho-Hos / Al Bello / Getty Images
According to Courtney Reagan and Sabrina Korber at CNBC:
"The education begins on a Wednesday night with an open house at the Charles W. Howard Santa Claus School, and then class begins at 8:30 a.m. and goes through 9 p.m. on Thursday, Friday and Saturday. It's not all classroom time, though. Valent said there are field trips, train rides and entertainment from professional singers—all in all about 45 hours—crammed into three days."
6. Child psychology is the name of the game.
The most important aspect of being a good Santa is learning how to genuinely listen to all kinds of children. "[Y]ou have to be on your toes all the time, because you never know what the children are going to ask you," Mary Ida Doan, who plays Mrs. Claus, told WJRT. (Doan would know: She's a member of the International Santa Claus Hall of Fame.) During the workshop, the Santas get schooled in child psychology and learn handy tricks from experts and each other: How to deal with squirmy children, crying children, children who are afraid of you, and more. The Santas even learn basic sign language. "It's important to be able to spread Christmas cheer to all children," a Santa named Bill told Reuters.
7. Gaining background knowledge means meeting real reindeer.
Since kids are apt to ask Santa anything, it's best that Santa draws his answers from real experience. What are the reindeer like? To find out, Santa students study reindeer habits and get to meet real reindeer. How are toys made? The Santas spend quality time learning how to make wooden playthings. The Santas also attend lectures about St. Nick's backstory and the North Pole. "Know who you are," Valent tells an assembly of Santas, according to CNN. "Know your legend. Know where you came from."
8. There are field trips!
Santas take notes on the latest toy crazes / Al Bello/Getty Images
Part of Santa's background research involves getting out of the classroom. To study up on the latest gadgets, the Santas take field trips to local toy stores. And to get a feel for what it's like to ride the Polar Express (they get asked about it more than you think) all of the Santas are bused to the Huckleberry Railroad and ride in a steam locomotive that's piping Christmas music.
9. They have to practice their "Ho-Ho-Hos" and their "Do-Re-Mis."
Since each Santa must prepare for radio and TV interviews, much of Santa school focuses on teaching students how to craft an accurate and authentic persona. "For example, they're advised to create a backstory for their 'elves,' pulling names and characteristics from kids and grandkids in their own circles," Kathleen Lavey reported for the Lansing State Journal. It also means learning how to deliver a hearty but balanced Ho Ho Ho. "You have to do it mild," Tom Valent explained. "It's got to be a laugh." (And to ensure the Santas are really in the Christmas spirit, they're also taught how to sing with cheer.)
10. There's more dancing involved than you'd imagine.
Santas practice their dance moves. / Al Bello/Getty Images
It's not enough to nail the laugh. Being Santa requires you to be a full-body actor—and that means perfecting the big man's jolly, bouncing swagger. The school is stuffed with movement lessons. "The school fitness teacher had them dance as if they were wrapping presents, baking cookies and filling stockings to classic Christmas tunes," Christinne Muschi wrote for Reuters. Santas also learn how to properly ease in and out of a sleigh and learn yoga and breathing exercises to keep limber. (It's important work: Hoisting kids up and down from your lap for hours takes its toll.) As Tom Valent told CNN, "Santa is a healthy outdoorsman."
11. They receive financial tips.
At Santa school—which costs $525 for new students—they teach classes on marketing, accounting, and taxes. That's because being a freelance Santa is not cheap. A Santa with a bare chin is advised to buy a custom beard and wig that can cost up to $1800. And while a generic suit costs about $500, a personalized one can run over $2000. Add to that $700 for a pair of authentic boots. And then grooming expenses. Oh, and makeup.
12. Santas get lessons in grooming.
A Santa receives grooming tips. / Al Bello/Getty Images
At school, Santas also learn how to curl their mustaches and groom their hair and beards (or wigs) to create a windblown I-just-got-out-of-the-sleigh look. They receive lessons in bleaching their hair to get a snow-white glisten as well as lessons in applying makeup. According to Lavey, teachers show "other Santas how to take the shine off their foreheads with powder, pink up their cheeks with rouge and add startdust to their beards with hairspray that contains glitter." The big secret to making Santa's beard smell magical? Peppermint oil.
13. It's probably the world's most heartwarming place.
And that's not just because cookies seem to always be within reach. It's estimated than 5000 Santas have come through the workshop since 1986. Many of them return because they love the camaraderie they feel there. "The spirit of giving, the spirit of loving one another and being kind to each other," a Santa veteran named Joe told WJRT. "The golden rule, it still stands and that's what we try to instill in Santas." As the founder Charles W. Howard once said, "He errs who thinks Santa enters through the chimney. Santa enters through the heart."