5 Facts About Shirley Jackson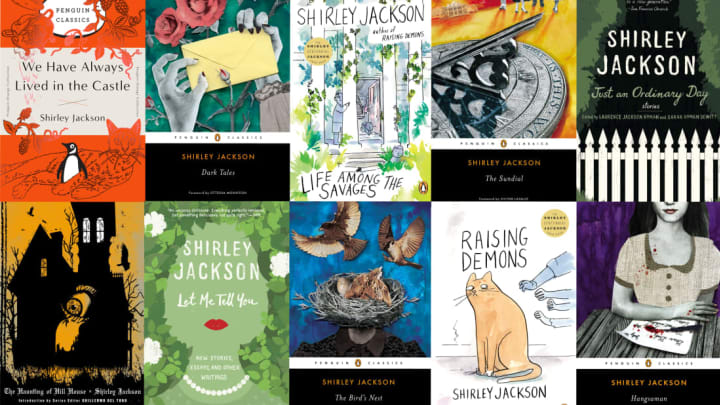 Photo illustration: Shaunacy Ferro. Images: Penguin Random House / Photo illustration: Shaunacy Ferro. Images: Penguin Random House
Midcentury American writer Shirley Jackson has long been known for her spooky short story "The Lottery," which caused widespread controversy when it came out in The New Yorker in 1948 and continues to appear in short story anthologies today. Her equally haunted novels are less widely read. But ever since her 1959 novel The Haunting of Hill House was turned into a hit Netflix series, her work has been experiencing a critical and popular revival more than 50 years after her death. (A well-reviewed 2017 biography as well as new releases of some of her short stories and previously unpublished writings in the last few years have no doubt helped.)
If you're just catching on to Shirley Jackson mania, here are five things to know about the master of gothic horror.
1. Many modern writers cite Shirley Jackson as an inspiration.
Shirley Jackson has a number of fans among modern writers. Stephen King has called The Haunting of Hill House one of the two "great novels of the supernatural in the last hundred years," and he has said he wrote The Shining with Jackson's The Sundial in mind. Writers like Neil Gaiman and Joyce Carol Oates sing her praises, and Donna Tartt has called her stories "among the most terrifying ever written." Sylvia Plath was a fan, too, and hoped to interview her during summer internship at Mademoiselle in 1953. It didn't work out, but Plath would go on to write works with plenty of parallels to Jackson's.
2. Shirley Jackson was her family's chief breadwinner.
Jackson's husband, Stanley Edgar Hyman, was a writer, too. A literary critic who taught literature at Bennington College, it was his job that brought the couple to the small Vermont city, where Jackson often chafed at being placed in the role of faculty wife. Yet it was Jackson's work that supported the family. (Like many wives of her day, she also did all the cooking, cleaning, taking care of their four kids, and driving the family around town—as one of Hyman's former students wrote of him, "Stanley never did anything practical if he could help it.")
In addition to the fees she earned selling short stories and novels, Jackson had a lucrative career writing lighthearted essays on motherhood and family life for women's magazines, which she eventually parlayed into two successful memoirs.
3. Shirley Jackson claimed to be a witch.
In keeping with the haunted themes in her writing, Jackson studied the history of witchcraft and the occult, and often told people she was a witch—though that may have been in part a publicity tactic. As Ruth Franklin writes in her 2017 Jackson biography Shirley Jackson: A Rather Haunted Life:
"During her lifetime, she fascinated critics and readers by playing up her interest in magic: the biographical information on her first novel identifies her as 'perhaps the only contemporary writer who is a practicing amateur witch, specializing in small-scale black magic and fortune-telling with a tarot deck.' To interviewers, she expounded on her alleged abilities, even claiming that she had used magic to break the leg of publisher Alfred A. Knopf, with whom her husband was involved in a dispute. Reviewers found those stories irresistible, extrapolating freely from her interest in witchcraft to her writing, which often takes a turn into the uncanny. 'Miss Jackson writes not with a pen but a broomstick' was an oft quoted line."
It's not clear whether she actually performed any magic rituals, but she referenced them often, usually in a tongue-in-cheek way. She often joked with her editors about bringing about victories for her favorite baseball team, the Brooklyn Dodgers, through her magical abilities.
Her interest was definitely real, though. She started studying witchcraft while writing a paper as a student at the University of Rochester, and later took up tarot reading. Her personal library was filled with hundreds of books about witchcraft, and in 1956, she wrote a children's book, The Witchcraft of Salem Village, about the history of the Salem witch trials.
4. Shirley Jackson considered becoming a professional cartoonist.
Jackson wasn't just good with words. She loved to draw, and even considered becoming a professional cartoonist at one point, according to Franklin. While her favorite subjects were cats, she regularly made minimalist, humorous sketches of herself and the people around her (particularly her husband), keeping a kind of cartoon diary of her life.
"They're Thurber-esque in style, but they're kind of edgy, too," her son, Laurence Jackson Hyman, told The Guardian of the drawings in 2016. "There's one in which she is trudging up a hill carrying bags of groceries, and my father is sitting in his chair, reading. 'Dear,' he says, without bothering to get up. 'You know you're not supposed to carry heavy things when you're pregnant!'" Some of these drawings are held with Jackson's papers in the Library of Congress, including sketches she made of how she imagined the layout of Hill House. Her unpublished illustrated ABC book for kids, The Child's Garden of New Hampshire, is also held there.
5. Shirley Jackson died before finishing her last novel.
Jackson died unexpectedly from heart failure in 1965 at the age of 48. (At the time, newspapers listed her as 45, as she often lied about her age, perhaps to minimize the age difference between her and her husband, who was two years younger than she.)
A significant chunk of her work has been published since her death, though. When she died, she was in the midst of writing a novel, Come Along With Me, which was published in its incomplete format by her husband in 1968. In the early '90s, a crate of unpublished stories were uncovered, and Laurence Jackson Hyman and his sister Sarah Hyman Dewitt used that as the core of a new collection  called Just an Ordinary Day. In 2015, they edited and released Let Me Tell You, a collection of stories, essays and lectures from her archive that were mostly unfinished or unpublished at the time of her death.
For more fascinating facts and stories about your favorite authors and their works, check out Mental Floss's new book, The Curious Reader: A Literary Miscellany of Novels and Novelists, out May 25!
A version of this story originally ran in 2018; it has been updated for 2021.