6 Popular Dog Myths, Debunked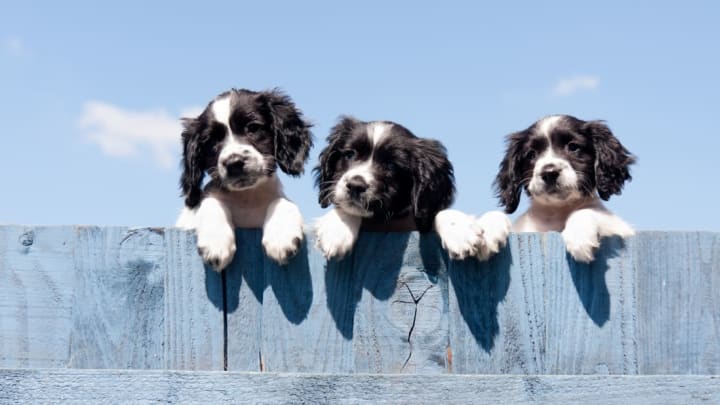 iStock.com/Groomee / iStock.com/Groomee
You know that your dog is the cutest, funniest, most lovable pooch on the planet, but there's probably a lot you don't know about man's best friend. Over the years, a surprising amount of misinformation has been repeated enough about these furry little creatures to make it seem like fact. Petful took some time to debunk several popular myths about dogs that are just that—myths.
1. Dogs are completely color blind.
While many movies have tried to convince us that dogs are completely color blind, that actually isn't true. Dogs are partially color blind, but have the ability to see yellow, green, and blue or combinations of those colors. As motion and brightness are more important for dogs, their partial color blindness does not affect them much.
2. A dog's mouth is cleaner than a human's mouth.
While most germs in a dog's mouth are dog-specific and harmless to a human being, that doesn't mean that a dog's mouth is actually cleaner than a human's. They're both filled with a fairly equal amount of bacteria—not all of which can be transmitted between species. But a dog licks many things that most people would not want on or near their face (especially those puppers who like to go digging through the trash), so it's always a good idea to keep any smooching sessions with your dog to a minimum—especially because a dog can transfer bacteria to a human that could result in an infection.
3. One human year equals seven dog years.
iStock.com/DaniloAndjus
Many dog owners automatically give two ages when asked how old their dog is: human years and "dog years" (the latter of which they calculate as human years times seven). According to Jesse Grady, clinical instructor of veterinary medicine at Mississippi State University, the best way to describe a dog's age is to sort it into a category.
The American Animal Hospital Association Canine Life Stages Guidelines [PDF] is what many veterinarians use to treat their patients. This list divides a dog's lifespan into six stages: puppy, junior, adult, mature, senior, and geriatric. And rate of maturation looks a lot different in dogs than it does in people. It takes a less than a year for a dog to reach the adult stage, and after that it takes nearly six years for it to move on to the mature stage of its life. In other words: "Dog years" depend on the dog itself.
4. A dry or warm nose means a dog is sick.
Dryness or discoloration of a dog's nose doesn't necessarily mean a dog is sick. A dog's nose actually naturally dries out in its sleep, but is right back to normal about 10 minutes after it wakes up. Dryness can also be due to allergies, sunburn, or dehydration, and some dogs' noses tend to get dryer as they age.
5. Indoor dogs don't get heartworm.
Just because a dog stays indoors most of the time doesn't mean it can't come into contact with a mosquito. And it takes just one mosquito bite for a dog to contract heartworm, which can be fatal. At the very least, the treatment process will be expensive to the pet owner. Heartworm prevention is important for both indoor and outdoor dogs.
6. Only male dogs hump.
Mounting, or humping, is a sign of both dominance and insecurity and can be performed by either a male or female dog. Some dogs hump when they become excited or stressed by a situation. A female dog may even hump to get attention.