15 Things You Might Not Know About the YMCA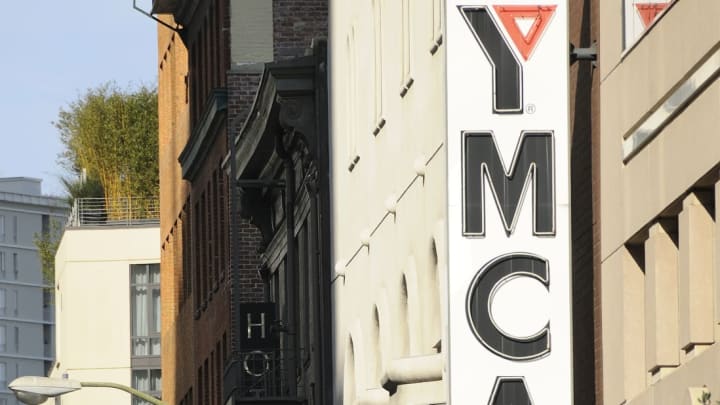 iStock / iStock
Between cigarette dogs and Nobel laureates (not to mention a certain disco anthem), it's been an eventful 175 years for the Young Men's Christian Association, whose first chapter was established in London on June 6, 1844. Here are 15 things you might not have known about the YMCA.
1. IT WAS CREATED IN RESPONSE TO THE INDUSTRIAL REVOLUTION.
Appalled by his native England's squalid living conditions during the Industrial Revolution period, Sir George Williams began organizing a series of Bible meetings which later expanded and ultimately gave birth to the Young Men's Christian Association.
2. THE ORGANIZATION EVENTUALLY SPREAD TO MORE THAN 120 COUNTRIES.
Google Maps
Also, by the "Y's" official tally, there are upwards of 2500 individual branches in the United States alone.
3. IN THE EARLY DAYS, SOME PEOPLE WERE OPPOSED TO THE YMCA OFFERING EXERCISE PROGRAMS.
Getty Images
"Our object," Sir George Williams once declared of the YMCA's mission, "is the formation of the spiritual condition of the young men engaged in houses of business, by the formation of Bible classes, family and social prayer meetings, mutual improvement societies, or any other spiritual agency." By this line of reasoning, several of his associates felt that the theologically-inclined YMCA had no business getting involved with physical education—an attitude that persisted until a few American locations began producing workout courses in the late 1800s.
4. MALE SWIMWEAR USED TO BE AGGRESSIVELY PROHIBITED BY NUMEROUS CHAPTERS.
Before the 1960s, mandatory nudity was common practice in American swimming pools (unless you were a lady, in which case you'd have to don a full suit at all times). The YMCA didn't take a national stance on this topic, allowing individual locations to draft their own rules. Many enforced compulsory male skinny dipping, claiming that buck-naked patrons supposedly spread less bacteria than their clothed counterparts.
5. BASKETBALL WAS INVENTED BY A YMCA EMPLOYEE.
Getty Images
While working as an instructor at Springfield, Massachusetts's YMCA International Training College, James Naismith famously created the game of basketball as a way to invigorate his students during the harsh New England winter of 1891.
6. VOLLEYBALL WAS A YMCA INVENTION, TOO.
Getty Images
Four years after Naismith, William G. Morgan—another Bay State YMCA teacher—developed volleyball as a less-demanding alternative to Naismith's flourishing indoor sport.
7. ONE OF THE Y'S EARLIEST PROPONENTS ENDED UP WINNING THE VERY FIRST NOBEL PEACE PRIZE.
Getty Images
Henry Dunant, who passionately fanned the YMCA's flames throughout Northern Africa and Europe, helped found the Red Cross, and—in 1910—won the original Nobel Peace Prize for his achievements.
8. GEORGE H.W. BUSH HELPED START A LOCAL Y IN MIDLAND, TEXAS.
Back in 1953, America's 41st president served as chairman of a temporary board which rallied to secure the necessary funds for building their city its very own YMCA chapter.
9. THE WORD "BODYBUILDING" WAS COINED BY A PHYSICAL CULTURIST WORKING FOR THE YMCA.
Strength-training devotee Robert J. Roberts even allowed his employers to advertise their brand by running ads that included photos of his broad, muscular backside. "Bodybuilding" was a term he thought up in 1881.
10. THE Y WAS SHUT DOWN IN THE SOVIET UNION FOR OVER 70 YEARS.
In the 1920s, despite having commanded a strong presence in Czarist Russia, the U.S.S.R. shut down all of its YMCA branches, barring the organization until 1990.
11. THE YMCA SPONSORED COMBAT-READY "CIGARETTE DOGS" DURING WWI.
Previously, YMCA magazines had condemned tobacco's addictive evils. However, in a publicity stunt during World War I, the agency sponsored a group of specially-trained bulldogs to carry cartons of cigarettes to nervous soldiers across war-torn Europe.
12. WE HAVE THE Y TO THANK FOR FATHER'S DAY.
Sonora Louise Smart Dodd of Spokane, Washington pitched the idea of having a special day to honor dutiful dads everywhere at a regional YMCA meeting. The organization loved the idea, and held America's first Father's Day celebration on June 19, 1910.
13. WITH THE YMCA'S HELP, BASKETBALL HAS (ARGUABLY) BECOME CHINA'S FAVORITE SPORT.
Today, approximately 300 million Chinese citizens play basketball, which was originally introduced to the country by YMCA missionaries in the late 19th century.
14. THE YMCA SUED THE VILLAGE PEOPLE FOR THEIR HIT 1978 SINGLE.
Admit it: You've had the chorus stuck in your head from the moment you read this article's headline, haven't you? Released in 1978, "Y.M.C.A." was an instant hit, which rapidly became one of the decade's most enduring classics. However, the actual YMCA strongly disapproved and, the following year, sued the disco group for copyright infringement (the case was eventually dropped).
15. COLIN POWELL SANG A PARODY OF THE SONG … WHILE IN OFFICE!
Donning his best Weird Al impression, the Secretary of State delivered a strange spoof with lyrics like "The President Came to Me and Said / 'Colin, I am Sure You'll Agree/ I Need You to Run/ The Department of State/ We're Between a Rock and a Hard Place!" in the middle of a 2004 security meeting in Indonesia.