How Did the Tony Awards Get Their Name?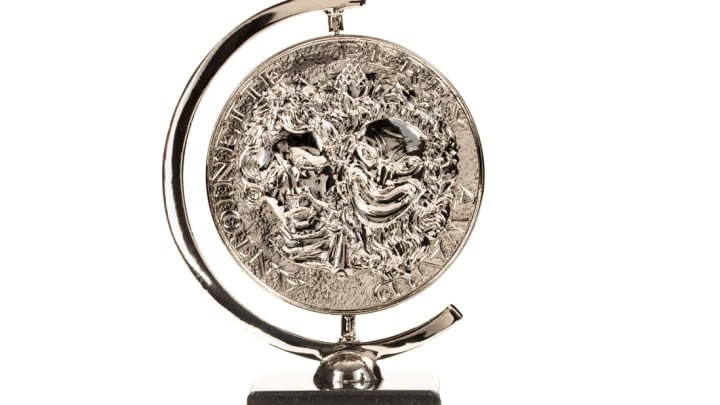 Tony Awards / Tony Awards
If you're a fan of Broadway, you've probably wondered: Who is the Tony guy these awards are named after, anyway?
The Tony is question is actually a woman, and at first, she spelled it Toni. Antoinette Perry was born in Colorado in 1888, and got her start as an actress; she would go on to become a director and a producer—roles that, in her time, were usually held by men. She was also the co-founder and chairwoman of the American Theatre Wing, which puts on the Tonys with the Broadway League.
"When I was six," Perry once wrote, "I didn't say I'd become an actress. I felt I was one. No one could have convinced me I wasn't." She joined her uncle's touring company when she was 15, and remained with it until 1905, when she came to New York and got a part in The Music Master and, later, A Grand Army Man. But despite her success, she left acting after she married an old beau, Denver businessman Frank Frueauff, in 1909. "Mother's literary and bohemian set clashed with father's conservative lifestyle," their daughter, Margaret, recalled to Playbill in 1998. "When she became pregnant with me, father persuaded her to quit theatre to raise a family." They settled in New York, and Perry became a full-time wife and mother.
But Perry just couldn't quit the theater. In 1920, she was approached by producer Brock Pemberton to become an investor in his production of Miss Lulu Bett, which won the Pulitzer Prize. Soon after, she became Pemberton's silent partner, eventually getting her husband's blessing to continue investing in stage productions.
After Frueauff died in 1922, Perry returned to the stage, acting until 1927 when, according to her biography on the Tonys website, she suffered a stroke that paralyzed the left side of her face. In 1928, she took up directing, putting on 17 productions in 13 years. Eventually, she struck up a romantic relationship with the married Pemberton; they even shared an office. At night, "she came home, ate as she read scripts and saw we did our school work," Margaret told Playbill. "Promptly at nine, Brock would phone and they'd talk for hours. They remained devoted friends until Mother's death."
In addition to acting, directing and producing, Perry was also a philanthropist: She backed new playwrights, underwrote auditions for aspiring actors and actresses, and helped to open a national school for actors, where now-famous names like George Burns, Bob Fosse, Angela Lansbury, Charlton Heston, and Christopher Plummer studied. During World War II, Perry co-founded the Theatre Wing of Allied Relief, which would become the American Theatre Wing. The Wing sponsored 54 programs in New York and around the world during WWII, and established the Stage Door Canteen, where stars worked as waiters, dishwashers, and entertainers for servicemen.
When Perry passed away from a heart attack in June 1946, Warner Bros. story editor Jacob Wilk suggested that an award honoring achievement in theater be created in Perry's name, and the Antoinette Perry Award for Excellence in Theatre was born. "The thing he wanted to do the most for her was to make a yearly show that would keep her name alive in the American theatre," Wilk's son, Max, recalled in 2006. "He was darn good at doing it, too. [The Tonys] do keep her name alive, and they are important [for the theatre]. If my father were here, he'd feel good about that."
The Tony came by its common name at the very first event, held at the Waldorf Astoria on Easter Sunday, April 6, 1947. When he was presenting an award (then a scroll; the medallion was first given out in 1949), Pemberton called it a Tony.