Machu Picchu Is Wheelchair-Accessible for the First Time Ever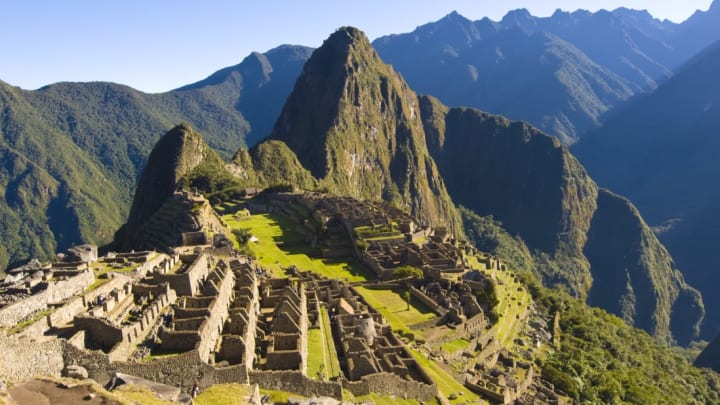 iStock.com/DavorLovincic / iStock.com/DavorLovincic
Hiking up Machu Picchu in Peru has long been challenging for able-bodied people—and impossible for people who use wheelchairs. Now, CNN Travel reports that travel company Wheel the World has developed a special tour of Machu Picchu for disabled people, making the site wheelchair-accessible for the first time in its 600-year history.
Wheel the World is the brainchild of Alvaro Silberstein and Camilo Navarro, two friends and entrepreneurs from Chile. Their idea formed when the pair planned to hike Torres de Paine National Park in Patagonia together in 2016. Silberstein uses a wheelchair, and his regular chair wasn't suited for the journey. But following a successful crowdfunding campaign, he was able to buy a lightweight, foldable chair for the trip.
Silberstein and Navarro have since made a business out of making sites normally reserved for hikers wheelchair accessible. Wheel the World now offers tours of Easter Island and the Zapotec ruins in Mexico, but designing a tour for Machu Picchu, a site with an elevation close to 8000 feet, was their biggest challenge yet.
Machu Picchu is a UNESCO World Heritage Site, and its protected status and vulnerability to erosion means wheelchair ramps can't be installed easily. Instead, Wheel the World came up with a way to provide disabled tourists with special wheelchairs at a price that wasn't outlandish. The wheelchairs are made from steel and aluminum, which makes them lightweight, and they have one wheel in the front and two long handles like a wheelbarrow, making them easier to navigate over tough terrain. A partner is needed to push the chair during the hike.
Wheelchairs are donated to the company and stored near the tour sites, which cuts down on costs. A four-day trip to Machu Picchu, including accommodations, meals, and transportation, costs Wheel the World travelers about $1500.
Wheel the World is set to give its first full tours of Machu Picchu in March 2019.
[h/t CNN Travel]