Paris's Notre-Dame Cathedral Was Saved from Total Devastation, According to Fire Officials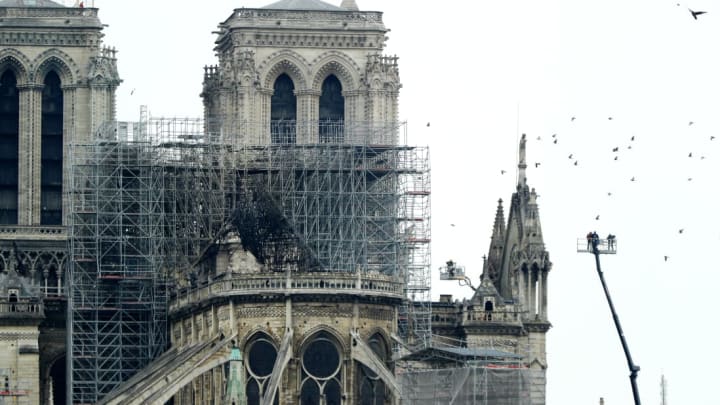 Dan Kitwood/Getty Images / Dan Kitwood/Getty Images
People around the world watched in horror on Monday, April 15 as the iconic Notre-Dame Cathedral in Paris, France was consumed by flames. The fire, which French prosecutors say was likely started by accident, destroyed the building's roof, spire, and parts of the interior. But despite the intensity of the blaze, 400 firefighters were able to put it out and save the structure from total devastation, CNBC reports. Now, French President Emmanuel Macron is vowing to rebuild Notre-Dame, and donations are already flowing into the country.
The cathedral's facade and famous twin bell towers are still standing following Monday's fire. The interior also fared better than photographs of the inferno would suggest. Bernard Fonquernie, an architect who worked renovations of Notre-Dame in the 1980s and 1990s, told The New York Times that the stone vaulting inside the church acted as a firewall and protected parts of the church from damage. The famous stained glass South Rose window—which dates to 1260—remains intact, as does Notre-Dame's Great Organ, though it may be water damaged. The structure's roof, also known as "the forest" due to the amount of timber used to build it in the 13th century, suffered the worst of the fire.
Many of the priceless relics and artworks inside the church were also salvaged, including the crown of thorns the Catholic Church believes Jesus wore during his crucifixion. After Notre-Dame caught fire yesterday, firefighters, policemen, and municipal workers formed a human chain to remove treasures from the building as quickly as possible.
French firefighters work to extinguish the flames at Notre-Dame Cathedral. Here, the spire has already collapsed, but the main stone structure and bell towers were saved. / Veronique de Viguerie/Getty Images
Paris prosecutors are operating on the theory that the fire was started accidentally, and they've launched an investigation into the exact cause of the tragedy. In the meantime, President Macron tweeted yesterday that France will rebuild Notre-Dame over the coming years.
It's not clear what the cost of the damage is, but France is already receiving money to fund the restoration: More than 400 million euros (or $452 million) has been raised so far. Prolific donors include some of France's richest citizens: Kering CEO Francois-Henri Pinault pledged 100 million euros, and Bernard Arnault, the CEO of luxury group LVMH, pledged 200 million euros.
[h/t CNBC]