Dozens of Donkeys, Mini-Donkeys, and Baby Donkeys Are Looking for New Homes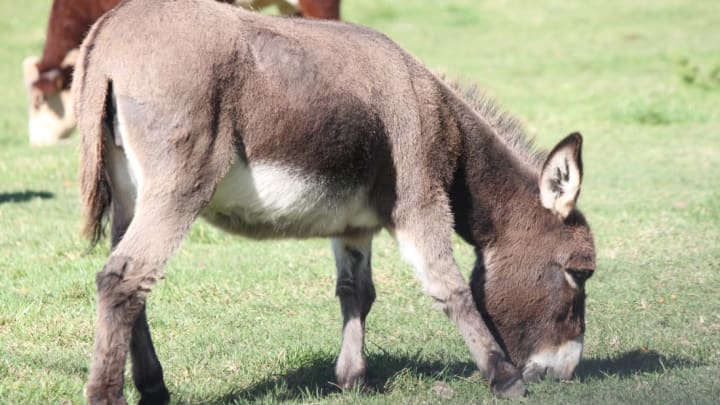 iStock.com/huggy1 / iStock.com/huggy1
Cats and dogs aren't the only rescue animals that need permanent homes. At the Humane Society of North Texas (HSNT), there are over 60 donkeys, miniature donkeys, baby donkeys, and Thoroughbred horses up for adoption, the Cleburne Times-Review reports.
Many of the equines at HSNT's ranch in Joshua, Texas came from owners who had to give them up, and others were transferred from different animal rescue groups. As part of the ASPCA's Help A Horse Home Challenge, HSNT is hosting events to help find new homes for its horses and donkeys.
Between April 26 and June 30 this year, the ASPCA is challenging equine organizations to adopt out as many animals as they can. The groups that see the biggest increases in adoptions between this year and last year's Help A Horse Home Challenge will share $150,000 in grant funding. On May 18 and June 8, HSNT is holding open houses at its ranch for anyone interested in adopting an animal. The events will also be used as opportunities to educate the public about the demands of equine ownership.
If you're not free to swing by one of HSNT's open houses, you can still apply to adopt a horse or donkey. Interested owners can fill out and submit this form [PDF] to equine@hsnt.org. And if you'd like to spend time with baby and mini-donkeys without taking one home, HSNT is also looking for volunteers.
[h/t Cleburne Times-Review]