Who Stole My Cheese? Archivists Are Cataloging 200 Years of Criminal Records From the Isle of Ely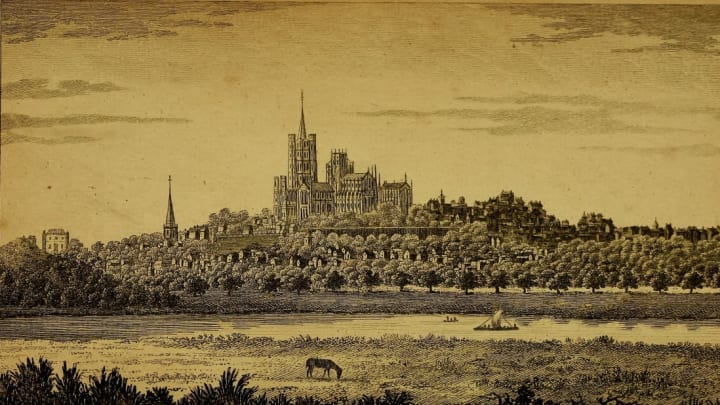 Internet Archive Book Images via Flickr, Wikimedia Commons / Internet Archive Book Images via Flickr, Wikimedia Commons
And you thought your parents were strict. In 16th century England, the same courts that tried murderers were also tasked with getting to the bottom of cheese thefts.
As The Guardian reports, archivists from the University of Cambridge have begun cataloging close to 270 court documents from the Isle of Ely, a historic region of England known for its magnificent, gothic-style cathedral as well as being the home of Oliver Cromwell for more than a decade (Cromwell was appointed governor of the isle in 1643).
Some of the documents, which are dated from 1557 to 1775, relate to matters that may seem macabre—or even ridiculous—in the modern world. But they offer a keen insight into the area's past. "This project enables us to hear the voices of people from all backgrounds ... long dead and forgotten, and for whom there is no other surviving record," archivist Sian Collins told The Guardian.
One such person was yeoman John Webbe, who was charged with defamation by one William Tyler after Tyler's wife, Joan, overheard Webbe tell someone that: "Tyler thy husband is a knave, a rascall & a thief for he stole my goodes thefyshely [thievishly] in the night."
Then there was poor William Sturns, whose only crime was a hunger that led him to steal three cheeses; ultimately, he was deemed not guilty. "Unfortunately we don't know what type of cheese it was," Collins told Atlas Obscura. "But cheesemaking was fairly common in the area at the time."
Not all of Ely's court cases were about backtalk and dairy products, though. The university's website details how in 1577, Margaret Cotte was accused of using witchcraft to kill Martha Johnson, the daughter of a local blacksmith. Margaret was eventually found not guilty, which is part of what makes this project so important.
"Martha and Margaret may not appear in any other records," Collins said. "This is all we know about them."
[h/t The Guardian]