25 of the Best Places to Retire Early in America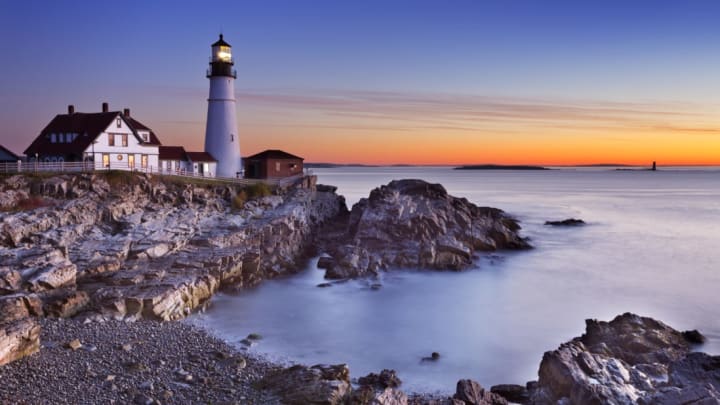 Maine's Portland Head Lighthouse. / iStock/sara_winter
Retirement is a word we often associate with sun-loving sexagenarians and beyond who are living out their glory years in a Florida bungalow. To many, it's a luxury afforded only to those seasoned professionals who did their time in the workforce. But Kiplinger, the nearly 100-year-old publication focused on personal finance and business forecasts, says otherwise. The site recently reported how, with careful planning, a person could successfully retire early.
By "retiring early," the site is referring to a retirement age of around 45, not 25 (sorry, to all you hopeful Millennials out there). While there is some taboo surrounding a person's decision to move forward with such a choice, those who have actually done it have praised its many benefits. So what kind of careful planning would allow for someone to achieve such a goal?
According to Kiplinger, one of the best ways to successfully quit your day job while you're still in your 40s is to settle in a place where the living conditions—including cost of living, tax rates, and income opportunities—allow you to keep busy and remain financially solvent. To help out, Kiplinger released a list of the best places in each state for early retirement, factoring in such variables as the health of each state's economy, taxes on retirees, poverty rates within the retirement demographic, and certain population data.
Listed alphabetically by state, cities and towns with higher concentrations of residents aged 45 to 64 were also favored. Here are 25 of Kiplinger's 50 best places.
Huntsville, Alabama
Lake Havasu City, Arizona
San Francisco, California
New Milford, Connecticut
Tampa, Florida
Kapaa, Hawaii
Champaign-Urbana, Illinois
Des Moines, Iowa
Louisville, Kentucky
Portland, Maine
Pittsfield, Massachusetts
Minneapolis, Minnesota
St. Louis, Missouri
Omaha, Nebraska
Manchester, New Hampshire
Albuquerque, New Mexico
Raleigh, North Carolina
Cincinnati, Ohio
Portland, Oregon
Providence, Rhode Island
Pierre, South Dakota
Sherman, Texas
Burlington, Vermont
Seattle, Washington
Green Bay, Wisconsin
To check out the full list of 50, visit Kiplinger's website.