Texas's Magnolia Hotel—a Paranormal Hotspot—Opens Its Doors to Overnight Guests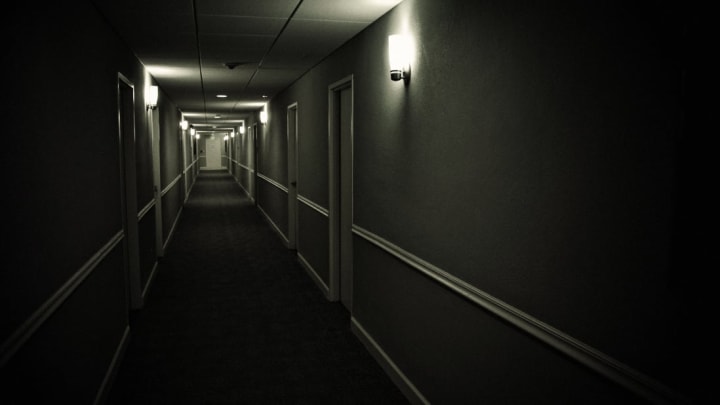 iStock/THEPALMER / iStock/THEPALMER
Those who view The Shining's Overlook Hotel as a desirable vacation spot now have the chance to make their spooky dreams come true. The Magnolia Hotel—supposedly haunted by a total of 13 ghosts—will soon open its doors to overnight visitors.
Located in Seguin, Texas, the hotel's history can be traced back to 1840, when Texas Ranger James Campbell first constructed a log cabin on the property. The cabin later expanded into a hotel, which saw some success in the mid-1800s and early 1900s. Unfortunately, the hotel was then abandoned for many years, and was almost lost to extreme disrepair. In an effort to save it, members of Preserve Texas placed the building on the organization's Most Endangered Historic Places list along with several other sites. It eventually captured the attention of current owners Jim Ghedi and Erin Wallace Ghedi, who bought the Magnolia Hotel in March 2013.
It didn't take long for the Ghendis to realize something strange was going on. According to Country Living, the couple began experiencing supernatural events as soon as repairs commenced. Photos showed strange figures climbing out of mirrors; doors would be heard slamming by unknown forces; and shadowy outlines could be glimpsed hovering in doorways.
It's no surprise the Magnolia Hotel is haunted given its gruesome history. Not too long after he built the original log cabin, James Campbell was reportedly killed by Native Americans during a trip to San Antonio. Three decades later, notorious Texan serial killer Wilhelm "William" Faust traveled to the nearby town of New Braunfels in order to kill his wife. He instead mistakenly butchered Emma Voeckler—the 12-year-old girl who was unfortunately sharing a room with his wife at the time—and fled to the Magnolia Hotel before his arrest. Some claim one of the ghosts is poor Emma, eternally bound to the area where her killer hid directly after her death.
The hotel's website states that overnight reservations will open on August 12 on a first-come, first-served basis. Accommodations include fully restored suites consisting of two bedrooms, a full bath with a walk-in shower, and a non-cooking kitchen. Guests and non-guests alike can also partake in the hotel's guided ghost tours, which the site warns are "not for the faint of heart."