Ghost Town in the Sky—a 'Cursed' Theme Park in North Carolina—Has Hit the Market for $5.95 Million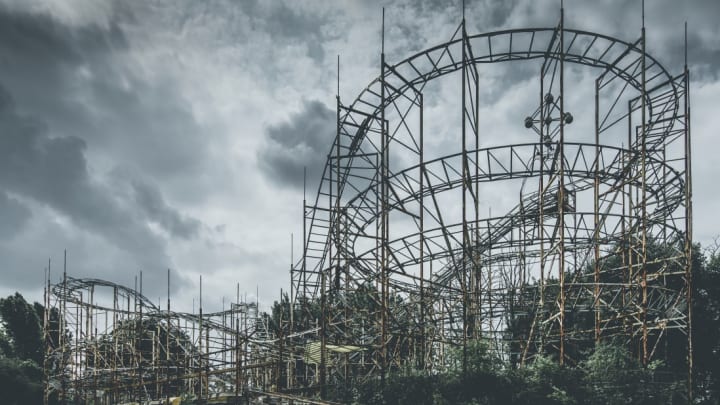 umbertoleporini/iStock via Getty Images / umbertoleporini/iStock via Getty Images
Despite a recent attempt to reopen it, Ghost Town in the Sky—an allegedly cursed amusement park in North Carolina—has recently been put on the market for $5.95 million, The Charlotte Observer reports.
The 250-acre Wild West-themed attraction, which opened in 1961, sits atop Maggie Valley's Buck Mountain near Asheville, North Carolina. Perched at a 4600-foot elevation, it can only be reached by a chairlift, an incline car, or a really long hike.
Valerie and Spencer Oberle have been working to buy the park, renovate it, and reopen it, but have faced several setbacks along the way, including serious financing issues. Valerie Oberle told The Charlotte Observer that although their offer has expired, they haven't abandoned their hopes of resurrecting the abandoned mountaintop attraction. It's difficult, she said, since "the property continues to deteriorate as the owner has not taken any measures to preserve," but the couple is still trying to raise funds to purchase the park. In the meantime, the park is still up for grabs.
Ghost Town in the Sky gained its cursed reputation for a few different reasons. In 2002, a mechanical malfunction trapped tourists in the chairlift for hours, and in 2010, a catastrophic mudslide blocked the only road to the park. But perhaps the most unsettling event occurred in 2013: A cowboy, in the middle of staging a routine (pretend) gunfight, was shot and wounded with an actual bullet. We don't know how or why the gun was loaded, but the incident seems a little Westworld-ian.
Along with Westworld, movies like Zombieland and Final Destination 3 have popularized the idea of the creepy abandoned theme park, and social media has become a perfect platform for adventurers to share photos and videos taken at the parks themselves. The blogger known as The Carpetbagger covered Ghost Town in the Sky for his YouTube channel in 2017.
Can't afford your own abandoned theme park, but interested in seeing more eerie photos of them? Check some out here.
[h/t The Charlotte Observer]