Therapy Ponies Are Bringing 'Comfort and Joy' to Dementia Patients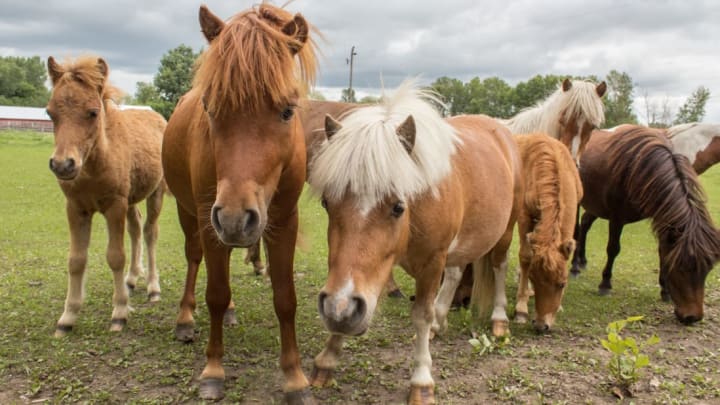 libertygal/iStock via Getty Images / libertygal/iStock via Getty Images
Elaine and John Sangster are proving that sometimes, a pony's place is in the house, hospital, or nursing home. Together, the husband-and-wife team run Therapy Ponies Scotland, an organization that brings Shetland ponies to homes and hospices throughout Scotland so that dementia patients and other residents can experience the restorative effects of the adorable animals.
"You walk into their bedroom with a pony and their faces just light up," Elaine told Horse & Hound. "Sometimes you see people who never come out of their room sprinting down the corridor with their Zimmer frames!"
Lyn Irvine, a nurse consultant for Alzheimer Scotland and NHS Grampian (the regional public healthcare board), explained the mental health benefits of spending time with the ponies. "The interaction with the ponies often helps stimulate a positive social response … and minimizes stress and distress. The animals provide comfort, joy, and a sense of excitement," she told Horse & Hound. It can also boost morale for the patients' families, and Elaine said that patients' relatives often do plan their visits to coincide with the ponies' arrival.
Elaine said that sometimes a facility's staff isn't quite sure what to expect of the Sangsters' brood before their first visit, which isn't totally surprising; managing eight ponies indoors is quite a massive undertaking. But the couple has owned the majority of the herd since foalhood, so they've thoroughly trained them to be comfortable and obedient during home visits. They also groom them to perfection.
According to Elaine, the ponies are "teddy-bear soft to the touch and smell beautiful." They also attach "'whoops-a-daisy' bags" to the ponies' rear ends, so that they don't sully their stay with any defecatory disasters. "Every time we go into a care home people can't believe how well-behaved and calm they are—we are so proud of them we could burst." Staff members often ask the Sangsters for repeat bookings before the first visit has even ended.
Elaine and John have 15 ponies in total, and usually take eight to each visit. This gives all of the animals enough days off to prance about in their pen as they please.
Are you wishing there was a pony nearby so that you, too, could experience its therapeutic effects? If there isn't one within arm's reach, you could always try petting a cat or dog instead.
[h/t Horse & Hound]