What's the Difference Between Cement and Concrete?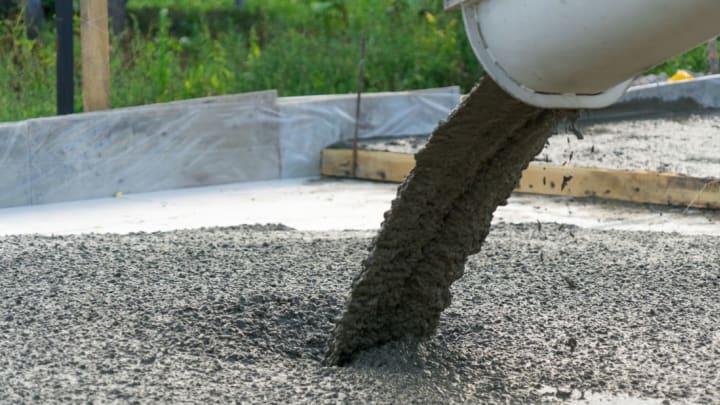 Vladimir Kokorin/iStock via Getty Images / Vladimir Kokorin/iStock via Getty Images
Picture yourself walking down a city block. The sidewalk you follow may be obscured by shuffling feet and discarded gum, but it's clearly made from something hard, smooth, and gray. What may be less clear is the proper name for that material: Is it concrete or cement? Is there even a real difference between the two words?
Though they're often used interchangeably, concrete and cement describe different yet related elements of the blocks, flooring, and walls that make up many everyday structures. In simple terms, concrete is the name of the gray, gritty building material used in construction, and cement is an ingredient used in concrete.
Cement is a dry powder mixture that looks much different from the wet stuff poured out of so-called cement trucks. It's made from minerals that have been crushed up and mixed together. Exactly what kind of minerals it's made from varies: Limestone and clay are commonly used today, but anything from seashells to volcanic ash is suitable. After the ingredients are mixed together the first time, they're fired in a kiln at 2642°F to form strong new compounds, then cooled, crushed, and combined again.
Cement / lior2/iStock via Getty Images
This mixture is useless on its own. Before it's ready to be used in construction projects, the cement must be mixed with water and an aggregate, such as sand, to form a moldable paste. This substance is known as concrete. It fills whatever mold it's poured into and quickly hardens into a solid, rock-like form, which is partly why it's become the most widely-used building material on Earth.
So whether you're etching your initials into a wet sidewalk slab, power-hosing your back patio, or admiring some Brutalist architecture, you're dealing with concrete. But if you ever happen to be handling a chalky gray powder that hasn't been mixed with water, cement is the correct label to use.
Have you got a Big Question you'd like us to answer? If so, let us know by emailing us at bigquestions@mentalfloss.com.