Need Help Cleaning Up the Dog Poop in Your Yard? There's an App for That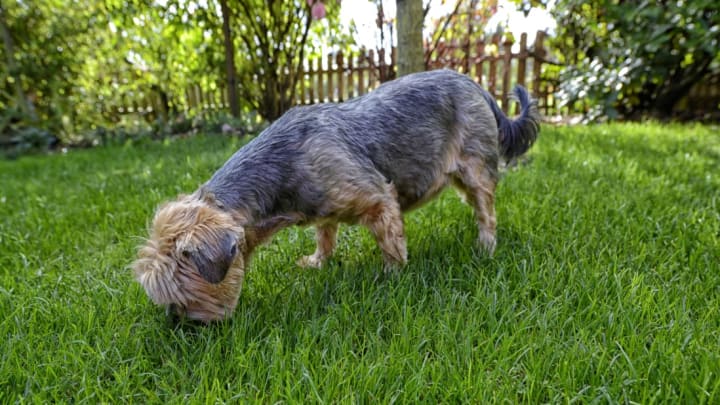 schulzie/iStock via Getty Images / schulzie/iStock via Getty Images
You love your dog, but you surely don't love what they behind in the yard for you to clean up. In most cases, scooping up poop is an unpleasant but unavoidable part of pet parenthood. Now, as WGN9 reports, there's a way to keep your yard looking pristine without breaking out the waste disposal bags. A business called Plowz & Mowz will come to your home and scoop the poop for you.
Plowz & Mowz is like Taskrabbit for outdoor chores. The app was built around services like plowing driveways, mowing lawns, and mulching gardens, and it recently added pet waste removal to its list.
If you want to get rid of the dog poop on your lawn without getting your hands dirty, download the Plowz & Mowz app and request a poop-scooper to come to your home. After answering a few questions about your property, you'll receive a free quote with the option to set up a date for the service. A contractor will come to your house, update you throughout the process, and send a photo of your poop-free yard once they've finished the task.
Plowz & Mowz is currently operating in more than 40 metro areas, including, Boston, Dallas, Chicago, and Atlanta. To see if the app's poop-removal service is available in your area, you can enter your ZIP code on the website.
Cleaning up waste isn't necessarily time-consuming work, but it's something many pet owners avoid doing at all costs. Some apartment complexes have even started using DNA testing to identify the culprits behind unattended pet poo.
[h/t WGN9]