A Picturesque Region of Southern Italy Wants to Pay People $770 a Month to Move There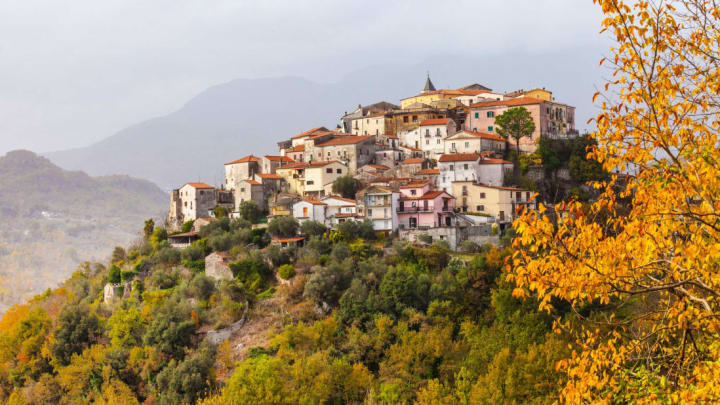 Freeartist/iStock via Getty Images / Freeartist/iStock via Getty Images
If you've been toying with the idea of moving to southern Europe and opening a quaint inn ever since you first saw Mamma Mia! in 2008, it's time to dust off your overalls and get packing. Molise, Italy, will pay you about $770 each month for three years if you promise to establish a business in one of its underpopulated villages.
The campaign aims to bolster Italy's population numbers and provide areas with the culture, commerce, and infrastructure needed to keep those numbers up. "If we had offered funding, it would have been yet another charity gesture," Molise president Donato Toma told The Guardian. "We wanted people to invest here … It's a way to breathe life into our towns while also increasing the population."
The government will, however, supplement the newcomer program with actual funding—about $11,000—for participating villages, which must have fewer than 2000 residents. And, if an ABBA-inspired inn isn't the name of your game, Toma also suggested a bakery, a stationery shop, or a restaurant.
Molise, a mountainous region southeast of Rome, boasts spectacular cliffside views, sweeping olive groves, and bucolic tranquility. Why, then, aren't people clamoring to move there for free? Partially because Italy is currently enduring a nationwide population crisis that has hit Molise especially hard.
According to the Italian National Institute of Statistics, the region has lost 9000 residents since 2014, and 2800 of those were from last year alone. The Guardian explains that young people are seeking job opportunities elsewhere in Europe, and those who stay aren't starting families. Last year, for example, nine of Molise's towns had no new births to report. Overall, Italy's population of resident citizens fell by 677,000 between 2014 and 2018, and it's second only to Japan on the list of countries with the largest proportion of senior citizens.
Enticing prospective residents with small salaries is only one method of combating the plummeting population numbers. The mayor of Sutera, in Sicily, has offered his empty estates to Libyan asylum seekers, while Sambuca, also in Sicily, is selling abandoned houses for about a dollar.
[h/t The Guardian]