3 Ways to Register to Vote in Less Than 5 Minutes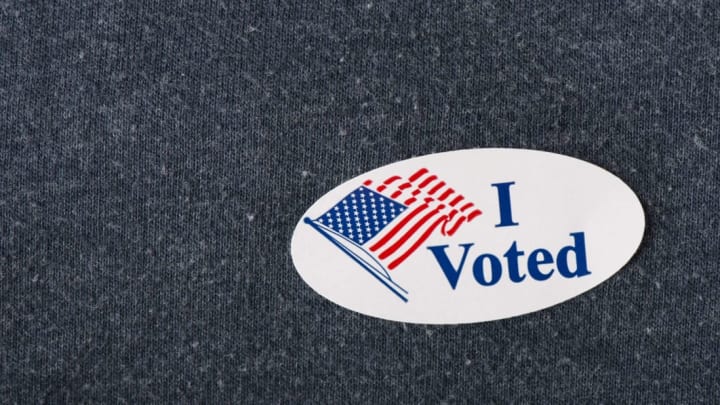 IcemanJ/iStock via Getty Images / IcemanJ/iStock via Getty Images
The 2020 presidential race is already dominating the news cycle, but before that election occurs, citizens will have the chance to vote in their state and local elections. Off-year elections don't get a ton of national press, which means people are less likely to remember to register to vote until it's too late. But if you're reading this on September 24, National Voter Registration Day, you still have plenty of time to sign up before the next Election Day on November 5, 2019. First, you'll want to be sure that you're registered to vote (here's how to do that). Then, here are 3 quick ways to register to vote today.
1. Download an app.
If you feel intimidated by the thought of voting, download VoterPal. The app is designed to make every step of the process as clear and simple as possible. Start by opening the app and scanning your state ID. From there, VoterPal auto-populates your form with the relevant information so you don't have to, all while taking your state's voting rules into account. And if any details are missing, the app makes it easy to input them by hand in less than a few minutes.
2. Visit a website.
As of this year, 38 states and Washington, D.C., permit online voting registration. There are many websites designed to help citizens take advantage of these laws, including IWillVote.com. After checking your status, you can fill out your voter information using the site's convenient digital form. I Will Vote also gives you the option to share your pledge to vote on social media. Other online voting registration websites, like TurboVote.org and RocktheVote.org, work the same way. You can also go straight to your state's official website and sign up there if the law allows it.
3. Attend an event.
Many states require citizens to print, sign, and scan their voter registration forms, which takes some of the convenience out of signing up online. By finding a voter registration event in real life, you can fill out and sign a physical copy your form and depend on someone else to get it into the right hands. If you head to NationalVoterRegistrationDay.org, you can enter your zip code and see the list of drives taking place in your area for National Voter Registration Day.