Mapping Technology Reveals 'Lost Cities' on National Geographic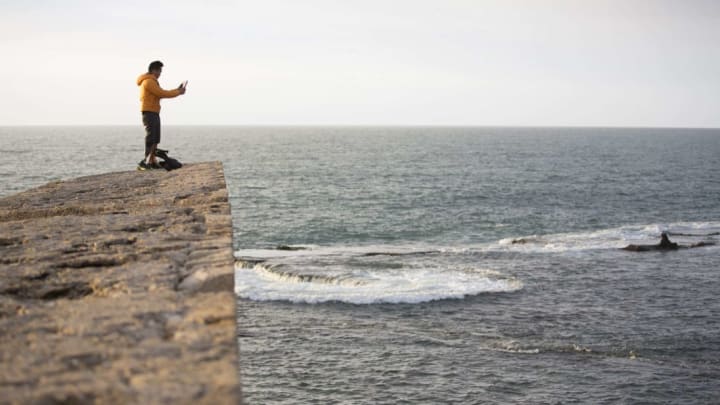 Lin uses his iPad to visualize scanning data of a crusaders' fortress at the lagoon in Acre, Israel. / Blakeway Productions/National Geographic
Imagine what Pompeii looked like before the lava hit, or Mayan pyramids before the jungle took over. In the past decade, scientists have been able to explore human settlements long since abandoned by using a new wave of accessible technology. Instead of needing an expensive plane and crew to fly aerial sensors, for example, explorers can mount them on cheaper drones and pilot them into previously unreachable areas. The resulting data can tell us more about the past, and the future, than ever before.
That's the premise of Lost Cities with Albert Lin, a new TV series premiering on National Geographic on Sunday, October 20.
Lin, an engineer and National Geographic Explorer, uses cutting-edge tools to shed light on centuries-old cities in the most beautiful places on Earth. Ground-penetrating radar reveals buried structures without disturbing the landscape. A drone-mounted remote sensing method called LIDAR—short for "Light Detection and Ranging"—shoots lasers at objects to generate data, which Lin visualizes with 3D mapping software. The results suggest what the ruins probably looked like when they were new.
Thomas Hardy, Adan Choqque Arce, Joseph Steel, Duncan Lees, Albert Lin, and Alonso Arroyo launch the LIDAR drone at Wat'a in Peru. / National Geographic
"It's like a window into a world that we've never had before," Lin tells Mental Floss. "It's shooting millions of laser pulses per second through a distance of air. By digitally removing the top layer of everything above the ground—trees, brush, cacti—you're washing away the past. All of the sudden you're left with these fingerprints—experiments in how we organized ourselves through time."
For the six-episode series, Lin and the expert storytelling team were dispatched to the South Pacific, the Middle East, the Andes, the Arctic, and other destinations. Lin explains that while most of the sites are known to archaeologists, they've never been so precisely mapped in three-dimensional detail.
In the first episode, Lin travels to Nan Madol, an enigmatic complex of temples and other structures on the Micronesian island of Pohnpei. With the help of local researchers and indigenous leaders, Lin and the team scan the ruins and digitally erase trees, water, and forest undergrowth to unveil the complex's former grandeur.
"Technology and innovation have always been that gateway to go beyond the threshold, and see what's around the corner," Lin says. "Seeing these worlds for the first time since they were left, it's almost like reversing the burning of the library of Alexandria. We can take the synthesis of knowledge of all these watershed moments of our human journey, and imagine a better future."
Lost Cities With Albert Lin premieres Sunday, October 20 at 10/9c and resumes on Monday, October 21 at 10/9c on National Geographic.