Paula the Two-Toed Sloth Is Officially the Oldest Sloth in Captivity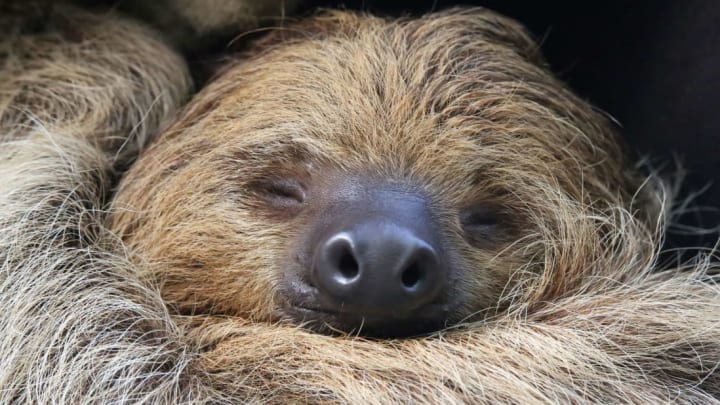 Sleeping two-toed sloth. / tane-mahuta/iStock via Getty Images
For many sloths, surviving a trip to the ground is an impressive achievement. As the BBC reports, a two-toed sloth living in a German zoo has done something even more monumental: Guinness World Records confirms that Paula the sloth has officially been deemed the world's oldest sloth at age 50.
Born in South America, Paula has lived at the Halle Zoo in central Germany since she was at least 2 years old. For nearly half her life, zookeepers thought Paula was male. It wasn't until 1995 that an ultrasound scan revealed her true sex and her name was changed from Paul to Paula.
The zoo chose June 14 as the date to mark Paula's birthday, and on June 14, 2019, the sloth celebrated half a century on Earth. Two-toed sloths typically live about 20 years in the wild and 30 to 40 years in zoos. At 50 years old, Paula now holds the record for oldest sloth in captivity, and likely the world.
The zoo staff credits Paula's longevity to having a stable, caring home. If her genes played any role, they won't be passed down to future generations: Paula doesn't have any offspring. After discovering that he was really a she, the zoo tried pairing Paula with male breeding partners. Though she became pregnant three times, her cubs didn't survive.
After a long and interesting life, Paula has earned her place as one of the most beloved animals at the Halle Zoo. Her caretakers showed their appreciation on her birthday by making her a special meal of cooked maize and vegetables—her favorite foods.
[h/t BBC]