Last Wild Grove of Wollemi Pines, the Endangered 'Dinosaur Trees,' Saved From Australia's Wildfires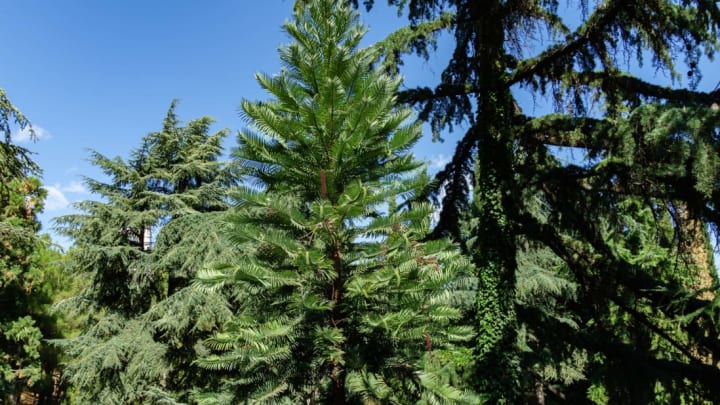 Marina Denisenko, iStock via Getty Images / Marina Denisenko, iStock via Getty Images
Almost three decades after they were rediscovered, the ancient "dinosaur trees" of Australia's Wollemi National Park were nearly wiped out for good. Wildlife officials in New South Wales feared that the last natural stand of Wollemi pines would be counted among the billions of plants and animals destroyed by Australia's recent wave of wildfires. But thanks to quick action from firefighters, the ancient grove has been saved, The Guardian reports.
The first Wollemi pines date as far back as 200 million years, and the trees reached peak numbers 65 million to 34 million years ago. Since then, populations have shrunk so drastically that the species was thought to be extinct until it was rediscovered 26 years ago. Fewer than 200 wild specimens exist today, and they're all concentrated in a protected sandstone grove in Wollemi National Park, about 125 miles northwest of Sydney, Australia.
The Wollemi pines' fragile status means that one bad forest fire could spell its end. With this in mind, the New South Wales National Parks and Wildlife Service and NSW Rural Fire Service prioritized their protection this bushfire season. Before the Gospers Mountain fire spread to the canyons where the trees grow, a team of firefighters was sent there by helicopter to install an irrigation system. This kept the trees hydrated and made them less vulnerable to flames. Helicopters also dumped fire retardant around the grove to weaken the fire when it arrived.
The efforts weren't able be able to save every Wollemi pine from damage and destruction—a few trees survived with charring and two more died—but they were enough ensure the continuation of the species. With a population this small, protecting it is a never-ending battle. In addition to fire, visitors stepping on seedlings and introducing diseases also pose a threat. For that reason, the Australian government has chosen to hide the exact location of the grove from the public.
[h/t The Guardian]