15 Quirks of U.S. Presidents You Didn't Learn in School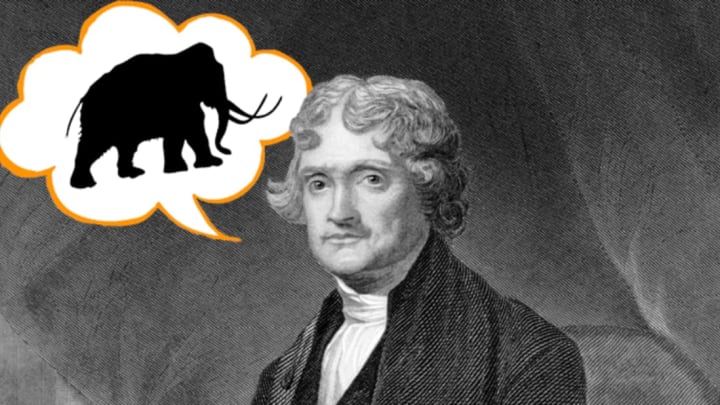 istock / istock
We know all about George Washington's knack for revolution, Thomas Jefferson's wine cellar, and Teddy Roosevelt's proclivity to bust the occasional trust. But those are merely the presidential pastimes that made headlines. Behind closed doors, America's historic Commanders-in-Chief were just like the rest of us: riddled with odd habits, esoteric hobbies, and strange fears.
1. JOHN QUINCY ADAMS'S PRIZED PET
It's hardly unusual for the first family to keep a dog or a cat in the White House, but swamp reptiles are a less common occurrence. Animal lover John Quincy Adams kept a full-grown alligator (gifted to him by French military officer Gilbert du Motier, Marquis de Lafayette) in the White House bathtub. He delighted in showing off the gator to any guests brave enough to pay it a visit.
2. THOMAS JEFFERSON'S MAMMOTH HOBBY
An affinity for live animals is one thing, but some presidents preferred their wildlife long deceased. Thomas Jefferson, ever the craftsman, had the bones of a mastodon shipped to the White House, where he attempted to construct a full skeleton for display.
3. CHESTER A. ARTHUR'S RUMMAGE SALE
You couldn't call Chester A. Arthur the sentimental type. The 21st president was happy to hand over wagonloads of White House furniture—the former belongings of his long line of esteemed predecessors dating all the way back to John Adams's term—to the highest bidder. Rumor has it he only snagged $8,000 for the priceless haul.
4. ZACHARY TAYLOR'S SPITTING SKILLS
Of all the reputed skills a president should desire, consistent accuracy when firing a chunk of chewing tobacco at a spittoon probably isn't high on the list. But Zachary Taylor took pride in his renown as a terrific shot.
5. JAMES MONROE'S HOT TEMPER
Not every presidential disagreement has ended in civil debate. Following a late-night argument between James Monroe and Secretary of the Treasury William H. Crawford, the 67-year-old president brandished a pair of hot fireplace tongs and chased his Cabinet member out of the White House.
6. MARTIN VAN BUREN'S LOADED ARGUMENTS
Seemingly of Monroe's school of thought, Martin Van Buren was known to bring a pair of loaded pistols to Senatorial assemblies, just in case an argument became too heated.
7. BENJAMIN HARRISON'S LIGHT TRAUMA
Benjamin Harrison, whose presidency was the first to oversee a White House wired with electricity, might be commended for embracing scientific progress … if it weren't for the desperate fear of light switches that kept him from ever actually utilizing this new technology.
8. RUTHERFORD B. HAYES'S MADDENING FEAR
As a boy, Rutherford B. Hayes struggled with a much more severe irrational fear: lyssophobia, the fear of going insane.
9. ABRAHAM LINCOLN'S WELTERWEIGHT PASTIME
Most modern presidents golf or jog to release tension, but Abraham Lincoln preferred a more intense breed of physical activity. In his younger days, Honest Abe earned a reputation as an ace wrestler, reportedly suffering only one defeat in more than 300 matches. Not only that, but the calm and kindly Lincoln we all know and love had a penchant for trash-talking his opponents.
10. ANDREW JOHNSON'S HOMEMADE SUITS
Old habits died hard for Lincoln's successor, Andrew Johnson, who ascended to the presidency following many years making a living as a tailor. Even during his time running the country, Johnson would occasionally insist on making his own clothing.
11. JAMES K. POLK'S STRICTEST POLICY
James Polk was not quite as keen on such frivolities … or fun of any kind, for that matter. While serving in the White House, Polk and his wife Sarah Childress banned card games, liquor, and even dancing at all receptions under the president's jurisdiction.
12. JOHN ADAMS'S BEAUTIFUL GRIPES
Though a dutiful patriot and workaholic, John Adams was also a world-class complainer. But the second president could make even the snarkiest jab sound like sheer poetry. In a letter to his wife Abigail, Adams once lamented the task of cleaning up the President's House (the first family's official residence before the institution of the White House) after George Washington's term: "Last night for the first time I slept in our new House. But what a Scene: The Furniture belonging to the Publick is in the most deplorable Condition. There is not a Chair fit to sit in. The Beds and Bedding are in a woeful Pickle. This House has been a Scene of the most Scandalous Drinking and Disorder among the servants, that ever I heard of. I would not have one of them for any Consideration. There is not a Carpet nor a Curtain, nor a Glass nor Linnen nor China nor any Thing. Dont expose this Picture."
Additionally, Adams once chided the Vice Presidency as "the most insignificant office that ever the invention of man contrived or his imagination conceived."
13. MILLARD FILLMORE'S LITERARY LOVE
Millard Fillmore was also a fan of the written word, but billed himself as more a reader than a writer. So ardent a lover of books was he that the president raced across town and risked life and limb to personally fight a fire that overtook the Library of Congress in 1851.
14. TEDDY ROOSEVELT'S HIGH ASPIRATIONS
Although Theodore Roosevelt was a dutiful national leader, that didn't keep him from making family bonding a priority. So what was the Roosevelt household's favorite group activity? Stilting. It is believed that every member of the first family had his or her own pair of stilts, which they would all use within and around the White House.
15. ULYSSES S. GRANT'S NEW NAME
Perhaps the oddest behavior of all can be attributed to Ulysses Simpson Grant … or, more accurately, Hiram Ulysses Grant. Upon applying to the United States Military Academy at West Point, New York, a young Grant was mistakenly dubbed Ulysses Simpson in the facility's legal documentation. The school insisted that the process of changing a name on record would warrant a yearlong leave of absence and resubmission for the following semester. Grant stayed on under "Ulysses Simpson," allowing the paperwork mishap to dictate his identity for the rest of his life and political career.