YouTube Star Coyote Peterson Brings 'Misunderstood' Animals to His New Animal Planet Series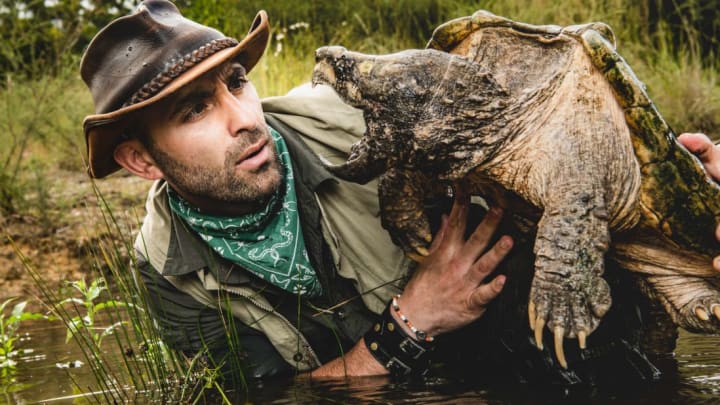 Animal Planet / Animal Planet
As host of the popular YouTube series Brave Wilderness, Coyote Peterson is no stranger to going face-to-face with creatures many deem terrifying—think great white sharks and pit vipers—but that he says are simply "misunderstood."
Animals have always been a big part of Peterson's life, even before he made a career out of being stung and bitten by ferocious critters. The Ohio native studied video production and directing at Ohio State University, and then decided to combine his two passions—film and all things wild—to teach viewers about wildlife and the importance of conservation. His YouTube channel currently has more than 15 million subscribers.
Now Peterson is embarking on a new adventure with Animal Planet in the show Brave the Wild. He'll travel all over the world with wildlife biologist Mario Aldecoa and his crew, sharing creatures that aren't often in the spotlight and that viewers may find a little frightening. He recently chatted with Mental Floss about the importance of conservation, his thing for snapping turtles, and his close encounter with a jaguar and her three cubs.
You've said your love of animals started with snapping turtles. Can you talk about the first time you saw one and what about them fascinated you so much?
The first snapping turtle I caught was when I was only 8 years old. I was always fascinated with turtles, because at first glance they look prehistoric, almost dinosaur-like. Growing up in Ohio, I never got to see any "exotic" animals. My favorite thing to watch on TV was Steve Irwin. Watching him wrestle crocs is what inspired me to catch my first snapping turtle, the most dangerous animal Ohio has to offer.
Animal Planet
In Brave the Wild, you introduce animals that are often feared or misunderstood. What's the importance in exposing viewers to these creatures?
One of my goals through this series was to inspire people to overcome their fears of these seemingly dangerous animals and learn to admire them from a safe distance. The more you understand these creatures, the less you are afraid of them. One of the messages I try to convey in every episode is the importance of conservation.
What's the most "misunderstood" creature you've encountered?
The most misunderstood creature that comes to mind is the carpet shark, which we filmed in season one. As I always say, people's biggest fears are the three S's (sharks, snakes and spiders). The carpet shark is found off the coast of Australia. They only bite humans in the case of mistaken identity. To some of these sharks a person's foot might look like a fish. Any time you enter a new environment you need to be aware of what you need to look for, not only to keep yourself safe, but the animal as well.
What goes into preparing for each encounter to make sure you and the animals come out alive?
With any new expedition, you need to come into the environment knowing exactly what to expect. When encountering a new animal, I try to stay as calm as I can and have no hesitation. If I stay calm, the animal stays calm, [and] I'm creating a safer interaction for myself. I use different tactics when I encounter different animals. It also depends on whether the environment is land or in water.
How do you keep your composure on camera when you're in a potentially dangerous situation?
Any situation I find myself in, I look at it as my job. For example, I would be afraid operating a crane, because that is something I don't do. If it's part of your job, it's something that you get used to. When I do my job, I make sure I'm focused and never hesitate. Before I encounter any animal, I know what I'm going to say to the camera. I say that, for the best show, we always need to have the camera rolling so the audience can see what is happening.
Animal Planet
You were in Australia filming Brave the Wild during bushfire season. What was that like?
Visiting Australia was one of the best experiences I had filming the show. Australia is a fascinating country that has so many unique environments. We spent over 50 days in Australia and encountered more than 35 different species. We were there right before all these devastating fires started, and we got to witness the severity of the drought and all the different animals it impacted.
What was your favorite animal encounter in upcoming series?
Each encounter I have in the wild is special. I would have to say that the most exciting moment for me was when we were filming in Brazil and I saw a jaguar and three of her cubs up close. Not only did I get to see this in real life, but my amazing team was able to capture this special moment on tape. It is just so amazing seeing these animals survive and thrive in the wild while dealing with not only the dangers of the wild but human encroachment as well. Hands down, this was my favorite episode that we got to film.
Catch new episodes of Brave the Wild on Animal Planet, Sundays at 9 p.m. ET/PT.