11 Book Series From Your Childhood You May Not Have Realized Are Still Releasing Books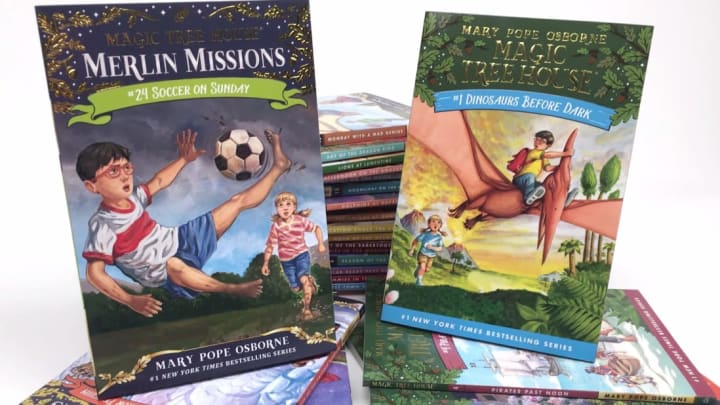 Magic tree houses and minivans are both known to transport kids to soccer games on Sundays. / Random House Kids, YouTube
You may have graduated to reading character-driven family dramas and gritty, atmospheric mysteries, but there's a good chance today's kids are still reaching for some of the same book series you loved during your own childhood—in recent releases, however, the characters are more likely to connect to Wi-Fi than they used to be. From literal-minded housemaid Amelia Bedelia to the perennially popular girl detective Nancy Drew, here are 11 decades-old book series that are still going strong.
1. Magic Tree House
Jack and Annie may be the most well-traveled characters in children's literature. / Penguin Random House/Amazon
Mary Pope Osborne has been teaching children about history, mystery, and magic ever since the 1992 publication of Dinosaurs Before Dark, in which Annie and her older brother, Jack, first stumble upon the strange tree house that whisks them away to a different era each time they step inside. Over the course of nearly 30 years of adventures, they've braved about every natural disaster imaginable, crossed paths with historical heavyweights like Shakespeare and Ben Franklin, and completed captivating missions for Merlin the magician and Morgan Le Fay. In Narwhal on a Sunny Night, released earlier this year, the tree house deposits the heroes in Greenland, where they happen upon a certain hunter by the name of Leif Erikson.
2. Goosebumps
Slappy rocks a red bow tie better than most evil dummies. / Scholastic/Amazon
If you grew up during the 1990s or early 2000s, hearing the name "R.L. Stine" might just be enough to send a shiver down your spine. The prolific horror writer published his first Goosebumps book in 1992, and has since added more than 130 scary stories to the series and its various spin-offs. His personal favorites are The Haunted Mask—a 1993 tale about an 11-year-old girl who dons a cursed Halloween mask that won't let her remove it—and anything featuring Slappy, the evil dummy at the center of Stine's latest spin-off series, Goosebumps SlappyWorld.
3. Amelia Bedelia
A young Amelia Bedelia knights her friend with what we hope is a cardboard sword. / HarperCollins
In a world where cliché reigns supreme and the word literal is rarely used literally, Amelia Bedelia continues to remind us that language is cause for confusion—and, more importantly, laughter. The housemaid's earnest attempts to complete tasks literally are always equal parts hilarious and endearing, from dusting the furniture (covering it in dust) to making a chicken dinner (serving the family a meal of cracked corn). Peggy Parish began the series in 1962, and her nephew Herman has kept it going since her death in 1988. He's currently releasing novels in a spin-off series called Amelia Bedelia & Friends, which chronicles Amelia's misadventures as a young girl.
4. The Boxcar Children
The Alden siblings will have to solve this mystery without Googling a thing. / Albert Whitman & Co./Amazon
Without the continued prevalence of The Boxcar Children, kids these days might not even know what a boxcar actually is. Originally published in 1924, Gertrude Chandler Warner's first novel about the four orphaned Aldens gained popularity when it was re-released in 1942, and she followed it up with another 18 stories about the children, who, thankfully, no longer lived in a boxcar. There are now more than 150 books in the series, known as The Boxcar Children Mysteries, and, although the characters have 21st-century privileges like internet access and middle school robotics teams, the books have managed to stay true to the old-timey, small-town spirit of Warner's early editions.
5. The Berenstain Bears
Grizzly Gran reminds her crotchety crew of offspring that manners matter. / Zonderkids/Amazon
Guided by the editorial prowess of none other than Theodor Geisel, Stan and Jan Berenstain published their first Berenstain Bears book, The Big Honey Hunt—originally called Freddy Bear's Spanking—in 1962. They very nearly pivoted to penguins for their second story, but Geisel advised them to stick with bears since their first one was selling so well. The sometimes heavy-handed moral lessons make the books a little less whimsical than Geisel's own Dr. Seuss classics, but that hasn't seemed to diminish their popularity among youngsters. Stan and Jan died in 2005 and 2012, respectively, but the Berenstain Bears series lives on with their son Mike in the writer's seat. In August, he'll release The Berenstain Bears: Love Is Kind, in which Grizzly Gran teaches the family how to be polite.
6. Little Critter
Little Critter's ability to hold a pencil suggests that he has opposable thumbs. / Penguin Random House
Author, illustrator, and self-identified "big kid" Mercer Mayer (he's 76) differentiated himself from the Berenstains and other ursine writers by creating a new, unidentified creature of his own. Frizzy-furred, buck-toothed Little Critter first appeared in libraries and bookstores in 1975's Just For You, and Mayer has steadily churned out book after book in the series ever since. The next story, due out this June, is called Little Critter Goes to School.
7. Nate the Great
Nearly 50 years later and Nate the Great remains admirably committed to his deerstalker hat. / Penguin Random House
Marjorie Weinman Sharmat came up with the idea for a series about a boy detective after feeling underwhelmed by Dick and Jane and other popular books her children were finding on the shelves. She published the first novel, Nate the Great, in 1972, and continued releasing new Nate mysteries right up until her death at age 90 in March 2019. The most recent two, Nate the Great and the Missing Birthday Snake and Nate the Great and the Wandering Word, were co-written with her son, Andrew, so it's possible he'll take up the mantle for the next generation of Nate fans.
8. If You Give a…
Mouse is much more generous than he used to be. / HarperCollins/Amazon
If you gave Laura Numeroff's Mouse a cookie in 1985, it would've taken your small kindness and run with it, asking for milk, napkins, and various other items until you felt like you got played. Thirty-five years and more than a dozen books later, Mouse has gained some better intentions—in Happy Valentine's Day, Mouse!, published in December 2019, he makes personalized valentines that reflect what he loves about his friends.
9. Nancy Drew
Would you listen to Nancy Drew's boyfriend's podcast? / Simon & Schuster
Publisher Edward Stratemeyer originally came up with the plucky, multi-talented teenage sleuth in the 1930s as a way to make money off young female readers who weren't buying into The Hardy Boys series. Needless to say, it worked. Ninety years later, Nancy Drew is still a household name to multiple generations, partially because she's been featured in so many film and television adaptations, and partially because publishers continually update the character for modern audiences. In Famous Mistakes, the 17th book in Simon & Schuster's current Nancy Drew Diaries series, for example, Nancy's boyfriend, Ned, interviews a comedian for his podcast "NedTalks."
10. The Hardy Boys
Frank and Joe Hardy shred gnarly waves in the name of shark rights. / Simon & Schuster/Amazon
Not to be outdone by their sharp-witted little sister, so to speak, Frank and Joe Hardy have kept up with 21st-century trends, too. Action in the Hardy Boys Adventures—another Simon & Schuster enterprise—includes riding ATVs, trying to clear the name of an anonymous street artist-slash-activist, and acting as extras in a zombie film. In A Treacherous Tide, hitting stores on June 23, 2020, the brothers head to the Florida Keys to help protect the shark population.
11. Spot the Dog
Judging by the cover, it may be less of a stadium and more of a sports multiplex. / Penguin Random House/Amazon
The publication of Eric Hill's iconic lift-the-flap book Where's Spot? in 1980 was the beginning of a beautiful, 40-year-long string of adorable books about a small, spotted yellow puppy with a smile that can turn any person into a dog lover. Hill, who often called himself "Spot's Dad," died in 2014, but Spot is still embarking on new adventures just about everywhere—you can find him at the stadium this spring and at a Halloween party in the fall.