A Bald Eagle Nest With Eggs Has Been Spotted on Cape Cod for the First Time Since 1905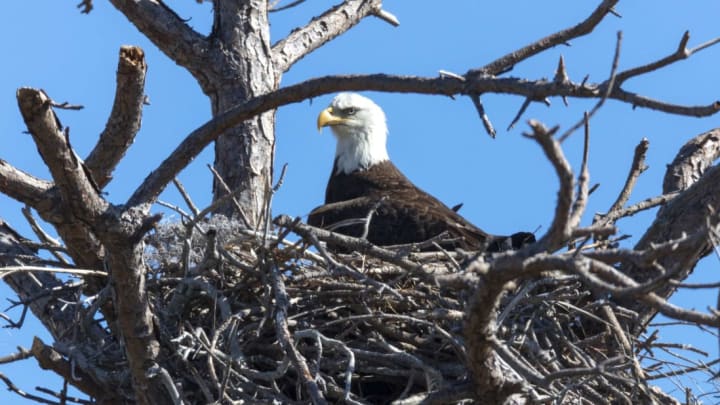 6381380/iStock via Getty Images / 6381380/iStock via Getty Images
America's bald eagle population has made an incredible comeback in recent decades, and evidence of this can be seen on Cape Cod. As Boston.com reports, a bald eagle nest with a baby chick has been spotted on the Cape for the first time in more than a century.
The Massachusetts Division of Fisheries and Wildlife spotted the nest in Barnstable, Massachusetts. It's one of more than 70 eagle's nests that have popped up around the state this year, with others being documenting in Concord, Medford, and Northampton. Any eagle nest with eggs is considered active, and according to a photo snapped by a Mass Audubon Long Pasture volunteer, the Cape Cod site has already hatched a chick.
A bald eagle nest with eggs was last recorded on Cape Cod in 1905. In the years that followed, hunting, habitat loss, and insecticides like DDT decimated their numbers, resulting in the birds' addition to the Endangered Species List.
Thanks to conservation efforts and the ban of DDT, this trend has been reversed. Their numbers have grown from to just 471 nesting pairs in the lower 48 states in 1963 to nearly 10,000 today. The species is no longer considered endangered, and as the new Cape Cod nest shows, the birds are beginning to show up in places they haven't been seen in a lifetime.
If you're curious to see if bald eagles live your neighborhood, their nests are easy to spot. The average bald eagle nest is 2- to 4-feet deep and 4- to 5-feet wide—the largest of any North American bird.
[h/t Boston.com]