15 Women Who Deserve Their Own Biopics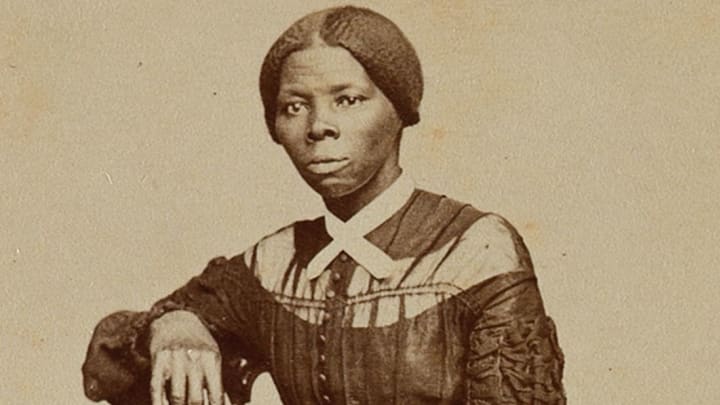 If the success of female-centric biopics like Hidden Figures has taught Hollywood anything, it's that there are riches to be found in the lives of history-making women. Well, as lovers of a good true story, we've got a slew of suggestions for heroines who deserve their own big biopics.
1. Sadie the Goat // Pirate of the Hudson
Sure, she's nowhere near as well known as Anne Bonny or Grace O'Malley, but Sadie the Goat's pirate story would make for a thrilling action-comedy. This petite thief was a tiny terror of 1860s New York, earning her nickname by head-butting those she mugged. But when a brutal brawl with a female bouncer named Gallus Mag ended with Sadie's ear being bitten off, she fled to the Hudson River with a makeshift crew. Sadie's summer was made up of swashbuckling, pillaging waterside mansions, and an eventual reunion with her ear. (Mag had preserved it in a pickling jar for her trophy collection.) What more could you ask for?
2. Amalie "Emmy" Noether // The Woman Einstein Called a "Genius"
The Oscars love a good tale of overcoming adversity, so how about the story of this German Jewish mathematician? Today she is celebrated for her contributions to abstract algebra and theoretical physics, but in 20th-century Bavaria, Amalie Noether had to fight for every bit of education and academic achievement. Women were not allowed to enroll at the University of Erlangen, so Noether had to petition each professor to attend classes. She later found academic employment similarly unwelcoming.
Noether secured work as a teacher, but on the condition that she wouldn't be paid—a condition that lasted for 15 years. Still, she dedicated herself tirelessly to mathematics. She also fled the Nazis, and befriended Albert Einstein, whose eulogy for Noether would make for a marvelous introductory monologue: "In the judgment of the most competent living mathematicians, Fraulein Noether was the most significant creative mathematical genius thus far produced since the higher education of women began."
3. Kittie Smith // The Armless Dynamo
For a stirring drama about the tenacity of the human spirit, consider the story of this sideshow performer. Smith rose to fame for her abilities to write, paint, sew, play piano, and even do woodwork—all with her feet. But aside from being beloved, she was inspiring. Smith's lack of arms came at the hands of her abusive father, who basically burned them beyond repair when she was just 9 years old. However, Smith persevered, focused on her education and rehabilitation, and made a life for herself as a performer and author, penning a memoir in which she forgave her deeply flawed dad.
4. Naziq Al-Abid // The Sword of Damascus
The life of the "Joan of Arc of the Arabs" would make for a thrilling political drama. Abid was born into the lap of luxury, the educated daughter of an affluent Damascene aristocrat at the turn of the 20th century. But rather than spend her days reveling in wealth and its privileges, Abid became an outspoken and frequently exiled advocate, most notably for fighting for national independence and women's rights. But her biggest battle was a literal one: She fought against the French invaders in the the bloody Battle of Maysaloun, of which she was said to be the only Syrian survivor. In honor of her service, King Faisal made her an honorary general. But the French ultimately overthrew Faisal, forcing Abid into exile. She would return to Syria to help advance feminist causes. When she died in 1959, it was within the bounds of her homeland, which was now free as well as a place where women were thriving under the social changes Abid helped enact.
6. HEDY LAMARR // BRAINS AND BEAUTY
Getty Images
Show biz comedy-meets-discovery drama in the life of Hedy Lamarr, Hollywood glamour girl by day, world-changing inventor by night. Her tale not only includes fame, but also an escape from a brutish, arms-dealing husband, and her quest to defeat the Nazis through applied science.
With the help of her friend, avant-garde composer George Antheil, Lamarr developed "frequency hopping," an advancement in torpedo systems that aimed to make them jam-proof. Though the Navy didn't take advantage of this tech until the 1960s, Lamarr's contributions to spread spectrum technology later won recognition from the science community as her discoveries preceded the widespread adoption of wireless communications, like cell phones and Wi-Fi. At 83, Lamarr was honored with the Electronic Frontier Foundation Pioneer Award as well as the BULBIE™ Gnass Spirit of Achievement Award, also regarded as "the Oscar of Inventing." A celebratory biopic is long overdue.
7. STEPHANIE "QUEENIE" ST. CLAIR // THE QUEEN OF HARLEM
Want a good gangster tale? After emigrating to the U.S. in 1912, this woman of French and African descent made her home in Harlem. By the 1930s, "Queenie" St. Clair was not to be trifled with, running a crew that fiercely protected their neighbors. St. Clair got corrupt cops booted from the police force. And when Bronx crime boss Dutch Schultz tried to push in on her turf, she made alliances that helped lead to his assassination.
Memorably, she sent a letter to his deathbed that read, "As ye sow, so shall ye reap." And yet St. Clair has only been a supporting character in films like Hoodlum and The Cotton Club.
8. KATE CHOPIN // WIDOW-TURNED-WRITER
Numerous works of this 19th century American author have earned screen adaptations, but Chopin's life is the stuff of compelling and heartwarming drama. In the 1880s, she was a happily married mother of six, living on a plantation in Louisiana. But when both her husband and mother died within the same year, Chopin fell into a deep depression. A doctor advised her to use writing as a tool to work through her grief. Chopin's short stories and essays proved not only to be a saving passion for her, but also a career that saved her family from financial ruin. Though her novel The Awakening was scorned when first published in 1899, it's now highly regarded as a masterpiece, and a landmark in early feminist literature.
9. OLIVE THOMAS // THE FLAPPER GHOST
Looking for a fanciful ghost story about the girl whose charm and fashion sense helped popularize the word flapper? This all-American ingénue made the leap from Ziegfeld Follies showgirl to Hollywood starlet, even marrying the brother of America's Sweetheart Mary Pickford. At 25, Thomas was gone too soon. Yet her story lived on, as rumors spread that her sassy ghost took up residence in her old haunt, the New Amsterdam Theater. To this day, stagehands keep this party girl happy by wishing her goodnight before they leave the theater.
10. SARAH BREEDLOVE WALKER // THE MILLIONAIRE HAIRDRESSER
Hollywood loves a tale of a self-made mogul, so why not tackle that of the first American woman to become a self-made millionaire? Walker came from humble beginnings, born to recently freed slaves on a cotton plantation in 1867. By 14, she was married. By 20, she was a widow and single mother. Yet Walker overcame, finding work in her brothers' barbershop as a washerwoman, where she noticed that her hair was falling out. She developed a tonic that helped re-grow her hair, and began marketing it across the country, and even into Latin America.
Rebranded as Madam C.J. Walker, she'd tour the U.S. selling her products and growing her empire. As her company expanded to factories and beauty schools, so did her philanthropic efforts toward the advancement of African Americans. Her story is not just one of personal success, but of drive, community, and advocacy.
11. BIG BERTHA HEYMAN // THE CONFIDENCE QUEEN
They called her "The Confidence Queen," and what better name for a crime-drama about this Prussian immigrant with a twisted take on the American Dream. In 1880s New York, Heyman repeatedly exploited people's thirst for wealth to line her own pockets. Not even arrest could cage her. She continued to scam from her prison cell, and repeatedly convinced the cops to let her leave for outings to the theater and carriage rides around Central Park.
12. TRIỆU THỊ TRINH // THE TITAN OF VIETNAM
Perhaps you'd prefer an incredible epic about an unparalleled warrior? Well, this Vietnamese heroine's legend is overflowing with flashy details. It's said the 20-year-old was 9 feet tall with a voice that sounded loud as a temple bell. Dressed in vibrant yellow and wielding two swords, she rode into battle on a war elephant as she fended off the relentless Chinese forces.
But best of all, Trinh delivered the kind of speeches made for big movie moments, like: "I only want to ride the wind and walk the waves, slay the big whales of the Eastern sea, clean up our frontiers, and save the people from drowning. Why should I imitate others, bow my head, stoop over and be a slave? Why resign myself to menial housework?" And the music soars!
13. JOSEPHINE BAKER // BLACK PEARL
You might know this Creole triple threat for her saucy dance routines and dazzling persona. But a biopic about Baker would be incomplete without an espionage angle. During World War II, Josephine Baker was recruited by the French Resistance to be a spy. Her acceptance is the stuff of great screenplays:
"France made me what I am. I will be grateful forever. The people of Paris have given me everything. They have given me their hearts, and I have given them mine. I am ready, Captain, to give my life. You can use me as you wish."
Baker's beauty and fame served as a great cover for her covert ops. Her international acclaim gave her access to high-ranking Axis officials, allowing her to secure information. In secret, she trained in karate, and supposedly became such a skilled marksman with a pistol that she could shoot out the flame on a candle. She hid her notes in her unmentionables, and delivered messages on music sheets using invisible ink. There was also a narrow escape from Nazi forces, a torrid romance with her intelligence contact, Jacques Abtey, a false report of her demise, and being decorated for valor by General Charles de Gaulle. And all the while, Baker kept her career as a performer. Not even James Bond could pull all that off!
14. THE NIGHT WITCHES
For a World War II adventure complete with edge-of-your-seat action sequences, turn to the tale of the all-female Night Bomber Regiment of the Soviet Air Forces. Over the course of three years, these young women (ages 17 to 26) flew 30,000 missions and dropped 23,000 tons of bombs on the invading Nazi forces. Even more remarkable, these fighter pilots favored the cover of night for their attacks, and flew planes made of plywood and canvas—all the better to silently sneak up on German bombers. It's for the soft whooshing of their planes and their nightly assaults that these patriots won their fantastic name.
It took two women, a pilot and a navigator, to man each of the Night Witches' planes—making for the perfect setting not only to explore the adventure of these fearless flyers, but also the sisterhood that helped the Soviet Union resist Nazi invasion.
15. MARY BLAIR // DISNEY LEGEND
A gifted painter with a vibrant imagination and influential use of color, Mary Blair was a concept artist whose works defined a generation of Disney animation, from The Adventures of Ichabod and Mr. Toad and Peter Pan to Alice in Wonderland and Cinderella. As a young woman she dreamed of going into the fine arts, but the Depression pushed her into animation. There, she ultimately channeled her passion for color and distinctive aesthetic into groundbreaking designs.
It's Blair who is credited with introducing Walt Disney to modern art, inciting a shift in his studio's aesthetic. Disney himself called her in to design the look of his iconic It's A Small World ride. Her rise through the Disney ranks to one of their official "legends" could be beautifully illustrated with the same kind of whimsy and color that her works were.
1. Harriet Tubman // Moses of the Underground
How has there not been a prestige pic about the life and times of Harriet Tubman? Well, there's about to be. Later this year, Cynthia Erivo is scheduled to star in Kasi Lemmons's upcoming film, Harriet. And it's about time! After nearly 30 years of abuse and subjugation, Tubman followed the North Star to escape slavery. Such a trek might, on its own, be worthy of a movie. But Tubman, of course, did so much more. A year after she fled north, she risked her freedom and her life to return and try to rescue her sisters. Then again to save her brother. And again for her husband, who in the meantime took a new wife.
By 1856, she was a notorious outlaw with a bounty of $40,000 on her head. To evade capture, she stole masters' buggies, perfected escape strategies, and effected clever disguises. Over 10 years, she made 19 trips back into the South, freeing an estimated 300 people.