Joshua Tree National Park Closes Two Campgrounds Due to 'Aggressive' Honey Bees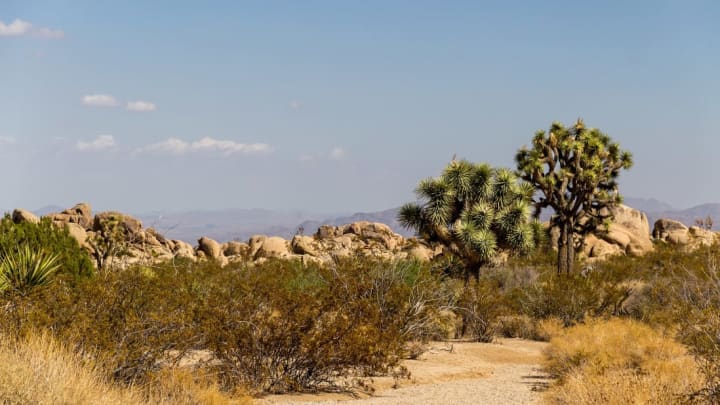 Dietmar Rabich, Wikimedia Commons // CC BY-SA 4.0 / Dietmar Rabich, Wikimedia Commons // CC BY-SA 4.0
Just a few months after closing the entire park due to the COVID-19 crisis, Joshua Tree National Park is shutting down two of its campgrounds. This time, aggressive bee activity is the culprit, the Los Angeles Times reports.
Aggressive honey bees (not to be confused with the murder hornets that made headlines in May) have invaded the Jumbo Rocks and Cottonwood campgrounds at Joshua Tree National Park. The insects were spotted swarming vehicles and campsites, putting visitors in harm's way.
Joshua Tree superintendent David Smith told the Los Angeles Times that the bees are "standard honey bees" and a natural part of the desert ecosystem. While seeing a few at a time is normal, they can be dangerous in large numbers—especially when they're thirsty. Parched honey bees will look for water anywhere they can find it, including trash bags, picnic tables, and vehicle air conditioning condensers. By clearing the affected areas of campers for a while, park officials hope the honey bees will find moisture from a safer, natural water source.
According to Joshua Tree's National Park Service page, the Jumbo Rocks campground will remain closed through July 23. The Cottonwood area is also temporarily closed, but the staff is working to get it open as quickly as possible, with no reopening date set yet. The closures mean camping at Joshua Tree will be even more difficult for visitors this summer. Through September 4, all campsites there are first come, first served.
[h/t Los Angeles Times]