Where Exactly Is Anne Boleyn's Body?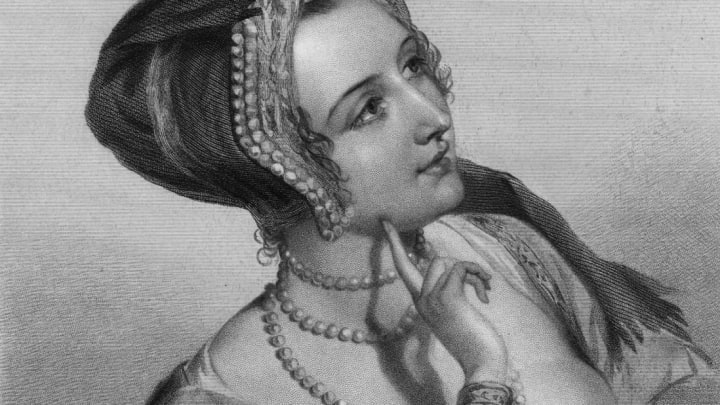 Hulton Archive/Getty Images / Hulton Archive/Getty Images
Anne Boleyn had a pretty rough 1536. First, a pregnant Anne discovered her husband was having an affair with Jane Seymour, one of her ladies in waiting. Some believe the shock and betrayal caused Anne to suffer a miscarriage in early February—and at least one report says it was the boy Henry VIII so desperately wanted. The birth of a healthy baby boy probably would have saved Anne's life, but since she was unable to produce a male heir to the throne, her husband decided to simply replace her. Anne found herself imprisoned in the Tower of London on May 2, accused of adultery, incest, and high treason. Her marriage was annulled on May 17, and she was relieved of her head on May 19.
To add insult to all of this injury, no one bothered to give Anne a proper burial. Though the execution itself was meticulously planned, it hadn't occurred to anyone that there was no coffin until after Anne's head rolled. After rummaging around the grounds, someone eventually scrounged up an old arrow chest to cram the corpse into.
She and her brother were then buried in an unmarked grave in front of the altar at St. Peter's ad Vincula, within the Tower of London, and then completely forgotten about for the next 300-plus years. It wasn't until Tower repairs in 1876 that Anne resurfaced—maybe.
Bones were discovered under the altar during the renovations, and based on the circumstantial evidence of an arrow chest coffin, bones belonging to a slender woman between the ages of 25 and 35, and a decapitated head, it was assumed that the remains belonged to Anne. However, Henry VIII disposed of his fifth wife Katherine Howard in the exact same manner, and had her corpse thrown in with the pile of bodies accumulating under the altar. Still other women were decapitated and buried in the same place, including Margaret Pole, Countess of Salisbury; Lady Jane Grey; and Lady Rochford.
Despite the fact that five headless women were buried there at one point, only four bodies were uncovered. The remains of Katherine Howard had seemingly disappeared, perhaps due to the quicklime found in the graves. Regardless of the uncertainty, Queen Victoria had the bodies exhumed and placed in individual coffins. A plaque with the name of the person thought to be inside was affixed to each coffin, and each one was given a proper reburial underneath the altar.
Is it really Anne Boleyn who lies beneath, or did workers really find someone else, giving credence to the theory that Anne Boleyn's relatives had her body secretly reburied elsewhere? Unless DNA testing is performed on the remains, we'll probably never know.
Updated for 2019.