15 Common Phrases that Come from Boxing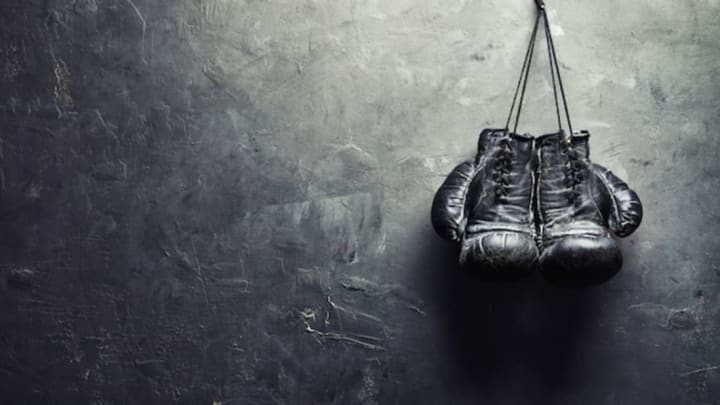 iStock / iStock
While boxing isn't as popular as it once was, the practice of fighting with fists, also known as pugilism, is so deeply entrenched in our culture, we might not know we're using centuries-old sayings from the gentleman's sport every day. Here are 15 of them.
1. BEAT SOMEONE TO THE PUNCH
To beat someone to the punch means to do something before they do, and comes from the idea of landing a blow before your opponent. This boxing sense is from 1913 while the figurative meaning came about just a couple of years later.
2. BELOW THE BELT
Below the belt meaning unfair comes from the unfair and illegal boxing maneuver of hitting someone in the nether regions. The phrase gained its figurative meaning around 1889.
Related is low blow, originally an illegal blow below the waist, and now also an unscrupulous attack or insult.
3. BLOW-BY-BLOW
This term for a very detailed description was originally used starting in the early 1920s to describe prize-fight broadcasts. By the 1940s, blow-by-blow was being used in a non-boxing sense, perhaps first by mystery writer Hilda Lawrence in her novel Death of a Doll: "Maybe we'd better get together. Blow by blow description."
4. GLUTTON FOR PUNISHMENT
Glutton meaning an enthusiast for something—a glutton for books, for example—has been in use since the early 1700s. However, the phrase glutton for punishment, one who refuses to leave a losing situation, is a mid-1800s term that comes from pugilism.
5. GROGGY
The word we know as meaning sleepy or out of it originally meant "intoxicated," and came from grog, an old-timey alcoholic beverage. Groggy meaning "dazed" is from the boxing ring, meaning weakened in a fight, hence staggering, shaky, and unsteady.
As for grog, it supposedly comes from the nickname of Edward Vernon, an 18th century British admiral who went by the moniker Old Grog, due to his predilection for a coarse grogram cloak.
6. KILLER INSTINCT
Killer instinct was first used to describe American prizefighter Jack Dempsey in the early 1930s. The first citation of it in the OED is "[Dempsey] had more fighting spirit and more of the sheer killer instinct in him than was in all four of them rolled together." Now the term refers the drive to succeed in anything and at any cost.
7. ON THE ROPES
When a fighter is pushed up against the ropes of the boxing ring by his opponent, he's in big trouble. Hence, the figurative meaning of on the ropes is being near defeat or in poor condition.
8. PALOOKA
While we might think of a palooka as a stupid, oafish, or clumsy person, the word originally referred to a mediocre prizefighter. The prizefighter sense originated around 1926, and is credited to Jack Conway, the editor of Variety magazine. Joe Palooka was a 1920s comic that featured a dim-witted boxer with a heart of gold, which helped popularize the oafish meaning of the word.
But where the word palooka originally came from is more of a mystery. It might be based on the Polish name Paluka or else a variation of Polack, a disparaging term for a person of Polish descent.
9. PLUCK
In late 18th century pugilism slang, a brave fighter was said to have pluck. Pluck earlier referred to the heart and entrails of a slaughtered animal, or that which could be "plucked" from a carcass. The figurative sense in fighting was that of courage, which at the time was believed to reside in the heart.
10. PUNCH-DRUNK
This term meaning dazed and confused originated in boxing parlance referring to a fighter stupefied by too many punches to the head. Later, punch-drunk came to mean a neurological condition seen often in boxers and formally known as chronic traumatic encephalopathy.
11. ROLL WITH THE PUNCHES
To roll or ride with the punches, or to adapt easily to adverse circumstances, comes from the fighting maneuver of moving or rolling one's head and body away from a blow to lessen its impact. Related is pull one's punches, or to be gentle, like a fighter who pulls back to lessen a blow's impact.
12. SAVED BY THE BELL
Not just a television show, saved by the bell is an idiom meaning to be rescued at the last moment from a sticky situation.
While there's a wide-held belief that the origin of the phrase has to do with a 17th-century fear of being buried alive and subsequent coffins equipped with bells to save any such unlucky individuals, it's actually—you guessed it—a boxing term referring to a losing fighter being "saved" by a bell that signals the end of a round.
13. THROW IN THE TOWEL
To throw in the towel, or give up, came from the early 20th-century boxing practice of literally throwing a white towel into the ring when admitting defeat. This convention comes from an earlier one of throwing up a sponge to admit defeat, hence another giving-up phrase, "to throw (or chuck) up the sponge."
14.THROW ONE'S HAT IN THE RING
While throwing in the towel signifies giving up, throwing one's hat in the ring shows you're ready for a fight. This custom is from at least the early 1800s, a time when most men wore hats, and would have been more reliable than trying to make yourself heard over a noisy, fight-thirsty crowd.
15. WASHBOARD
The word washboard has a few different meanings: a board for washing clothes, a nautical term for a board that keeps the sea from breaking over the side of a boat, and, of course, Channing Tatum-esque abs. This rippling stomach muscles sense—which resembles a clothes washing board—is from 1950s boxing jargon.