When Sir Arthur Conan Doyle Tried Solving a Real Mystery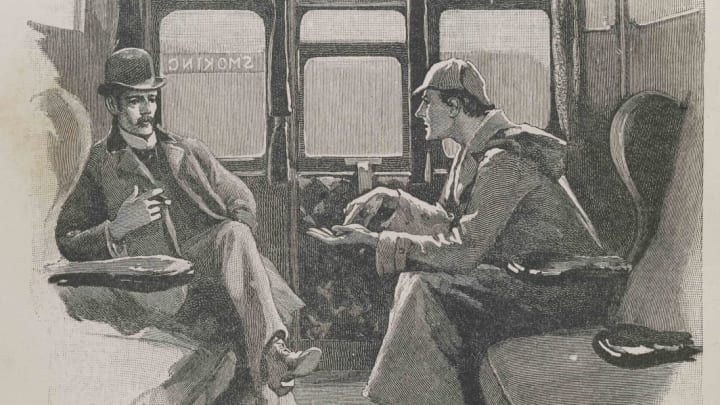 An 1892 drawing of Sherlock Holmes and Doctor Watson, published in The Strand Magazine / Sidney Paget, Wikimedia // Public Domain
On September 1, 1907, the New York Times wrote:
It looks as if Sir Arthur Conan Doyle will eventually come to be considered an even greater detective than he made out Sherlock Holmes to be.
Doyle had found himself embroiled in a case that captured worldwide media attention for the fact that he, and not his famous sleuth, was trying to solve it. In 1906, a man named George Edalji was freed from prison after being sentenced for the crime of animal cruelty. He stood accused of injuring horses and cattle in Great Wyrley, and also of writing letters threatening to do the same to women. Upon his release, he wrote to Doyle asking for the celebrated author's help in proving his innocence.
Doyle, who typically turned down such requests, was grieving over his wife's death and was eager for a distraction. He suspected Edalji's Indian heritage was partly to blame for his conviction, as the Staffordshire police were believed to be racially discriminatory and the physical evidence was flimsy. (Another horse had even been attacked while Edalji was in prison.)
Doyle's theory of the man's innocence was largely dependent on his eyesight. In a remarkably Holmes-esque observation during their first meeting, Doyle noted Edalji held his newspaper close to his face. Since the animal mutilations had taken place at night and the criminal would have had to navigate a series of obstacles, he figured Edalji's vision was too poor for the accusations to make sense.
Once Doyle took up his cause, Edalji became a symbol for injustice. Letters poured in, both to Doyle and to the Daily Telegraph, who had published his argument of Edalji's innocence. The Scottish writer J.M. Barrie (creator of Peter Pan) wrote to say, "I could not doubt that at all events Edalji had been convicted without any evidence worthy of the name."
Not everyone was convinced. The chief constable, George Anson, did not appreciate Doyle inserting himself into what police considered a closed case. Doyle was not simply posturing as an amateur sleuth: he was a pest, bombarding Anson almost daily with letters questioning their investigation, offering alternative theories, and using his celebrity to keep the case in the newspapers. Since Edalji had already been freed, his intention was to get some kind of financial compensation for the wrongful conviction. Anson responded unkindly, dismissing Doyle's ideas and delivering sharp retorts.
Doyle was a "contemptible brute," Anson remarked.
But the author would not be dissuaded, even when an anonymous letter had been delivered to him that was threatening in tone and insisted Edalji was the guilty party. It led him to believe the guilty party was worried enough to try and shut Doyle's efforts down. By this point, he had isolated his suspicions to Royden Sharp, a former sailor who was said to be aggressive and once showed off a horse lancet capable of inflicting the wounds seen in the injured animals.
Doyle's actions, the anonymous correspondent wrote, were "to run the risk of losing kidneys and liver."
Doyle would later learn the letter was not written by a suspect, but instead commissioned by an unlikely tormentor: Constable Anson.
The officer had become so aggrieved with Doyle that he believed forging this letter would either discourage the author or send him on a wild goose chase. In recently discovered records that went up for auction in 2015, Anson even expressed glee that he had fooled "Sherlock Holmes."
Despite Anson's attempts to embarrass Doyle, the author had too large a platform for the Home Office to ignore. In 1907, they pardoned Edalji of the mutilation crimes, which allowed him to return to work as a solicitor. But they refused to apologize or offer any restitution.
Doyle was frustrated by their stubborn reaction, but his efforts had one crucial impact on British law: the publicity surrounding Edalji led to the creation of an official Court of Appeals, easing the process for future defendants.
Though Doyle won over the court of public opinion, he failed to solve the case: Sharp was not seriously investigated by police. Whoever had stalked the horses, cows, and sheep during those nights in Great Wyrley has never been identified.
This story was first published in 2016 and republished in 2019.