15 Fun Facts About 'Rocko's Modern Life'
Rocko's Modern Life
 hasn't been on the air since 1996, but that doesn't mean fans aren't still nostalgic for the residents of O-Town. Here are some facts you might not have known about the classic Nicktoon.
1. THE CREATOR HAD AN EARLY ALTERCATION WITH A TELEVISION.
Show creator Joe Murray had a television fall on his head when he was 5. The cartoonist said there was no physical damage, but it may have explained his "slightly dislodged view" of the world. The end of the show's theme song features a television falling on the cartoon's characters—a possible callback to the real life event. 
2. ROCKO'S MODERN LIFE WAS CREATED AT THE BEGINNING OF NICK'S GOLDEN ERA.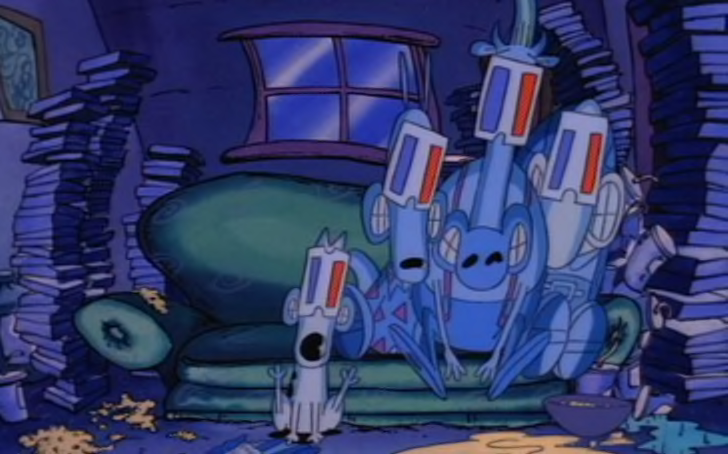 Nickelodeon opened Nickelodeon Studios in 1990, and the following year started producing its own cartoon shows (known as Nicktoons). The fledgling kids' channel was aiming to produce edgier, higher quality content than what other networks were creating for kids. The first three shows in development were Doug, The Ren & Stimpy Show, and Rugrats.
At the same time, Murray was creating short animated films and sending  copies to various people in the media. A copy of his film My Dog Zer—about a man with a dim-witted dog—found its way to the desk of Linda Simensky, the head of animation development at Nickelodeon. Simensky and the Nickelodeon team were enthralled by the movie and asked Murray if he would like to develop an original series. The newbie animator was hesitant, because children's television was not very good quality in the '80s, but reluctantly agreed.
"There were no rules. Nothing held us back," Murray said in the book Not Just Cartoons. "Once we did a four-minute episode. Another one had no dialogue, just pantomime … so Steve Hillenburg, Doug Lawrence, and I were able to do a lot of weird things we couldn't have done today."
3. THE SHOW WAS PUT TOGETHER BY AN ALL-STAR TEAM.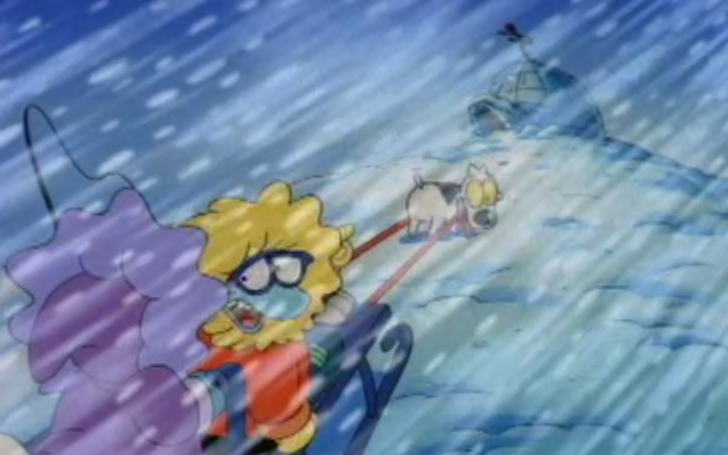 When Murray opened his new studio in Los Angeles to start Rocko's Modern Life, he brought in talented animators from The Simpsons, Cool World, and Who Framed Roger Rabbit. He also worked with many newcomers, who eventually moved on to other amazing cartoons. Some notable examples are: Steve Hillenberg, creator of SpongeBob SquarePants; Nick Jennings, art director for SpongeBob and Adventure Time; and Jeff Marsh and Dan Povenmire, creators of Phineas and Ferb.
The voice acting was also top notch: Carlos Alazraqui (Reno 911) played Rocko; Doug Lawrence (known as Mr. Lawrence by his fans) doubled as director and voice of Filbert; and Tom Kenny (best known for his role as SpongeBob) portrayed Heffer. Prior to the cartoon, neither Alazraqui nor Kenny had any experience voice acting.
4. THERE'S A FUNNY STORY OF HOW MR. LAWRENCE CAME TO PLAY FILBERT.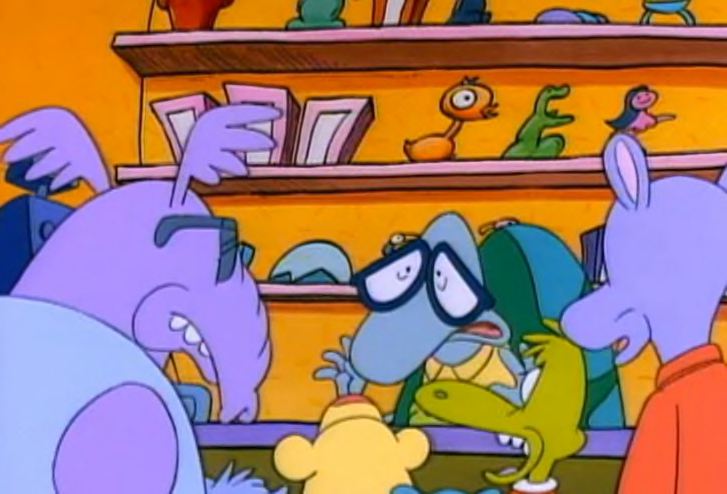 Originally, Lawrence had only come onto the show to direct one of the storyboard teams. After feeling a kinship with the character Filbert, he decided he wanted to voice the neurotic turtle. The actor snuck his audition tape into the box of submissions. Without knowing whose tape he was listening to, Murray immediately decided the voice was perfect. "After nearly dozing off listening to audition after audition, I put in one more tape of someone voicing Filbert and quite literally jumped up, yelling 'THAT'S IT!'" Murray recalled in Not Just Cartoons. "I didn't find out until later that it was Doug Lawrence, so I can't be accused of playing favorites."
5. ROCKO IS BASED OFF A WALLABY MURRAY SAW AT THE ZOO.
In the original pitch to Nickelodeon, Murray described his character as a 20 year old male scrub wallaby, who was "a young anthromorphic Woody Allen, who has just moved away from home into a surrealistic adult world." In this sketch, he described the character as somewhat spacy and "naïve to the new chores of life."
The creator can thank a trip to the zoo for this character outline. The little kangaroo seemed oblivious to the chaos around him; Murray liked the idea of a character "set within the eye of a hurricane called life." He created a character called Travis, who starred in a comic strip that later went on to inspire Rocko's Modern Life. Travis' name was changed to Rocko because he sounded more like a fighter.
6. THE THEME SONG IS BY THE B-52'S.
Kate Pierson and Fred Schneider from the B-52's sang the theme song for the show from the second season on. They were actually the second choice: Murray originally wanted Danny Elfman to create the theme, but he was booked.
7. THE OFFICE WAS VERY RELAXED.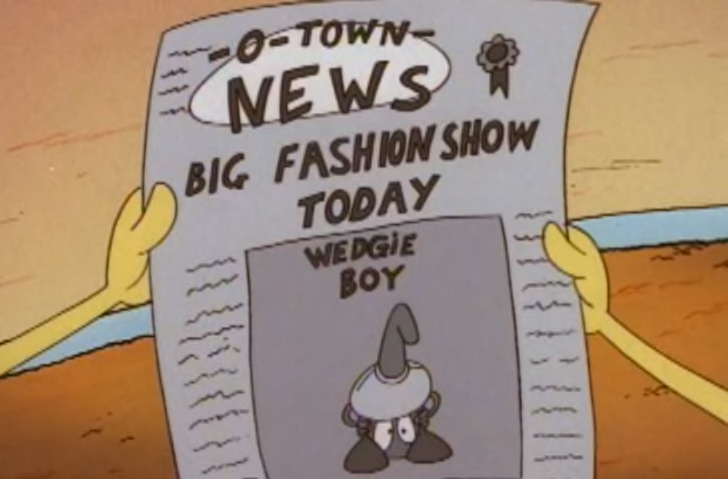 Often referred to by Murray as the "Wild West," the cartooning world in the early '90s was a bit of a free-for-all (one crew member once brought an unloaded gun and holster to work for show and tell). Children were often invited into the studio, and Mr. Lawrence could often be found in pajamas, eating cereal on a fold-out couch. Afternoon breaks consisted of headstands, workers posing as bowling pins, or singing Brady Bunch songs. Pranks were also rampant—think gym socks in the coffee filter. Despite the shenanigans, all the cartoons were produced on time.
8. ROCKO WAS ORIGINALLY YELLOW.
Characters often undergo many changes during production, but the wallaby's color swap still bugs creator Joe Murray. During the pilot, Rocko was a bright lemon yellow. Nickelodeon approached a toy company to make stuffed animals of the character, but the company said they already had a toy with similar coloring. In order to avoid confusion, Nick was asked to change Rocko's color. Murray fought to keep the yellow, but eventually had to change it to the beige color we know today. In the end, the switch was for nothing; the toy company pulled out of the agreement.
9. ROCKO'S MODERN LIFE IS AN OUTLINE-DRIVEN SHOW.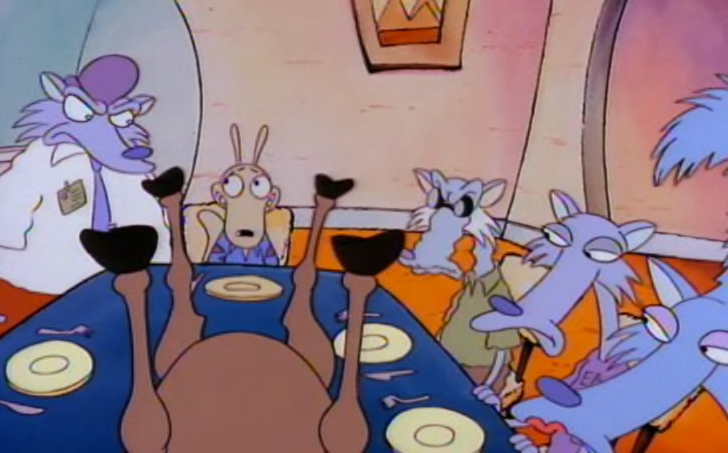 This means that the creation process starts with a premise. Writers laid out the story beats in an outline, and artists fleshed out the story with gags. Dialogue and jokes were written during storyboarding, taking advantage of visual storytelling. After the storyboards were completed, a recording script was typed up, and the voice acting was added.
The other kind of scripting for cartoon is script driven, where everything is written at once right into the script. Dialogue-heavy shows like American Dad and The Simpsons use this method.
10. THE CHARACTERS ARE DESIGNED TO BE EASY TO DRAW.
Murray wanted it to be easy to teach others how to draw his characters because he knew he would have to train a lot of people to recreate them. He needed to teach 200 people in Korea and 50 people in the United States how to draw each character, so they had to be easily replicated. He released several YouTube videos—like the one above—explaining the process for drawing his characters.
Some tips include: Heffer's body resembled a hamburger, while his mouth is like a hotdog. Rocko's feet are the same shape and size of his head cut in half. Bev and Ed Bighead share the same shape and outline (they also share the same voice actor, Charlie Adler).
Murray said that by the end of the show, the artists in the crew were drawing the characters even better than him; eventually, the crewmembers even started correcting his versions.
11. "LEAP FROGS" WAS TAKEN OFF THE AIR.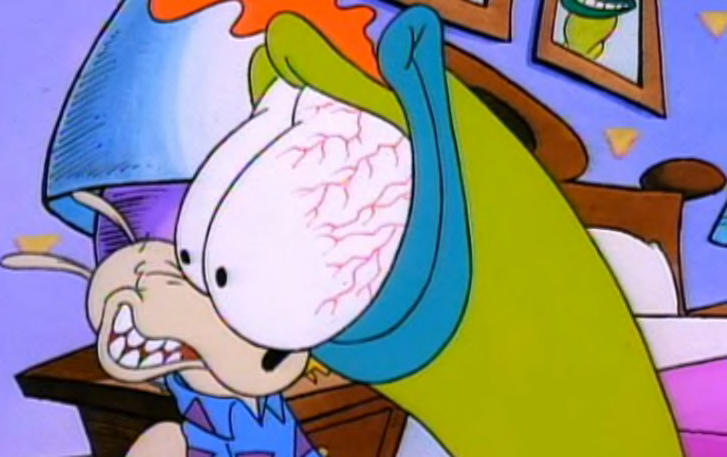 A lot of inappropriate jokes slipped past the censors (including a scene where Rocko literally spanks a monkey), but one episode pushed it too far. In "Leap Frogs," a neglected Bev Bighead decided to seduce Rocko. The episode ends with the Bigheads reconciling and breaking plates with their tongues. Angry parents found the episode to be too sexual, and the network pulled it.
12. ROCKO ALMOST HAD A SISTER.

In the original pitch to Nickelodeon, Rocko had a sister named Magdalane, who had two children. After going into production, the character was dropped because Murray felt the story worked better if Rocko was on his own. Then, in the season 2 episode "Wake Up Maggie," Murray added Magdalane back in. The general premise was that she was a narcoleptic. The network was found the plot a little strange and was on the fence about the character.
During a press conference, one reporter asked Murray why he didn't have more positive female roles in Rocko. The creator rebutted that the show didn't have any positive male characters either, and that the show was not made to have role models. Immediately after the event, Nick executives asked Murray to add Magdalane to the show and make her a strong character. Feeling unwanted pressure, the creator dropped the female character entirely.
13. THIS LED TO THE CREATION OF DR. HUTCHINSON.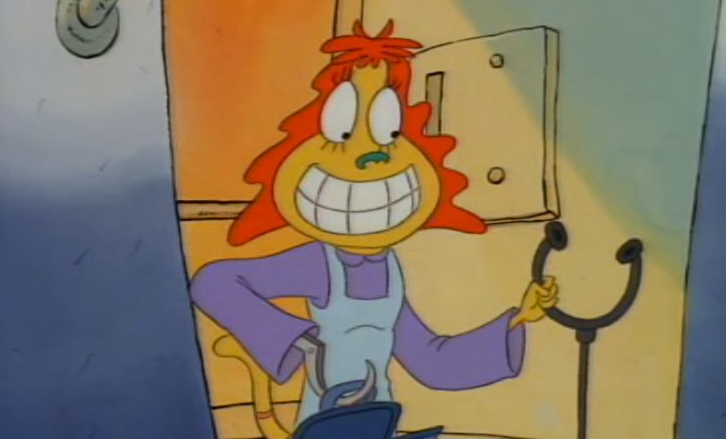 Nick continued to push for a strong female character on the cartoon even after Murray rejected Magdalane. They wanted a positive female character with a strong hook, so Murray and his team made one who literally had a hook for a hand. The new female "role model" was Dr. Hutchinson, a dentist who lost her hand to a crocodile patient.
14. SOME OF THE CHARACTERS WERE INSPIRED BY MURRAY'S CHILDHOOD.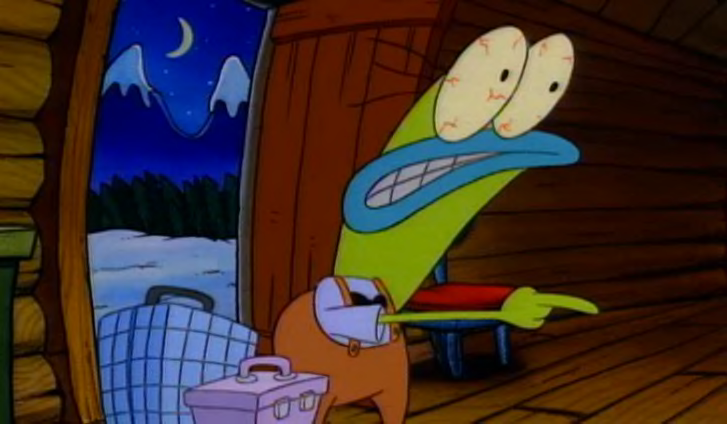 Rocko's best friend Heffer was inspired by the creator's own childhood friend. Like the cartoon cow, Murray's friend is adopted and enjoys bologna sandwiches.
Ed and Bev Bighead are based off two cankerous neighbors Murray had growing up. "Whenever the baseball fell on their lawn, they would never give it back," the creatorexplained. He made the characters cane toads because Australia was having trouble with the animals around the time of the cartoon's conception (a problem that continues today). Bev's hair is based on Murray's mother's hair in the '60s.
15. THE "WACKY DELLY" EPISODE MIRRORED REAL LIFE.
Just like the character Ralph Bighead, Murray wanted to get out of his job. He was nearing the end of his contract and wanted to move on. Someone brought in an old Dole promotional film about putting pineapple on meatloaf. They wanted to use the footage, but could not get permission. Murray made do and created his own pineapple meatloaf that you see in the "Wacky Delly" sequence.
BONUS: YOU CAN FOLLOW JOE MURRAY'S LATEST WORK ON HIS BLOG.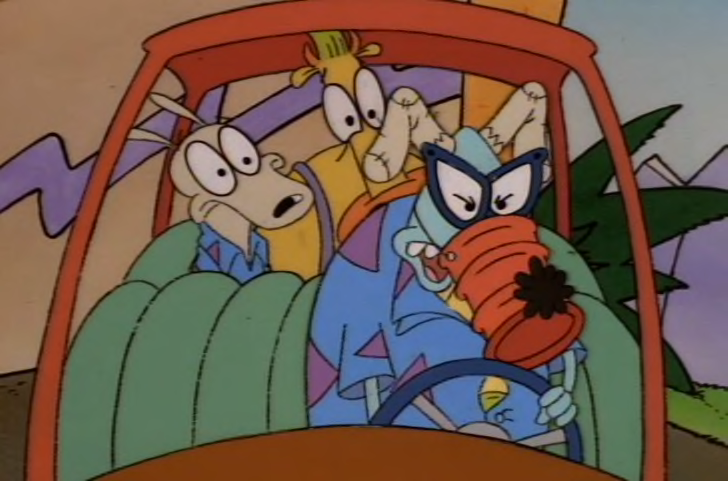 Rocko's Modern Life
 may be over, but the creator is still working on various projects and animations. You can see what he's up to by reading his blog here.
Additional sources: Creating Animated Cartoons with Character: A Guide to Developing and Producing Your Own Series for TV, the Web, and Short Film; Not Just Cartoons: Nicktoons!