11 Unmissable Books From the Last Five Years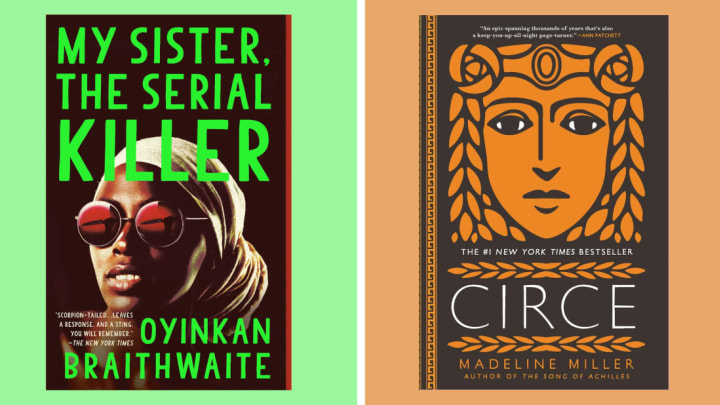 Amazon / Amazon
This article contains affiliate links to products selected by our editors. Mental Floss may receive a commission for purchases made through these links.
If you feel like your to-be-read pile is too dependent on the classics, we're here to offer a little variety with this round-up of some of the most mind-blowing, beautifully crafted, un-put-down-able books from the last five years. There's something on this list for every fiction-loving bibliophile out there.
1. An American Marriage // Tayari Jones; $13
Algonquin Books/Amazon
This is an American Dream story like no other, written with a vivid voice that has the characters leaping off the page. We meet Celestial and Roy, happy newlyweds on an exciting path until they face an unbearable injustice when Roy is sent to prison for a rape he did not commit. By the time he's released, his wife has moved on. This is the story of a marriage torn apart by a wrongful conviction and the devastating impact of prejudice.
Buy it: Amazon
2. The Power // Naomi Alderman; $9
Confer Books/Amazon
Imagine a world where women have the power of electrocution—a quick zap and they can injure or kill anyone with their bare hands. This is the premise of The Power, a dystopian novel where gender biases have been flipped on their heads, and women become physically dominant. It's a real page-turner that follows four different characters whose stories eventually entwine.
Buy it: Amazon
3. Queenie // Candice Carty-Williams; $13
Gallery/Scout Press
Welcome to the world of Queenie Jenkins, a young journalist whose life is falling apart around her. Her love life is in tatters, she can't keep on top of her career, and she doesn't always fit in with her Jamaican-British family. Queenie is in self-destruct mode, but you can't help but root for her. It's a laugh-out-loud book that's also tender and moving, with a warm lead character who makes you want to share her world for as long as possible.
Buy it: Amazon
4. Hamnet // Maggie O'Farrell; $14
Vintage/Amazon
This winner of the 2020 Women's Prize for Fiction is historical storytelling at its best. We travel between Stratford and London during the time of the Black Death, as the story leading to the creation of Shakespeare's Hamlet unfolds through the eyes of those around him. We see love bloom, a marriage unravel, and hearts break.
Buy it: Amazon
5. Girl, Woman, Other // Bernardine Evaristo; $12
Grove Press, Black Cat/Amazon
There's a very good reason Girl, Woman, Other won the 2019 Booker Prize—it's written in a style that's both beautifully poetic and hard to put down. Throughout the book, we hear the stories of a whole host of different characters, woven together, crossing over, and tackling big themes like love, gender, and identity. It's an exploration of what it means to be Black and British across the ages.
Buy it: Amazon
6. My Sister, the Serial Killer // Oyinkan Braithwaite; $10
Anchor/Amazon
My Sister, the Serial Killer is a crime tale that's completely different from anything else you'll read this year. Set in Nigeria, the novel tells the story of Korede, whose younger sister has a habit of murdering her boyfriends. This might be quite enough to handle, but the tension ramps up when Korede's sister and the secret love of Korede's life get together. This book will have you laughing, gasping, and turning the pages as fast as you can.
Buy it: Amazon
7. Why Visit America // Matthew Baker; $15
Henry Holt and Co./Amazon
This collection of dystopian short stories is set in a parallel America and is full of deep character exploration and dark themes. In one story, the characters inhabit a world where instead of a prison sentence, you're punished with a number of years being erased from your memory. In another, living forever on a computer, without a body, is a possibility. If you like Black Mirror and feeling deliciously uncomfortable, this book is for you.
Buy it: Amazon
8. Homegoing // Yaa Gyasi; $9
Vintage/Amazon
Homegoing is an absolute feat of storytelling. Starting on the Gold Coast of Africa, we hear individual stories from each side of a family line, as slavery rips people apart between Africa and America, and the fates of each family member unfold. It tells the stories of multiple generations, which are all connected. Simply put, this book is a masterpiece.
Buy it: Amazon
9. The Vanishing Half // Brit Bennett; $16
Riverhead Books/amazon
A set of twins from a tiny Black community in the South are about to lead very different lives after they run away together as teenagers. One will return to her hometown, back to the house where she grew up, now with a young child in tow. The other will start pretending to be white and carve out a suburban life, her husband and children none the wiser to the family she's turned her back on. What will happen when the sisters' paths cross again?
Buy it: Amazon
10. Circe // Madeline Miller; $11
Back Bay Books/Amazon
A story of gods and mortals and what happens when those two worlds collide. This bold, feminist tale interweaves characters from Greek mythology, as we follow the journey of Circe, who is banished by Zeus to a remote island. It's full of magic, heartache, and the type of drama that only a Greek god could summon.
Buy it: Amazon
11. Where the Crawdads Sing // Delia Owens; $10
G.P. Putnam's Sons/Amazon
Kya, abandoned by her family in their marsh home, has managed to survive an isolated childhood and learned everything she could about the natural world around her. The locals call her the "marsh girl," keeping a wary distance, and she's the first to be blamed when an unexplained death takes place on her turf. Full of characters you want to stay with forever, this is a murder mystery, a love story, and a coming-of-age tale, all interlaced with beautiful nature writing.
Buy it: Amazon