The 20 Most Idyllic Towns and Villages in the UK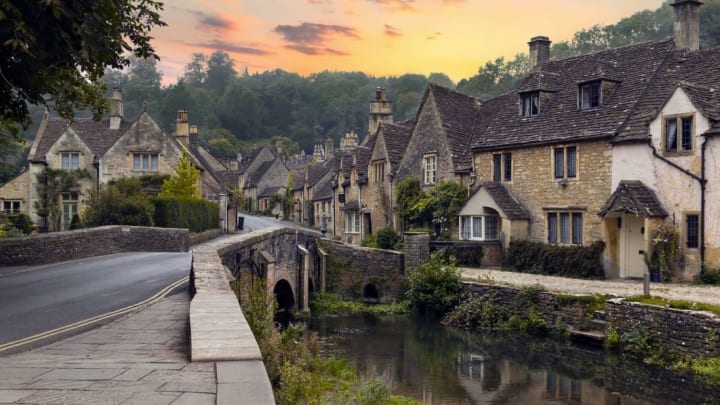 Castle Combe, where time evidently stopped about 400 years ago. / Dark_Eni/iStock via Getty Images Plus
A high-rise hotel room in a spirited city is all well and good for some vacationers, but others may appreciate a sleepy little cottage in a sleepy little village—which the UK has in spades.
To help you pick the most idyllic retreat among many, West Wales-based vacation cottage company FBM Holidays has compiled lists of the 10 prettiest towns and the 10 prettiest villages across the UK. Researchers looked at 160 locales in total and evaluated them in several categories, including number of Instagram hashtags, number of times they've appeared in other articles about the UK's prettiest places, number of Google images, number of nearby National Trust sites, and number of awards they've won. Those awards include designations like "Area of Outstanding Natural Beauty," "Special Area of Conservation," and "Village of the Year."
According to those metrics, Keswick in Cumbria's Lake District is the most beautiful town in the entire UK. It's not exactly a hole in the wall—it's been hashtagged on Instagram around 400,000 times—but it does feature enough uninhabited land as part of the Lake District National Park to make you feel like you're not in the middle of a tourist hub. It also boasts the Derwent Pencil Museum, since modern pencil production began in Keswick.
Keswick has everything from rolling hills to pencil museums. / ChrisHepburn/iStock via Getty Images
If you're looking for an even less populated spot, you might appreciate the first-place finisher on the list of loveliest villages: Castle Combe in Wiltshire's portion of the Cotswolds. According to Time Out, its newest house was built back in the 17th century; and the village has also served as a filming location for several high-profile programs, including Downton Abbey and the 2007 movie Stardust.
See both lists below, and find out more about the towns and villages on them here.
The UK's Prettiest Towns
Keswick, Lake District, Cumbria
Tenby, Pembrokeshire
Salcombe, Devon
Cirencester, Cotswolds, Gloucestershire
Bamburgh, Northumberland
Whitby, North Yorkshire
Rye, East Sussex
Bakewell, Peak District, Derbyshire
Aberaeron, Ceredigion
Burford, Cotswolds, Oxfordshire
The UK's Prettiest Villages
Castle Combe, Cotswolds, Wiltshire
Portmeirion, Gwynedd
Beaulieu, Hampshire
Robin Hood's Bay, North Yorkshire
Bibury, Cotswolds, Gloucestershire
Polperro, Cornwall
St. Michael's Mount, Cornwall
Llanberis, Gwynedd
Beddgelert, Snowdonia
Hathersage, Peak District, Derbyshire