Boston's Notorious "Skinny" Spite House Can Be Yours for $1.2 Million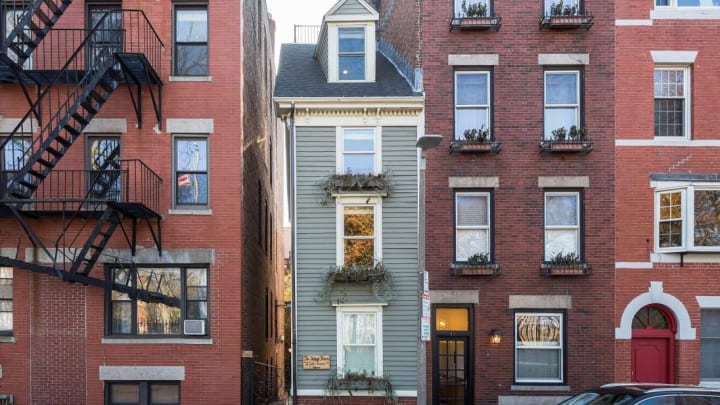 Not all houses are built with their future residents in mind. Some are constructed solely to annoy the people who live around them, as is the case with Boston's Skinny House. Now, the famous spite house has hit the market for $1.2 million, Boston Magazine reports.
Boston's Skinny House is the product of a rift between two brothers. According to local legend, the two men inherited a single piece of land from their father in the late 19th century. When the first brother returned home from the Civil War, he discovered that the second brother had built a home that covered more of his fair share of the plot. The bitter brother got his revenge by squeezing a narrow house on the remaining strip of land in order to obscure the sunlight and water views from the neighboring house.
What started as an eyesore is now a beloved landmark in Boston's North End. Appreciating it from the street is one thing, but moving into the Skinny House is a tougher sell. The buyer of the 1165-square-foot property will have access to two bedrooms, one bathroom, a full-sized kitchen, and a living and dining area spread out over four stories. Each floor is 10 feet wide and 30 feet long. If residents ever feel claustrophobic, they can seek refuge on the private roof deck and the private garden out back.
The Skinny House has many things going for it, including its harbor views (the same views it was built to block) and its location in a historic Boston neighborhood. The biggest drawback may be having to go up and down the stairs whenever you leave something in the next room. Despite its quirks, listing agent Carmela Laurella of CL Properties told Boston she's already received numerous inquiries about the property.
You can view the listing for this vindictive piece of Boston real estate here.
[h/t Boston Magazine]