13 Things You Might Not Know About Diff'rent Strokes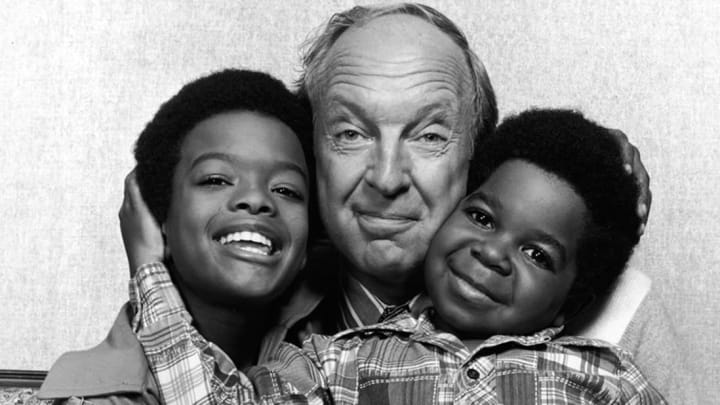 iStock / iStock
If you were tuned in to a television anytime between 1978 and 1986, you were likely exposed to the phenomenon that was NBC's Diff'rent Strokes. A star vehicle for precocious kid actor Gary Coleman, Strokes mined comedy from the odd coupling of millionaire Mr. Drummond (Conrad Bain) and his dead housekeeper's orphaned children, Arnold (Coleman) and Willis (Todd Bridges).
The show ran for eight seasons and is likely as notable for the melodrama surrounding its young stars as it is for anything they did onscreen. Have a look at 13 facts Willis was, at some point or another, probably discussing.
1. It Made the Schedule Because The Little Rascals Didn't.
NBC President Fred Silverman knew he wanted to do something with Gary Coleman, the polished 10-year-old who had gotten attention for his commercial spots. (Coleman was so poised that at one point he was believed to be a little person.) The actor taped a pilot for a Little Rascals update in 1978, but the network declined to move forward. Still anxious to find a project, Silverman slotted him in a script about two brothers from Harlem who move into a posh Manhattan penthouse. While Bain was the ostensible star of the show, it was Coleman's portrayal of Arnold that entertained audiences: The show never fell outside of the top 30 during its first three seasons.
2. White Supremacists Were Not Fans.
While Strokes was never a highly politicized series, some viewers were uncomfortable with the idea of a rich white millionaire adopting two black children. After the show premiered, Bain received letters from the Ku Klux Klan that were threatening in nature and sealed in wax by a Grand Dragon; Todd Bridges claimed he was also harassed by self-identified Klan members.  
3. The Title May Have Been Inspired by Muhammad Ali.
According to the Yale Book of Quotations, boxing great Ali (who made a cameo in a 1979 episode) was quoted by the Great Bend Daily Tribune in 1966 as saying, "Different strokes for different folks." Musician Syl Johnson further popularized the phrase in a 1968 song. Prior to the stylized title, producers considered calling it 45 Minutes from Harlem.  
4. Gary Coleman Sat Out Episodes Over Money.
Despite being the main attraction of Strokes, Coleman was paid a fairly paltry $1,800 per episode when the show debuted. His parents—who also happened to be his managers—successfully argued for a raise to $30,000 per episode. By 1981, the promise of lucrative syndication money led to another request; this time the protracted contract negotiations had Coleman sitting on the sidelines for the first episodes of the fourth season. His salary was eventually increased to $70,000 per episode, making him NBC's highest-paid comedic actor for a period of time.
5. Coleman Tweaked His Catchphrase.
According to series writer Ben Starr, the character of Arnold had a line that was scripted as, "What are you talking about, Willis?" When Coleman read it, he compressed it into what would become one of the most pervasive catchphrases of the 1980s: "Whatchoo talkin' 'bout, Willis?" The writers wanted to be careful to partition it out in future seasons so it wouldn't wear out its welcome, but that wasn't entirely successful: By the late 1990s, Coleman was so tired of the line he refused to say it.
6. It Cornered the Market on 'Very Special' Episodes.
Sitcoms tackled serious themes at least as far back as the 1970s, when Edith Bunker was assaulted in a particularly jarring episode of All in the Family. But it wasn't until the 1980s that comedies regularly took movie-of-the-week themes and used them to garner press attention for a substantial bump in ratings. In 1983, Strokes aired a two-part episode about child molestation where Gordon Jump (later known as Maytag's Lonely Repairman) attempts to seduce Arnold and his friend. The show was so successful that Very Special Episodes devoted to bulimia, epilepsy, alcoholism, and the dangers of hitchhiking followed; fittingly, Strokes' last-ever episode in 1986 was Very Special, featuring Arnold investigating a steroid scandal for the school newspaper.
7. Alan Thicke Co-Wrote the Theme Song.
Best known either for his role as affable dad Jason Seaver on Growing Pains or affable father of singer Robin Thicke, Alan spent time in the '80s composing a quantity of memorable television music. In addition to writing the theme song for The Facts of Life, Thicke sang on and co-wrote the music and lyrics to the Diff'rent Strokes theme. In 2012, an interviewer got Thicke's son to sing part of it.
8. Coleman Had A Kidney Transplant During Its Run.
Coleman's short stature was the result of drugs given to the youngster to address a genetic birth defect: he was born with one atrophied kidney and the other already failing. By age five, he had received his first kidney transplant. After getting a second one in 1984 and facing another operation in 1986, Coleman opted for dialysis four times daily instead. Through it all, the drugs given to manage his condition resulted in a suppressed growth phase. By age 14, Coleman knew he wouldn't grow beyond four feet eight inches. One episode of the series was even devoted to his character coming to grips with the same affliction.
9. Arnold Appeared on Other Shows.
With NBC executives eager to have Coleman use his magic on the rest of their schedule, Arnold was jettisoned to Silver Spoons, Strokes spinoff The Facts of Life, and even on the wholly-unrelated Steven Spielberg-produced anthology series Amazing Stories. In "Remote Control Man," a henpecked husband is able to transform his domestic existence into something out of a sitcom, running into Arnold along the way.
10. Coleman Lobbied to Be Less of a Kid.
As he neared adulthood, a teenaged Coleman began to grow very weary of playing an adolescent Arnold. For the last season, he successfully petitioned the writers to place Arnold in high school in order to feed more mature plots like dating and driving, with less jumping into Mr. Drummond's lap. He also convinced NBC to give him a dramatic role in 1985 as the lead in a TV movie, Playing with Fire, about a child arsonist who wants to set the family dog ablaze. Like his Very Special Episodes, it ends with a strong message for would-be firebugs: "Get therapy." 
11. Todd Bridges Played a Guy Who Sold Drugs to a Younger Todd Bridges.
Life after Strokes was not kind to its juvenile performers. Dana Plato, who portrayed Kimberly Drummond, struggled with substance abuse and once robbed a convenience store before dying of a drug overdose in 1999. A near-unemployable Coleman died in 2010 of complications owing to a fall, and Bridges was involved in a series of drug-related incidents before settling down. For a 2000 Fox docudrama about the making of the show, Bridges plays a drug dealer who sells drugs to an actor playing his younger self. In a 2006 TV movie, his real-life sister, Verda, portrays his mother.    
12. Willis Won the Publisher's Clearing House Sweepstakes.
A 2013 ad campaign for wish-fulfillment Publishers Clearing House used archival footage from old sitcoms to portray characters answering the door and seeing the "Prize Patrol." In a spot fashioned out of Diff'rent Strokes footage, Arnold is chagrined to find out Willis has won the million-dollar prize.  
13. Coleman Said Goodbye to Arnold on The Fresh Prince of Bel-Air.
Despite being vocal about wanting to move on from the show, Coleman agreed to reprise the character of Arnold for the 1996 series finale of The Fresh Prince of Bel-Air. After the Banks clan decides to separate to pursue separate opportunities, Will (Will Smith) shows their home to prospective buyers, including Arnold and Mr. Drummond, who provides some meta commentary after Arnold deploys his catchphrase. "You know, Arnold," he says, "those things were a lot funnier when you were still a little child."